The Crazy Week Of The Brazilian Real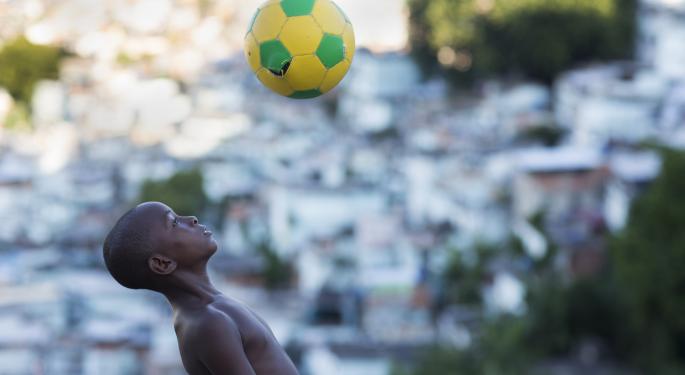 The Brazilian Real had an interesting week, to say the least.
The currency hit an all time low on Tuesday, and beat the record again on Wednesday. It then started to recuperate on Thursday and early Friday.
However, the bills are once again losing value on Friday afternoon.
The Brazilian Real once again lost value on Friday afternoon. The currency was down 0.75 percent to 0.2521 U.S. Dollars (which means one U.S. Dollar is worth 3.964 Reais), after a volatile week.
On Tuesday, the currency hit a historic low below 4 reais per U.S. Dollar, driven by political turmoil in Brazil, a generally bad economic environment, and an S&P downgrade, among other factors. On Wednesday, the notes pushed the boundaries again, establishing a new all time low of 4.2447 reais to the dollar.
Related Link: Latin American ADRs Getting Slaughtered, Brazilian Real And Crude Continue To Tumble
For the first time in more than a week, the Real strengthened on Thursday, after the president of the Central Bank implied he would be willing to use Brazil's foreign reserves to preserve the currency's value. The Real closed at 3.9366 on Thursday afternoon.
Also driving the surge was Central Bank's auction of currency-swap contracts, which "allow local businesses to hedge against the weakening real," a MarketWatch article explains.
On Friday morning, the Real continued to rally. However, in the afternoon hours, it lost all of the ground gained during the morning.
Other Decliners
The Sao Paulo Stock Exchange was also down on Friday. The Bovespa index fell more than 1.1 percent over the session, to 44,780.12 points. Over the past five days, the index fell almost 5.3 percent.
Many major Brazilian stocks also tumbled on Friday:
Disclosure: Javier Hasse holds no positions in any of the securities mentioned above.
View Comments and Join the Discussion!
Posted-In: bovespa brazil realEmerging Markets Forex Markets Movers Best of Benzinga