Chinese Stocks Experience Largest Decline Since 2007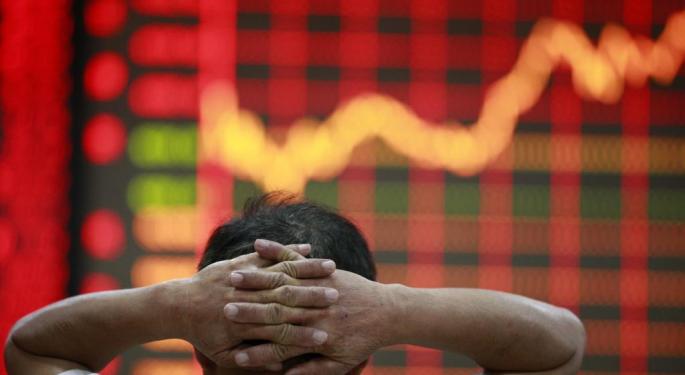 Chinese stocks just experienced the worst single day of declines in more than eight years.
Shares traded on the Shanghai Composite Index fell more than 8.5 percent, the result, according to some reports, of brokerages tightening margin requirements. Many of the companies on the Shanghai Composite Index fell 10 percent, the maximum amount allowed by regulatory rules.
The iShares FTSE/Xinhua China 25 Index (NYSE: FXI) was indicated more than 3.5 percent lower in U.S. pre-market trading. In the past three months, that ETF has slid more than 20 percent after gaining more than 25 percent from January through April. Shares are just $1 above their July 8 low below $39.
Related Link: Is China's GDP Overstated?
Following those recent lows, the Chinese government acted to stem losses. The People's Bank of China cut interest rates to a record low and regulators threatened to jail short sellers, while simultaneously suspending new IPOs. That temporarily halted the stock market decline, which began again on Friday with a more than 2 percent decline.
The Wall Street Journal reported that valuations of Chinese shares are "still extremely high." Chinese tech companies in the Shenzhen market traded at 31 times forward earnings, a premium of 65 percent "above its historical average, before Monday's fall."
Now, analysts are less bullish not only on the Chinese economy but also on Chinese companies. Over the past four weeks, earnings growth expectations for 2016 have declined from 13 percent to 10 percent, according to Nomura.
Posted-In: China Shanghai Composite IndexEmerging Markets Markets Movers Best of Benzinga
View Comments and Join the Discussion!