China's $370 Billion Margin Call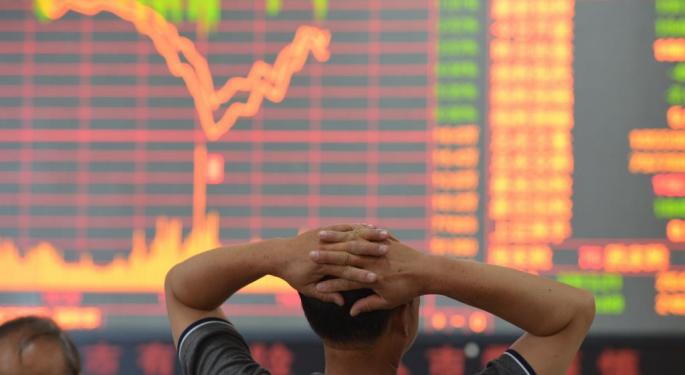 China's stock markets tumbled on Friday to near bear territory further deepening the sell-off that started two weeks ago.  The Shanghai Composite, down 7.4 percent on the day, has fallen 19 percent from its June 12 high wiping out $1.25 trillion in market cap.
The smaller Shenzhen and ChiNet indices have also plunged 20 percent from its recent peak.
Margin Lending Blessed By Beijing
Even with recent declines, the Shanghai Composite Index has surged nearly 30 percent year-to-date. Authorities have allowed local investors to borrow tons of money from brokers to speculate in the stock market  (i.e., Margin Lending), while the central bank PBOC has cut interest rates three times since November.  Beijing also introduced new easing measures in the past couple of days: a proposal to remove a cap on banks' loan-to-deposit ratio and injecting cash into the financial system.
Margin Debt Soared To $370 Billion
Investors have poured into the market, opening 33 million new brokerage accounts between the start of January and the end of May.  According to Macquarie Research, Chinese margin debt has risen 123 percent year-to-date, reaching a new record of 2.3 trillion yuan ($370 billion) on June 18.
Margin debt in China has reached 8.5 percent of the value of China's tradable shares (For comparison purpose, that ratio was only at 4.6 percent during the peak of the Taiwan Stock Market Bubble back in the late 80's).
Margin Debt Could Get Even Worse
It gets even better from there.  Macquarie believed that the brokers should have enough capital available to push margin lending higher from here as reported by Bloomberg:
"We think that the peak should be somewhere around RMB 3 trillion and at the current run rate (ie +16 percent month-on-month) the market would reach that level around September."
Analysts Cutting Price Target
Investors have started to pull out of the market on concerns the government could be looking to rein in this debt-fueled rally.  Meanwhile, more and more analysts are also sounding louder alarms about the over-heated China market.  For example, citing concerns like valuations and high margin debt, Morgan Stanley just lowered its price target for the Shanghai benchmark in a report Thursday.
Plunge Leaves State Media Speechless
The usually quick-tongued state media like Xinhua are staying unusually quiet not giving out clues about the government's view on the current market sell-off.
Reuters quoted Zhang Xiaojun, a spokesman for the China Securities Regulatory Commission on Friday:
"It's a self-adjustment of the market after earlier excessive gains... Recently, there has been more volatility in the stock market. That requires all sides to treat it rationally." 
Chinese authorities are already trying to discourage speculative bets on the highest-flying stocks. So these rare public comments from the Regulatory Commission seem to suggest authorities are 'comfortable' with the declines.
$370 Billion In Margin Trades
A stock market collapse would be devastating to China's slowing economy, and would be amid a difficult transition from a manufacturing-based economy to one that is private-business-and-consumer-supported.
With worries that Greece is just days away from defaulting on a $1.72 billion loan payment,  just wait for the margin call on the $370 billion margin debt in China's stock markets should Beijing decide to take a page from Saudi Arabia's oil book.
The preceding article is from one of our external contributors. It does not represent the opinion of Benzinga and has not been edited.
Posted-In: China China margin call China stock market Chinese stock market crashEmerging Markets Economics Markets Best of Benzinga
View Comments and Join the Discussion!