The Top 10 Financial Tweets For Thursday, August 22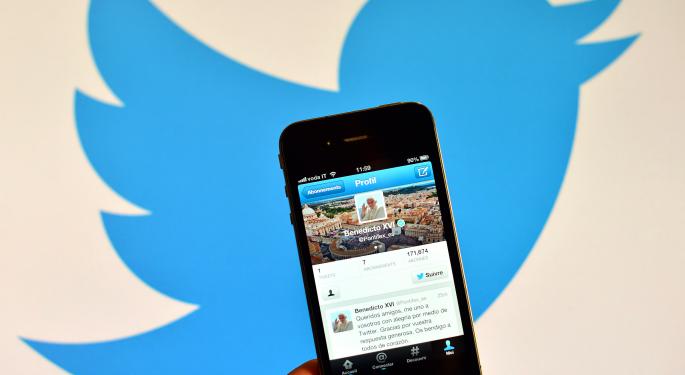 There are millions of tweets written every day. Benzinga sifts through the maelstrom of information to find the ten best tweets of the day that are either informative, insightful or just down right comical.
1. Reuters Business
Reuters Business ( @ReutersBiz ) tweeted out that even the ominous FOMC Minutes can't keep investor confidence down. Global and local data alike are outweighing the taper uncertainty.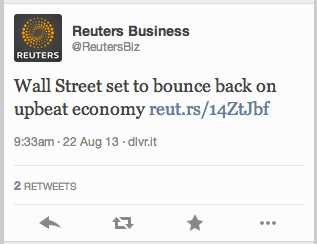 2. WhoTrades
WhoTrades ( @whotrades ) tweeted out the PMI output indices of Germany, France, and the rest of the euro zone. While France is holding everyone else back, have no fear because at least the periphery seems to more or less have gotten their act together.


3. Business Insider
Business Insider ( @businessinsider ), tweeted out that Yahoo (NASDAQ: YHOO ) might give Google (NASDAQ: GOOG ) a run for their money after all.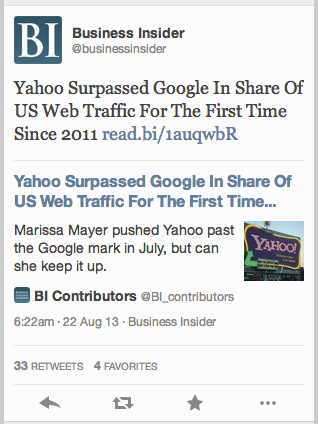 4. Tadas Viskanta
Tadas Viskanta ( @abnormalreturns ), Founder and Editor of Abnormal Returns, tweeted out a great article about whether gold's golden days are behind it or not. Check out to see if it's time to start looking for better hedges.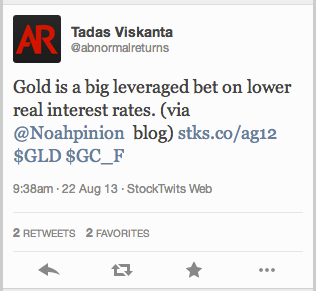 5. BuzzFeed Biz
BuzzFeed Biz ( @BuzzFeedBiz ) tweeted out this morning that the trifecta of companies that typically provided for young adolescents – Abercrombie (NYSE: ANF ), American Eagle (NYSE: AEO ) and Aeropostale (NYSE: ARO ) – all plummeted this morning. CEO blames economy, but maybe everyone is just over that phase…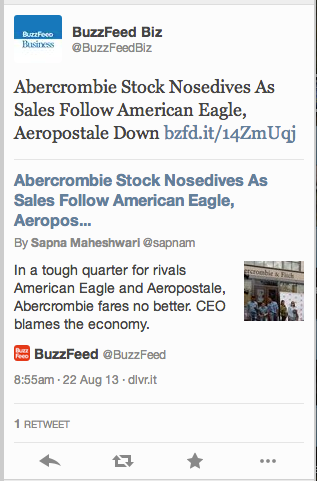 6. HuffPostBiz
HuffPostBiz ( @HuffPostBiz ) tweeted out the truth about employment. The extent of the economic recovery could be overstated.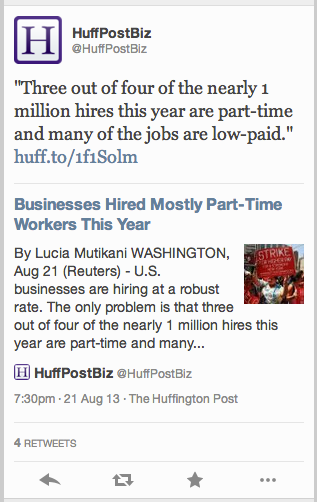 7. Zerohedge
Zerohedge ( @zerohedge ) tweeted out that ownership of Greece keeps on spreading to more debt-holding hands. That begs the question: what exactly will they be owning a few years down the line?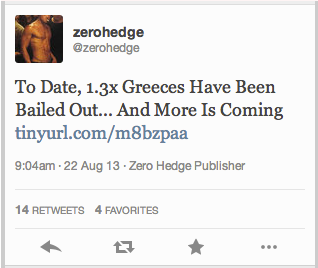 8. Bloomberg TV
Bloomberg TV ( @BloombergTV ) tweeted out that the consumer comfort index declined to a two month low. According to Bloomberg , this index measures Americans' sentiment when it comes to "the state of the economy, personal finances and whether it's a good time to buy needed goods or services".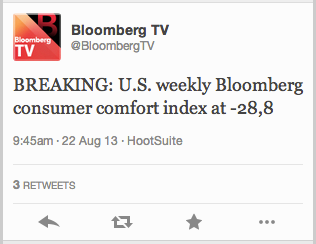 9. Yahoo! Finance
Yahoo! Finance ( @YahooFinance ) tweeted out about Obama plan to curb the cost of going to college by implementing a new rating system. Stick around to see if the manual deflation of this bubble will work.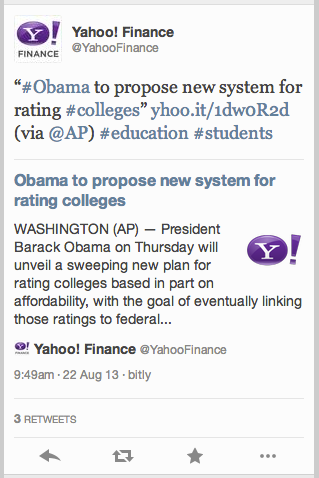 10. The Fly on the Wall
The Fly on the Wall ( @theflynews ) tweeted out that Hewlett-Packard (NYSE: HPQ ) is still alive and kicking! In fact, HP plans to step it up through some pricey acqusitions.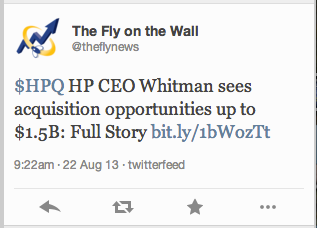 Posted-In: Bloomberg TV Business Insider BuzzFeed BizEmerging Markets Eurozone Futures Commodities Markets Best of Benzinga
View Comments and Join the Discussion!