Tesla Earnings: Record Q2 Deliveries, But Bitcoin Slump, Competition Concerns And Chip Shortages
Advertiser Disclosure
The following post was written and/or published as a collaboration between Benzinga's in-house sponsored content team and a financial partner of Benzinga. Although the piece is not and should not be construed as editorial content, the sponsored content team works to ensure that any and all information contained within is true and accurate to the best of their knowledge and research. The content that follows is for informational purposes only and not intended to be investing advice.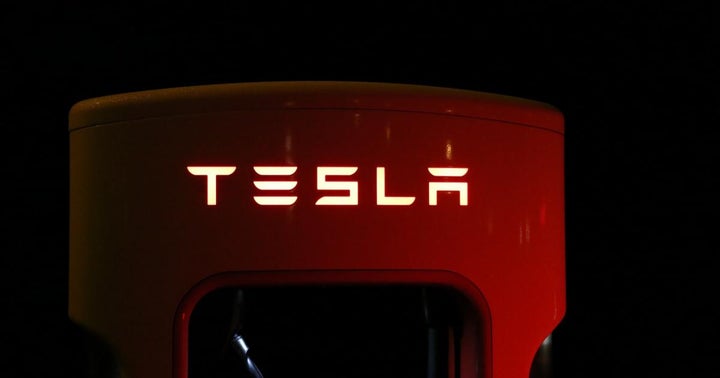 Tesla (NASDAQ:TSLA) announced record-breaking electronic vehicle (EV) deliveries in Q2 and has continued to outproduce competitors in the midst of a global microchip shortage. But it's been a bit of a rough ride for the pioneering EV's share price as competitors rev their engines.
Another concern is a slump in the value of bitcoin. TSLA shares have plunged more than 23% since it disclosed on Feb. 8 that it had purchased $1.5 billion in bitcoin, the decentralized digital currency, now held on its balance sheet. A recent crypto plunge took bitcoin below $30,000 this week (from a high of around $65,000 in mid-April).
Investors and analysts will likely be listening for the latest on competition, supply chain and labor issues, as well as its view on cryptocurrencies, on its Q2 earnings call slated for July 26.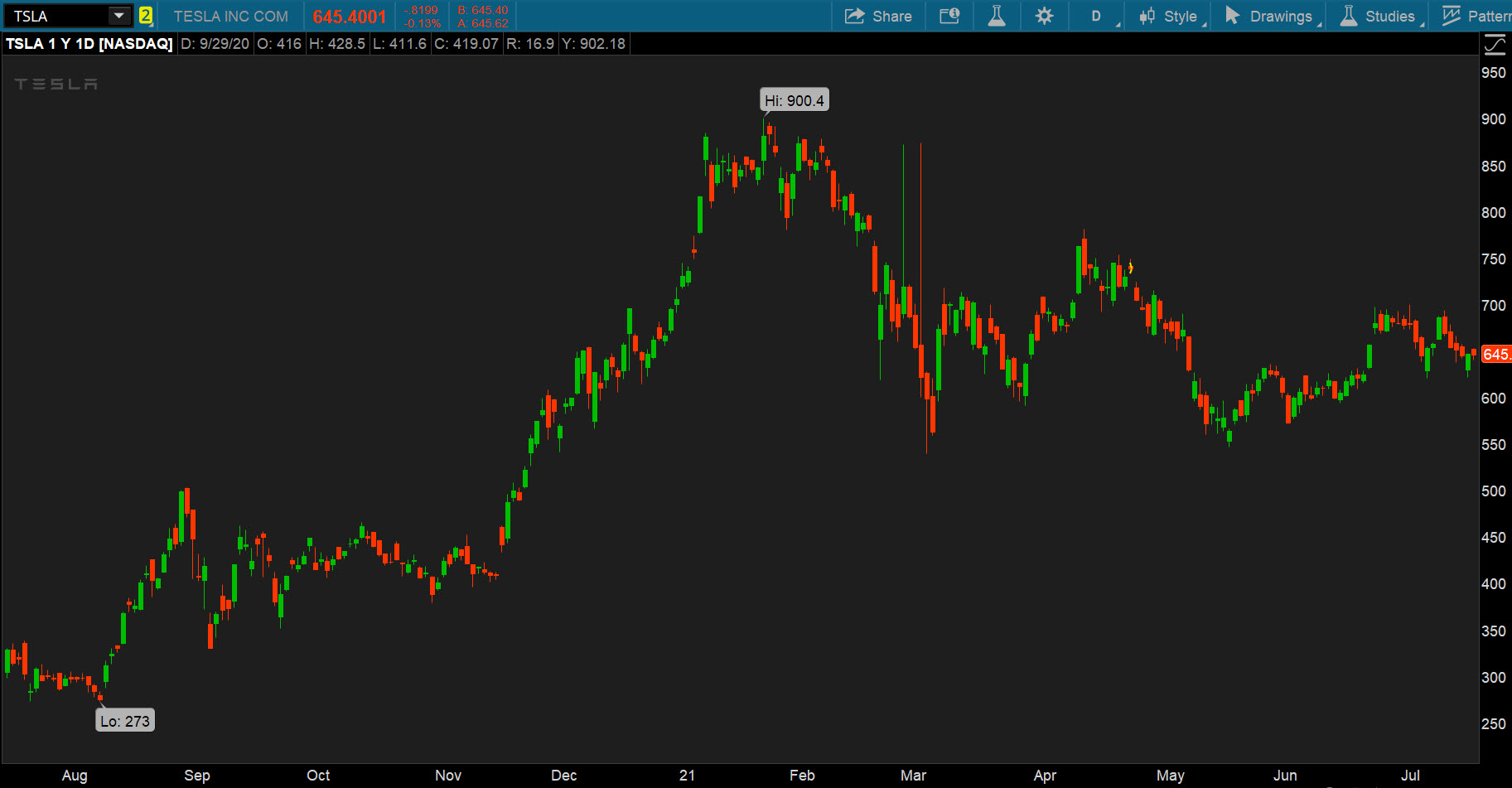 FIGURE 1: CHANGING CLIMATE? TSLA's stock price fell from its high of $900.40 in early February, when the company announced it purchased $1.5 billion in bitcoin. The fall in price correlated with bitcoin's price action. How much that will impact TSLA's balance sheet is something to listen for during the earnings call. Data source: Nasdaq. Chart source: The thinkorswim® platform. For illustrative purposes only. Past performance does not guarantee future results.
Are Competitors Coming Up Fast?
Some analysts expressed concern about TSLA's momentum in the quarters ahead, citing competitors with a busier launch pipeline.
TSLA faces competition from companies like Ford (NYSE:F), General Motors (NYSE:GM), Volkswagen (OTC:VWAGY), Volvo (OTC:VOLVF), BMW (OTC:BMWYY), and Hyundai (OTC:HYMTF), all of whom have announced that they are looking to enter the EV arena.
During the first quarter, F started deliveries of its Mustang Mach-E, its only current all-electric vehicle. GM has unveiled a new SUV version of the Chevrolet Bolt, its only US EV for sale right now. And Volkswagen has overtaken TSLA in sales of EVs in many European markets. Big tech players Apple (NASDAQ:AAPL) and Amazon (NASDAQ:AMZN) have also expressed interest in joining the EV space.
EV demand appears strong in China, but maybe not for Teslas. At the end of June, TSLA initiated a recall of more than 285,000 cars in China over safety concerns about its Model 3 and Model Y cruise control systems, though trade media reports say it's a relatively simple software adjustment to make the fix. There have also been highly publicized consumer product quality complaints in China. The developments could spark concern about TSLA potentially losing market share to China-based EV rivals such as Nio (NYSE:NIO) and XPeng (NYSE:XPEV).
Based on China Passenger Car Association data cited by Barron's, TSLA manufactured about 92,000 vehicles in China and sold about 63,500 in the country in Q2. That means China accounted for roughly 45% of Tesla's total production and 30% of total sales in the three months ended in June, Barron's reported. That would be up from China representing about 21% of global sales for TSLA in 2020.
Potential Speed Bumps
TSLA CEO Elon Musk has warned of continued challenges in securing microcontrollers and raw materials. These shortages affect auto manufacturers as well as other industries.
Microcontrollers are computer chips used in automatically controlled products and devices, such as automobile engine control systems and touch screens. They are also used in implantable medical devices, remote controls, office machines, appliances, power tools, toys and other embedded systems.
TSLA's long awaited new version of its Full Self Driving (FSD) beta software has apparently also been delayed. Musk said it would be shipped soon. "I swear!" he said in a recent tweet.
Supplies Are Hard To Find; TSLA Devotees Plentiful
TSLA still has a healthy group of devotees, both for its cars and its shares.
TSLA bulls point to Q1 earnings of 93 cents per share, a significant increase from the 23 cents per share it reported for the year-ago quarter, as the coronavirus pandemic hurt sales and forced shutdowns of its plant in Fremont, California.
Still, a few weeks ago, TSLA reported that in Q2 2021 it delivered 201,250 vehicles—more than twice as many as in the same period a year earlier. The Q2 numbers broke the previous record set in the first quarter of this year, when TSLA delivered 184,800 and produced 180,338 cars, even as production of its Model S and X vehicles fell to zero during that quarter. The company began deliveries of its higher-end Model S electric sedans during Q2.
That being said, those Q2 deliveries were roughly in line with Wall Street's expectations but below some of the higher analyst estimates. Shares initially got some support from the news, but have since given back those gains.
For the last few years, TSLA's growth has been mainly fueled by demand in China and Europe. It's unclear how TSLA's sales fared in the U.S. because the company doesn't break out deliveries by country.
TSLA's battery technology, capacity, and cost are considered world leaders that have accelerated a global shift to electric vehicles. How fast its competitors can catch up, or perhaps overtake TSLA, remains a question out in the open road.
Tesla Earnings And Options Activity
TSLA is expected to report adjusted earnings of $0.96 per share, up from $0.44 in the prior-year quarter, according to third-party consensus analyst estimates. Revenue is projected at $11.21 billion, up 85.8% from a year ago.
The options market has priced in about a 5% stock move in either direction around the coming earnings release. Implied volatility is at the 4th percentile as of Wednesday morning.
Looking at the July 30 expiration, call options see some activity at the 670 and 700 strikes, but the heaviest concentration has been to the downside, in the 640-strike puts.
Note: Call options represent the right, but not the obligation, to buy the underlying security at a predetermined price over a set period of time. Put options represent the right, but not the obligation, to sell the underlying security at a predetermined price over a set period of time.
TD Ameritrade® commentary for educational purposes only. Member SIPC. Options involve risks and are not suitable for all investors. Please read Characteristics and Risks of Standardized Options.
© 2021 Benzinga.com. Benzinga does not provide investment advice. All rights reserved.
---