Just When ICOs Were Cooling Off, Security Token Offerings Are Gaining Steam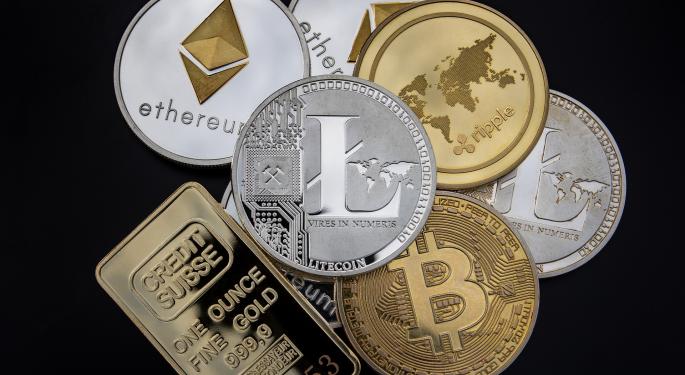 Initial Coin Offerings (ICOs) were all the rage in cryptocurrency in early 2018 but have continued to fall. Conversations on Twitter mentioning ICOs have dropped 67 percent since their all-time high in March 2018 according to new research by cryptocurrency analytics platform TheTIE.io. In December 2017 ICOs accounted for 170 times more Twitter conversations than Security Token Offerings (STOs). Today, that number has shrunk to 13 times as STOs have begun to gain steam.
Security Token Offerings, which previously represented a negligible fraction of total cryptocurrency conversations, now account for more total tweets than notable cryptocurrencies such as Ethereum Classic, Dash, and NEO, and are quickly approaching Tweet levels of EOS and Binance Coin. Since December 2017, STOs have seen an 872 percent increase in Twitter conversations and now represent nearly 0.5 percent of all cryptocurrency conversation. The below chart looks at the number of Twitter conversations since December 2017 mentioning Security Token Offerings and Initial Coin Offerings.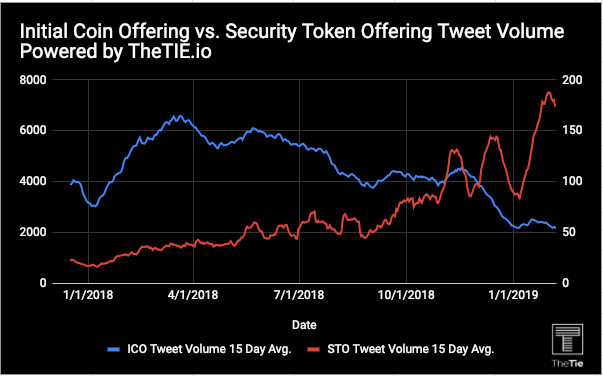 It is not just the number of conversations around both ICOs and STOs that have seen significant changes, but the nature of those conversations. Long-term sentiment, a measure of how positive or negative the conversation on Twitter has been over a 50 day period, has begun to completely diverge between ICOs and STOs. The below chart looks at the long-term sentiment of Security Token Offerings and Initial Coin Offerings since August 2018.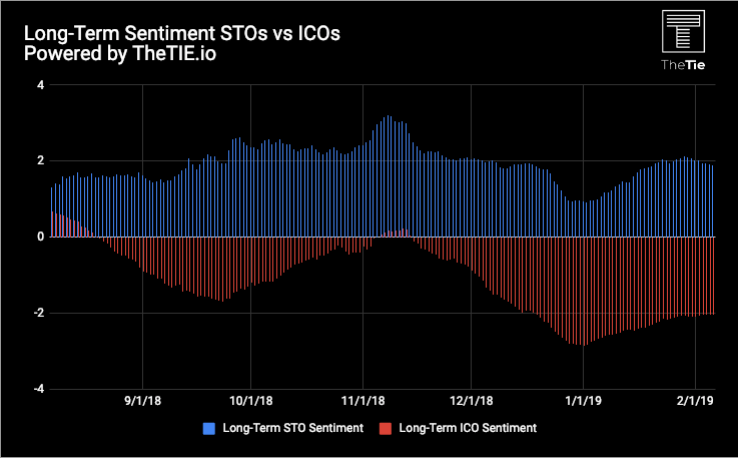 In early-August, conversations around ICOs and STOs were both generally positive. Beginning in mid-August, ICO sentiment dropped and has largely remained extremely negative. On the other hand, security token conversations have remained positive over the past 6 months. With the exception of Dai and MobileGo, conversations around STOs have a higher long-term sentiment than any of the 350 largest cryptocurrencies by market cap.
Sentiment on STOs is now higher than it has ever been relative to ICOs. As tweet volume and sentiment continue to increase, in tandem with tweet volumes and sentiment on ICOs decreasing, it will be interesting to see what repercussions this has the on the cryptocurrency market more broadly.
Related Links:
Top 3 Price Prediction Bitcoin, Ripple, Ethereum: Crucial Hours Before Takeoff, Countdown In Progress!
The preceding article is from one of our external contributors. It does not represent the opinion of Benzinga and has not been edited.
Posted-In: contributor contributorsCryptocurrency Markets Best of Benzinga
View Comments and Join the Discussion!