How Stakeholders Are Attempting Change The Narrative On The Practicality Of Crypto Payments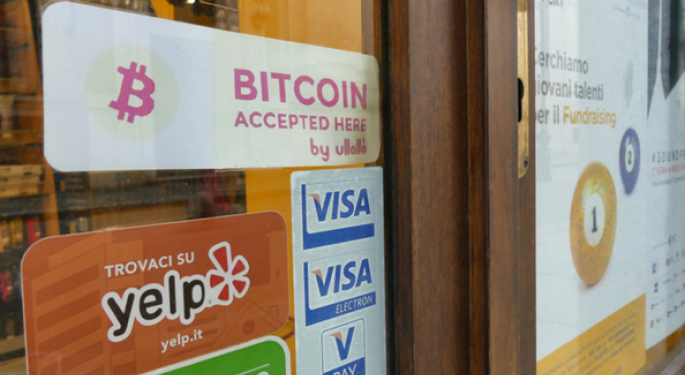 Last week Starbucks Corporation (NASDAQ: SBUX) went on the record to clarify reports that it was getting ready to start accepting cryptocurrency as payment for its coffee and other food products. In the previous weeks, the finance media space had been peppered with news that Starbucks was partnering with Microsoft to allow people buy lattes with Bitcoin. In the clarification, Starbucks noted that the news reports are misleading and that "customers will not be able to pay for Frappuccinos with bitcoin." Instead Starbucks is only joining a venture that the company said in a statement. The firm added that instead, "Starbucks is part of a new venture creating a platform to "convert digital assets like Bitcoin into U.S. dollars, which can be used at Starbucks."
Earlier today, Brian Armstrong, CEO of Coinbase, (the largest cryptocurrency exchange by trading volumes) discussed the future of crypto with Bloomberg's Emily Chang at the Players Technology Summit in San Francisco. While he spoke about many things, the most startling revelation he made was that the mass-market transactional use of cryptocurrencies is still a long way off from becoming a reality. In his words, "I think it will be quite some time before you cross the street to Starbucks in the U.S. and pay with crypto"
From the foregoing, one would be tempted to think that cryptocurrencies are wholly impractical for use as a means of payment. However, there are altcoins that are taking on some of the intractable issues preventing the mass-market adoption of cryptocurrency in payments.
A Volatility-free Coin?
TOSBlock (T.OS) is trying to leverage blockchain to create a kind of digital coin that could become a standard for facilitating payments both online and offline. T.OS has two inherent coins, TOSC a normal cryptocurrency, and TOSP, an e-currency that is pegged to the currency of the user's current country of operation.
TOSC is a cryptocurrency that is tradeable on exchanges, its value influenced by the dynamics of supply and demand. TOSP is private coin meant only for inner circulation to be used as a means of exchange in the transfer of value. In addition, the value of TOSP is pegged to the local currency of the user and its value doesn't fluctuate with the events of the general cryptocurrency market. TOSC can be purchased with fiat or other cryptocurrencies on exchanges but when you want to purchase goods/services from a merchant; you'll need to convert your TOSC into TOSC within your wallet. The merchant — on receipt of the TOSP in their wallet — can then convert it into their local currency on 1:1 basis.
Many merchants are reluctant to accept cryptocurrency payments because of the wild swings of volatility in the prices of cryptocurrencies and the painfully long transaction times. Merchants don't want to wait hours (sometimes days) before they get confirmation of funds in their accounts while running the risk that volatility could have significantly eroded the value of the payment.
TOSBlock solves the problem of slow transaction times with its TOSP coin, which boasts a mean block time of 1 minute and transaction speeds of 1000 transactions per second. For context, Bitcoin has a mean block time of 10 minutes while processing about 7 transactions per second.
Cracking The Crypto Payments Code in China
Ripple is a known and respected player in the cross-border cryptocurrency payments space. Ripple's mission to offer an enterprise-grade solution for facilitating global payments using blockchain technology. Recent company news suggests that Ripple is working towards penetrating the Chinese market with the blockchain-powered solutions. Ripple has a partnership with LianLian International, a financial services firm in Hong Kong as part of efforts to advance the adopting of XRP in China. Arthur Zhu, LianLian's CEO noted that his company is looking "forward to working with Ripple to power payment flows between China and RippleNet members in new markets."
China has banned ICOs in the country and it is clamping down hard on cryptocurrency trading within its borders. However, the fact that Ripple has built core competencies of working with more than 100 traditional financial institutions across many jurisdictions suggests that it might be able to convince Chinese regulators to at least give it a chance.
In an interview with CNBC, Jeremy Light, Ripple's VP of European Union Strategic Accounts notes that "China is definitely a country and region of interest." Interestingly, cryptocurrency analysts are optimistic about the prospects of Ripple in the general cryptocurrency market. Ripple currently trades around $0.29 down from a $2.30 high at the start of the year. Andreas Kaplan on Smartereum observes that "based on current projections, most people within the business agree that Ripple's value can go up to the $200-$300 range in ten years."
View Comments and Join the Discussion!
Posted-In: rippleCryptocurrency Fintech Markets Best of Benzinga