Upcoming Earnings: Tech Giant Nvidia Unveils New GPUs Ahead Of Q2 Results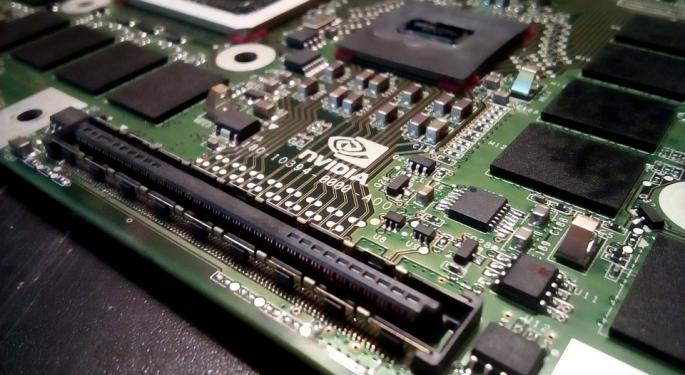 Even though the semiconductor industry has been on a tear these past few years, some analysts and investors are starting to question whether or not high growth rates can be maintained going forward. Investors will get an idea of how business has been at NVIDIA Corporation (NASDAQ: NVDA) when the company reports second-quarter fiscal 2019 earnings after market close on Thursday, August 16.
For Q2, NVDA is expected to report adjusted EPS of $1.83 on revenue of $3.1 billion, according to third-party consensus analyst estimates. In the same quarter last year, the company reported adjusted EPS of $1.01 on revenue of $2.23 billion. NVDA has beat estimates in each of the past eight quarters.
Gaming and Datacenter
Both gaming and datacenter have been NVDA's largest and fastest-growing market platforms. In the first quarter, gaming revenue increased 68 percent year over year to $1.72 billion, while datacenter revenue jumped 71 percent to $701 million. Analysts are expecting gaming revenue growth to slow and datacenter growth rates to be similar to last quarter.
On Monday, CEO Jensen Huang unveiled new graphics processing units (GPUs) based on the company's new Turing architecture. Those products are high-priced and geared towards professional use. Since the company hinted that it would have "spectacular surprises" at its GeForce event on August 20 at gaming expo Gamescom, many analysts and investors are expecting that's when NVDA will unveil new consumer-focused GPUs.
Automotive
Automotive has been a small segment from a revenue perspective, although the company considers it an important part of its growth strategy in the future. In the first quarter, automotive revenue increased 4 percent year over year to $145 million.
Tesla Inc. (NYSE: TSLA) recently stated that it was working on manufacturing its own chips and plans to eventually use those over NVDA's to power its self-driving and autopilot functions its vehicles. Investors didn't appear to put too much stock in the news as NVDA hardly budged.
Self-driving cars are widely seen as a major potential market for high-end chips that essentially act as the vehicle's brain. Currently though, the market is limited since they aren't legal in many places.
Cryptocurrency Sales
Analysts are expecting the company's cryptocurrency-related sales to have declined during the second quarter. The reason being that the price of a vast majority of cryptocurrencies declined between the start of April and the end of June. As prices drop, it becomes less economical for miners to operate mining rigs since the value of their potential earnings decreases.
NVDA recently started breaking out some these specific results and said that $289 million of the revenue in its OEM and IP division was related to GPUs for cryptocurrency mining—that doesn't include any off-the-shelf GPUs that NVDA sells to consumers building their own mining rigs. In Q1, the company generated $387 million total in OEM and IP revenue.
Dividend and Buybacks
For all of fiscal 2019, NVDA said it plans to return a total of $1.25 billion to shareholders through dividends and buybacks. A majority of that has already been returned as the company reported that it had repurchased $655 million in shares and distributed $91 million in dividends in the first quarter.
At this time, NVDA pays a quarterly dividend of $0.15, putting its current yield at 0.23 percent.
Nvidia Options Trading Activity
Around the upcoming earnings release, options traders have priced in a 5.5% stock move in either direction, according to the Market Maker Move indicator on the thinkorswim® platform. Implied volatility was at the 51st percentile as of this morning.
At the August 17 monthly expiration, recent trading on the call side has been concentrated at the 260 and 270 strike prices, although there's been a decent amount of volume at many strikes ranging from the 250 strike up to the 280 strike. Volume has been lighter on the put side and concentrated at the 250 and 260 strikes.
Further out at the September 21 monthly expiration, call trading has been heavier at the 250 and 255 strikes. For puts, the 250 strike has had higher volume with 1,751 contracts trading during yesterday's session.
Note: Call options represent the right, but not the obligation, to buy the underlying security at a predetermined price over a set period of time. Put options represent the right, but not the obligation to sell the underlying security at a predetermined price over a set period of time.
TDAInformation from TDA is not intended to be investment advice or construed as a recommendation or endorsement of any particular investment or investment strategy, and is for illustrative purposes only. Be sure to understand all risks involved with each strategy, including commission costs, before attempting to place any trade.
Posted-In: TD AmeritradeCryptocurrency Earnings News Previews Options Markets Trading Ideas
View Comments and Join the Discussion!