Today In Cryptocurrency: SEC Says Ether Isn't A Security, Steve Bannon A Bitcoin Bull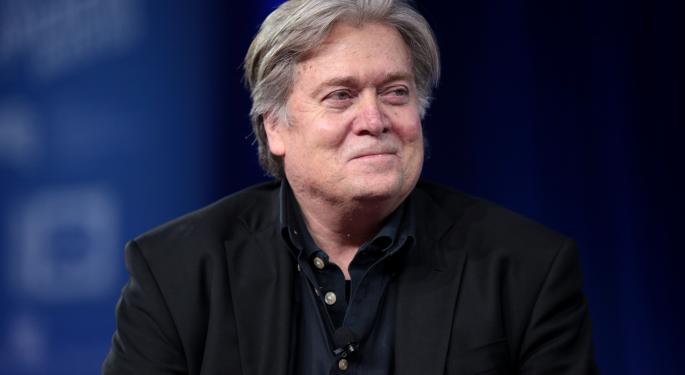 The cryptocurrency market enjoyed a bit of a relief rally on Thursday, with most major cryptocurrencies trading up more than 5 percent on the day. Here's a look at some of the headlines that were moving the cryptocurrency market today — and which currencies were on the move.
Headlines
SEC head of the Division of Corporate Finance William Hinman said cryptocurrencies such as bitcoin and ether are not securities, but that many other ICOs are. Hinman said decentralization is key to whether or not a currency is a security. Hinman echoed SEC chief Jay Clayton, who confirmed earlier this month that cryptos such as bitcoin are not classified as securities and subject to securities regulations.
After testing Ripple currency XRP for six months, Western Union (NYSE: WU) said it has yet to see any financial benefit to transferring money via XRP. XRP has long argued that money transfers via XRP are faster and cheaper that traditional international wire transfers.
Steve Bannon, Donald Trump's former chief strategist and former head of conservative news website Breitbart, has invested in bitcoin and has reportedly discussed launching a new cryptocurrency called "deplorables coin." Bannon reportedly called cryptocurrencies "disruptive populism" and a "revolutionary" way for people to take control from central authorities.
Price Action
The Bitcoin Investment Trust (OTC: GBTC) traded at $11.45, up 8 percent.
Here's how several top crypto investments fared Thursday. Prices are as of 3:30 p.m. ET and reflect the previous 24 hours.
Bitcoin gained 4.7 percent to $6,649;
Ethereum gained 9.3 percent to $517;
Ripple gained 5.9 percent to 55 cents;
Bitcoin Cash gained 6.7 percent to $887;
EOS gained 13.1 percent to $11.24.
The three cryptocurrencies with at least $1-million market caps that have made the biggest gains over the past 24 hours are:
FirstCoin: $2.3-million market cap, 289.7-percent gain.
CHIPS: $3.4-million market cap, 156.3-percent gain.
GoByte: $8.2-million market cap, 59-percent gain.
The three cryptocurrencies hit hardest in the past 24 hours were:
BuzzCoin: $2.6-million market cap, 24.5-percent decline.
Quark: $1.8-million market cap, 20-percent decline.
PinkCoin: $4.9-million market cap, 16-percent decline.
Related Links:
Coinbase Adds Ethereum Classic, Researchers Find Major Crypto Market Manipulation
Buy, Sell Or HODL? This Bull Thinks 'Bitcoin Is Just Getting Warmed Up'
Image credit: Gage Skidmore, Flickr
Posted-In: Bitcoin Ethereum rippleCryptocurrency News Top Stories After-Hours Center Markets Best of Benzinga
View Comments and Join the Discussion!