Where's The Future Headed? Highlights From The Next Web Conference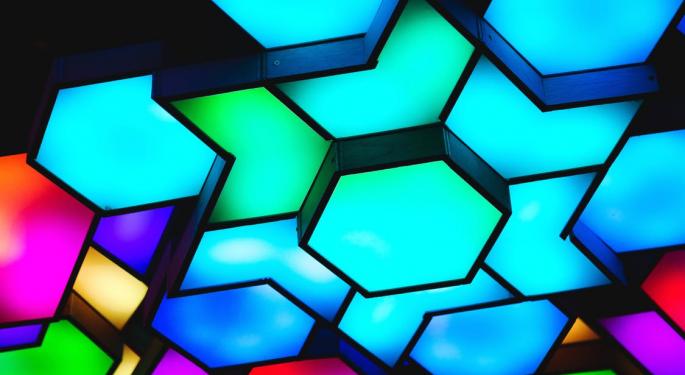 Keeping track of the pace of technological change and identifying future trends is a challenge for any investor that's looking for opportunities in burgeoning industries. The challenge only seems to grow as the pace of innovation accelerates.
That's why major events like The Next Web Conference (TNW 2018) that wrapped up recently can provide an opportunity for investors to learn about how industries are being reshaped and what the future might hold from those who are leading the charge.<
At TNW 2018, industry leaders, venture capitalists, and experts shared the challenges and opportunities that new technology is bringing to virtually every industry. Below are some of the takeaways from this year's conference.
1. AI Gets Emotional
As the technology powering virtual assistants has improved, their adoption has increased and their capabilities have grown. Microsoft Corporation (NASDAQ: MSFT), Apple Inc. (NASDAQ: AAPL), Amazon.com, Inc. (NASDAQ: AMZN), Alphabet, Inc. (NASDAQ: GOOG) (NASDAQ: GOOGL), among others, have all been in somewhat of a race to develop AI-powered virtual assistants.
But the human element of emotional intelligence is still missing from most commercially available artificial intelligence. and that's something that many humans crave, according to Pamela Pavliscak, CEO of Change Sciences. That's something she thinks is going to change in the coming years.
To get there, one potential way for AI-powered products is to continue to get better at analyzing our facial cues with facial recognition technology.
2. Blockchain and Cryptocurrency
As to be expected from a technology event these days, blockchain and cryptocurrencies were front and center at TNW 2018.
While there was certainly no shortage of enthusiasm for blockchain and cryptocurrencies, it was made clear there is plenty of uncertainty regarding their future, even among their advocates.
In his talk highlighting some of the stability and scalability issues facing blockchain technology, Bryce Bladon, the inventor of CryptoKitties, pointed out that "Few people can tell you why it matters, fewer people can show you why, and almost next to no one is letting you experience why."
Read more about the basics of bitcoin and cryptocurrencies on The Ticker Tape.
3. The Future of Sports
The sporting world has been undergoing a revolution as traditional sports viewing evolves and esports grow in popularity.
"We know that the sports audiences are growing in age as an average population. So creating experiences for mobile, for interactive is a key criterion of building sports for the future," Andy Miah, a leading expert in transhumanism who has written extensively about the convergence of sports and new technology, said during his talk on the new digital world of sport.
This is a trend that has been seen in several ways in recent years.
First, many legacy cable companies have faced subscriber losses. According to Walt Disney Co (NYSE: DIS) recent earnings calls, ESPN has faced these woes for some time now and the company has announced several steps it is taking to try to address them; the biggest being Disney's majority acquisition of BAMTech to launch their own ESPN-branded streaming service.
Second, there are a lot of companies that have invested heavily in esports. Companies like Amazon, Activision Blizzard, Inc. (NASDAQ: ATVI), Electronic Arts Inc. (NASDAQ: EA) and Tencent Holding ADR (OTCMKTS: TCEHY) are just some of the many that have made gaming-related acquisitions and rolled out new multiplayer games.
4. Growth Comes from Unexpected Places
Naturally, companies don't want investors to think they're behind the curve. Listen to an earnings call and you'd be hard pressed to find a company that isn't talking about artificial intelligence, innovation, and all the other technologies they think will help propel their growth in the future.
But sometimes being a first mover and attacking a niche where there isn't a lot of competition can provide an opportunity for growth.
Take mattresses for example. Before the Internet, there were limited ways to purchase them. You pretty much had to go to a furniture store or, better yet, a superstore that only sells mattresses.
In recent years, there have been several companies launched in the U.S. and abroad to make mattress shopping a digital experience. Emma, a German company that sells mattresses online, won TNW's Team5 tech competition and was named Europe's fastest growing start-up at TNW 2018 with revenue growth of 14,315 percent from 2015 to 2017.
In the U.S., online mattress retailer Casper has undergone a similar growth trajectory, generating more than $600 million in revenue in its first three years of operation, according to the company.
As you can see, industries continually evolve and investors are faced with thousands of choices of where to put money. Events like TNW 2018 can help guide you towards starting points when you're analyzing future trends for potential investment opportunities. Not only can you get ideas to research further, you can also start to think about how industries you've invested in could be disrupted.
Information from TDA is not intended to be investment advice or construed as a recommendation or endorsement of any particular investment or investment strategy, and is for illustrative purposes only. Be sure to understand all risks involved with each strategy, including commission costs, before attempting to place any trade.
Posted-In: TD Ameritrade The Next WebCryptocurrency Education Markets Tech General
View Comments and Join the Discussion!