Pot Stocks, ETFs, Top News And Data From The Cannabis Industry This Week
May was a hectic month for the cannabis industry, which saw five companies go public on major stock exchanges. This week saw MedMen, the largest cannabis company in the United States, start trading in Canada.
"MedMen began trading on the Canadian Securities Exchange, but it didn't get off to a very good start. The stock fell over 20 percent in the first couple of days of trading and the company faced criticism for it compensation structure for its top executives and lack of voting rights for new shareholders," Green Market Report CEO Debra Borchardt told Benzinga.
"Also, mainstream investment houses were jumping into the industry as BMO Capital initiated coverage on Aphria and Canopy Growth with outperform ratings on both stocks. Then Stifel issued a white paper on the cannabis industry that didn't really break any new ground, but served as their entry into the space," she added.
The United States Marijuana Index, which tracks 17 of the largest marijuana stocks in the U.S., gained roughly 6 percent this week, while the North American Marijuana Index, which also includes Canadian stocks, rose 2.4 percent.
Over the last five trading days (May 25–June 1), the Horizons Marijuana Life Sciences Index ETF (OTC:HMLSF) gained 0.6 percent, while the ETFMG Alternative Harvest ETF (NYSE:MJ) lost 1.1 percent. The SPDR S&P 500 ETF Trust (NYSE:SPY) gained 0.45 percent.
Stock Moves
Here are some of the top marijuana stocks in U.S. exchanges and how the performed over the last five trading days (percentages reflect approximate equity moves as of the time of the writing of this article.
In Other News
A consortium of cannabis-related media professionals are conducting a Cannabis Media Survey. You can answer following this link.
MedMen Enterprises Inc. (CSE:MMEN), the largest U.S.-based cannabis company, began trading Tuesday on the Canadian Securities Exchange.
"The public offering, which followed MM Enterprises USA's reverse takeover of Canada's Ladera Ventures Corp., gives international investors a fresh entry point into the significant, growing and largely inaccessible U.S. cannabis industry," Benzinga's Elizabeth Balboa explained in a recent article. "It also provides fresh capital to a firm intent on galvanizing and serving the U.S. marijuana market."
FSD Pharma Inc. (CSE:HUGE) started trading on the Canadian Securities Exchange on May 29. Wholly-owned subsidiary FV Pharma Inc. owns a license to produce marijuana under the Access to Cannabis for Medical Purposes Regulations (ACMPR). While the company highlighted the high trading volume (a total of 113,135,861 shares traded, a CSE record), some analysts, like Chris Parry at Equity.Guru called the IPO an "an insider loaded, overvalued, restrictive mess."
Ron Silver, chef and owner of Bubby's restaurants in New York City, launched a line of fast-acting cannabis edibles and ingredients called Azuca. The culinary icon recognized the need for trustworthy, predictable edibles in the cannabis market and developed a unique, patent-pending technology that wraps cannabis molecules in a membrane which makes them more water soluble, and therefore more bioavailable and faster-acting. CBD versions of Azuca products are currently available through Bubby's restaurants, and THC products will be available in legal markets beginning in Massachusetts this summer.
"As a passionate chef, entrepreneur and true believer in the myriad benefits of cannabis, I recognized a gap in the market for a trustworthy edible product. Azuca leverages breakthrough technology to make cannabis delivery more effective with precise dosing options… The mission is to finally make cannabis approachable, with a place at the dinner table," said Silver.
Business law firm Greenspoon Marder announced the acquisition of The Liaison Group, a U.S.-focused federal advocacy firm for the cannabis industry
"Among the first national law firms to establish a dedicated Cannabis Law practice, our firm is proud to be at the forefront of this exciting industry," a company representative told Benzinga in an email. "Our work with The Liaison Group will allow Greenspoon Marder to focus on the next step in our efforts to aid the growth of the cannabis industry on a federal and state level. The Liaison Group focuses their efforts on the House and Senate with the goal of protecting and preserving state-authorized cannabis programs. It is our objective to tackle the issues affecting the industry on behalf of the interests of our cannabis clients, beginning with the issue of the current classification of Cannabis as a Schedule I Controlled Substance.
The upcoming BevNET Live Expo, one of the leading conferences for the beverage industry, will be including Keef Brands. This is another example of continued normalization and respect for cannabis edibles in the food and beverage sphere.
"We are very excited for the opportunity to speak about Cannabis beverages during the upcoming BevNET conference. This year has been chock full of announcements regarding the category and we have some very exciting opportunities to discuss," CEO Erik Knutson said.
Maricann Group Inc (CSE:MARI) posted first-quarter profits of $600,591, down from $1.14 million in the same quarter last year. The net loss fell from $(1.53) per share to $(0.11) per share.
Interesting Data
A recent survey of 800 legal cannabis consumers conducted by NYC-based media and brand consultancy Miner and Co. Studio revealed how different real consumers are from the media's traditional "stoner" stereotypes.
Respondents were:
21 to 55 years old (35 years old on average)
51 percent male; 49 percent female
77 percent have a household income of $75,000 or more
86 percent employed full-time
73 percent married or living with a significant other
72 percent parents of children under 18
49 percent Democrat; 30 percent Republican
Recent data from the Colorado Marijuana Enforcement Division revealed a dramatic growth in the state's volume of flower sold, from 25.2 thousand pounds in Q1 2014 to 100.4 thousand pounds in Q4 2017.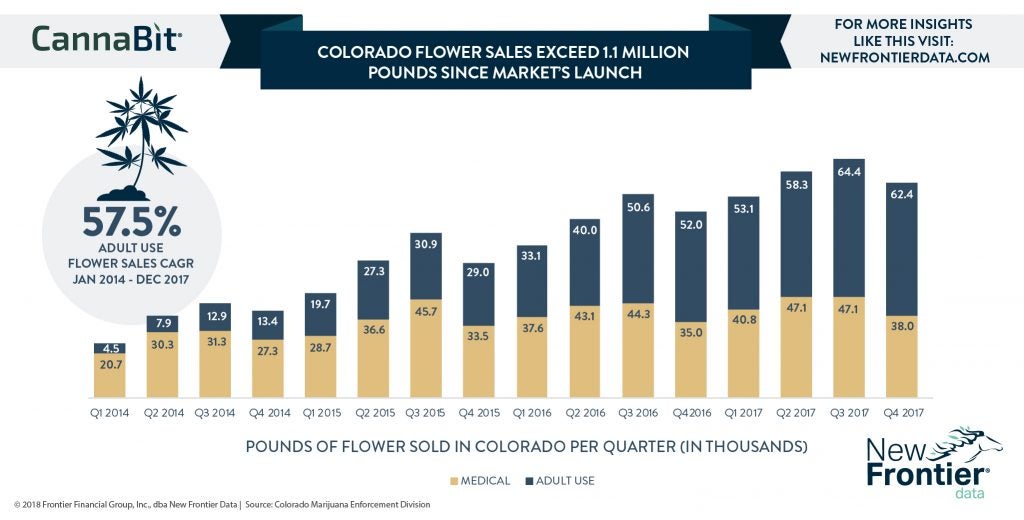 "Given flower's proven popularity as a favorite way to ingest cannabis, it will remain the leading product category for the foreseeable future even as consumers increasingly embrace other product forms for their convenience, discretion, or potency," analysts at New Frontier Data said.
BDS Analytics published an update on the Oregon cannabis market. The data compares Q1 2017 to Q1 2018 in the state. Here are some key findings:
Current consumption and likelihood to consume remained relatively stable in Oregon in the past year among adults ages 21+ years.
Thirty-six percent of the Oregon population declared to having consumed cannabis in the last six months.
Similar to Q1 2017, consumers tend to skew male and younger as well as adventurous, creative and working full time.
Recreational and social motivations have increased dramatically among consumers, while the number of medically motivated consumers has remained relatively stable.
There is a slight shift away from use of inhalable methods and towards edibles and topicals, but preferred methods remain stable.
Inhalables and edibles are consumed for relaxation reasons; topicals are primarily associated with pain relief.
Events Calendar
June 2: Hemp-focused company Root Origins and its non-profit, Help Your Harbor, is conducting its annual underwater cleanup event in which certified SCUBA- and land-based volunteers pick up trash off the bottom of the ocean. The second annual event will take place Saturday with the Newport Beach mayor MCing the event.
June 7: KCSA Strategic Communications announced its Virtual Investor Conference, which will feature live webcast presentations by senior executives from a range of leading publicly-traded companies operating in various stages of the cannabis industry – including cultivation, commercial activity and provision of support services to the sector. Presenting companies include Aurora Cannabis, Golden Leaf Holdings Ltd (OTC:GLDFF), iAnthus Capital Holdings, Khiron Life Sciences Corp. (TSXV:KHRN), Kush Bottles Inc (OTC:KSHB), Medicine Man Technologies Inc (OTC:MDCL) and Terra Tech Corp (OTC:TRTC). These companies will discuss their businesses and investment stories as well as answer questions from investors. Investors will be able to interact directly with the presenters and other participants, as well as watch pre-recorded materials, download annual reports, investor kits, surveys and other information from a virtual "exhibit hall."
June 8–9: The Midwest Cannabis Education Conference is coming to Chicago, featuring internationally renowned physicians and researchers like Mara Gordon, Dr. Cristina Sánchez and Dr. Paola Pineda. The experts will discuss the benefits of medical marijuana as an effective medication in the treatment of seizures, pain management, anxiety and PTSD, and cancer. In addition, Jeff the 420 Chef will demonstrate how to make cannabis-infused edibles. More information following this link.
June 13: B2B cannabis provider Grassposts will host a special event to celebrate six months of adult cannabis sales in California. Lori Ajax, Chief of the California Bureau of Cannabis Control, and Cat Packer, Executive Director of LA Department of Cannabis Regulations, and Grasspost CEO Johnny Sayegh will host a fireside chat. "I am beyond thrilled to be sharing a stage with Chief Ajax and Executive Director Packer for this truly unprecedented event," Sayegh said. "For the first time, industry members will be able to engage with two of the most powerful individuals in cannabis and gain valuable insight into how the cannabis industry will continue to evolve."
June 14: Cannabis company Stone Road Farms, is hosting a party to celebrate the attainment of its state license and expansion throughout California. The party will feature a full bar, a customize-your-own-joint bar, and pop-up stations featuring some of L.A.'s hottest brands. Gabriel Garzon Montano will be performing; his debut album "Jardin" garnered critical acclaim from Pitchfork, Rolling Stone, and NPR. In addition, the company commissioned a 24k gold giant Elephant Tusk joint filled with the finest flowers and concentrates available on the California market which will be auctioned off to assist in the protection of African wild elephants. Price is expected north of $24,000.
August 17–18: Benzinga is hosting its first Cannabis Capital Conference in Toronto, Canada. Speakers include 420 Investor Alan Brochstein, Medicine Man Technologies CEO Brett Roper and Lewis Goldberg of KCSA. Read all about it here.
Picture by Javier Hasse.
© 2020 Benzinga.com. Benzinga does not provide investment advice. All rights reserved.
---