Finally There Is A Cure For Tobacco Addiction (CIGX)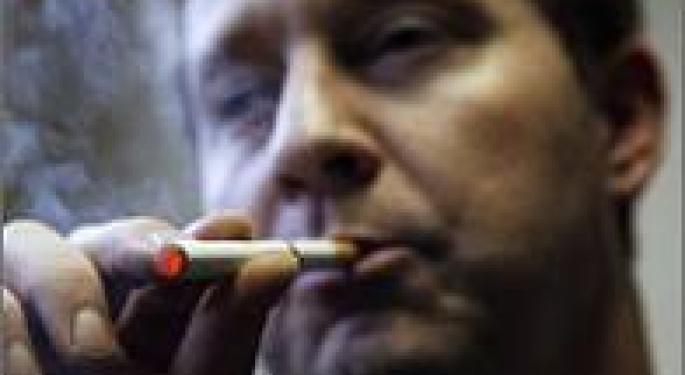 In an article on SeekingAlpha, Dr. John L. Faessel said that every day about 80,000-100,000 kids are initiated into smoking across the world. The shocking fact is that about one quarter of the children living in the Western Pacific Region are set to die from smoking.
In these circumstances, Star Scientific Inc (NASDAQ: CIGX) has announced the launch of its much awaited dietary supplement CigRx™ in the greater Richmond, Virginia area. The company will soon be undertaking a national campaign for the Tic-Tac type lozenge, which uses a unique combination of dietary ingredients to temporarily reduce the urge to smoke.
The drug is available across the nation via the Internet. Since CigRx is made with natural ingredients, is an over-the-counter drug and is non-nicotine nutraceutical, you do not require a prescription to buy the drug.
InVentiv Health (NASDAQ: VTIV), a major drug / health product distributor, has directed the launch of the new patent pending, non-tobacco product. The importance of InVentiv can be gauged from the company's client list in the Pharma industry includes Johnson & Johnson (NYSE: JNJ), Abbott (NYSE: ABT), Novartis (NYSE: NVS), Merck (NYSE: MRK), Pfizer (NYSE: PFE), and Eli Lilly (NYSE: LLY).
InVentiv, whose footprint covers 44 countries, is targeting a market whose breadth spans an impressive 1.2 billion smokers who spend $325 billion for cigarettes. With InVentiv now partnering with CIGX; you can consider the possibilities for CigRx.
InVentiv is specifically targeting doctors and pharmacists during this initial phase. The only reason behind this is that they have a high degree of confidence in the CigRx drug. Moreover, such a big firm will not undertake this "partnership" with CIGX without being completely sure of this product.
By targeting doctors and pharmacists, InVentiv has raised CigRx from being a simple over-the-counter product to a product that has a "much higher level of eminence and distinction."
InVentiv also plans to aggressively rollout CigRx across the nation, with infomercials and other media support after its hush-hush study on the drug completes. The study has already indicated that the CigRx™ lozenge is effective in significantly reducing the urge to smoke. Although the timeline of the results hitting the market is not definite, they should be available for all to see once the doctors get detailed thoroughly.
When the news of a drug that finally stops the urge to smoke hits the market through all the major and minor media outlets, just imagine the stir it will cause.
Posted-In: CigRx InVentiv Health John L FaesselLong Ideas News Intraday Update Markets Trading Ideas
View Comments and Join the Discussion!