The Case Of PetroChina, The Worst Stock Slump Ever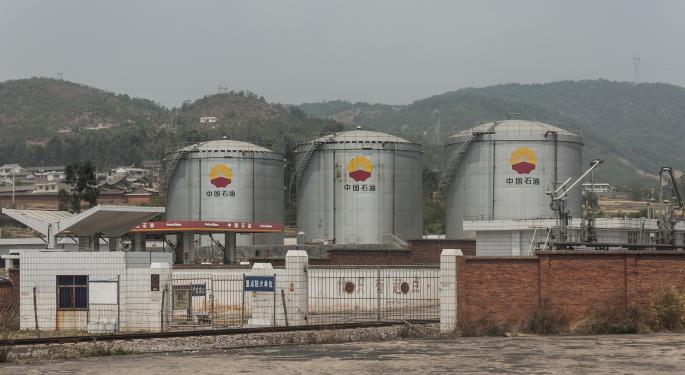 The unofficial title of the world's worst stock slump is awarded to PetroChina Company Limited (ADR) (NYSE: PTR), Bloomberg reported. China's state-owned energy producer also holds the title of being the first trillion-dollar valued company, but that was back in 2007, and the company is worth just north of $200 billion today.
By dollar amount at least, the loss of $800 billion of market value represents the largest elimination of shareholder wealth. Granted, by percentage decline there are bigger losers than PetroChina, such as DryShips Inc. (NASDAQ: DRYS). The stock is down around 99.9 percent over the past 12 months.
Nevertheless, the elimination of $800 billion in shareholder value represents a dollar amount that is larger than Microsoft Corporation (NASDAQ: MSFT)'s entire market cap of $608 billion and the estimated U.S. fiscal 2017 budget deficit of $668 billion.
PetroChina's stock has been crushed due to economic policy shifts the Chinese government has made over the past decade, Bloomberg said. For example, the government shifted away from a commodity-intensive development model and cracked down on "speculative manias," which helped boost the stock above the $1 trillion mark in the first place. Of course, the 44 percent decline in oil prices over the past 10 years contributed to the stock's sell-off over the years.
But investors hoping for a rebound in PetroChina's stock may want to reconsider, at least according to Toshihiko Takamoto, a Singapore-based money manager. He told Bloomberg that PetroChina's stock still looks expensive as it is trading at 36 times earnings. By comparison, Chevron Corporation (NYSE: CVX)'s stock is trading at 25 times earnings and Exxon Mobil Corporation (NYSE: XOM) at 22 times earnings.
Related Links:
New ETF Focuses On China's Clean Environment Initiatives
12 Stocks Moving Following China Import News
________
Image Credit: CEphoto, Uwe Aranas, via Wikimedia Commons
Posted-In: Bloomberg China China OilCommodities Global Top Stories Markets Media Best of Benzinga
View Comments and Join the Discussion!