Rolling A Lucky 7: Can Market Extend Streak As Holiday Weekend Approaches?
Earlier this week, the market was in "recovery" mode after its recent stumble. Now that the S&P 500 Index (SPX) has closed at all-time highs, we might need a new word for this six-day rally. The market continues to stay resilient no matter what gets thrown at it, so maybe "resilient" is the right expression at this point.
However, stock futures ticked lower in pre-market trading and it seems conceivable that traders might take some profit ahead of the long weekend. We'll have to wait and see if the SPX can make it to seven in a row to close out this pre-holiday stretch. One thing that might help: The government raised its estimate Friday for Q1 growth to 1.2%, a significant change from its previous 0.7% projection and above Wall Street analysts' consensus of 0.9%. While 1.2% growth is still weak, the adjustment from the earlier figure seems to provide more evidence of better economic health, and the SPX started to crawl higher in futures trading after the number crossed the tape.
The SPX's win streak marks the 11th time the large-cap index has risen for six sessions in a row in the past five years, MarketWatch reported. Nasdaq also set a new high. Once again, info tech stocks were among the leading sectors driving the market higher as nine of 11 sectors gained. Investors continued to take comfort from Fed minutes released this week that promised a structured and gradual winding down of the Fed's balance sheet.
On the earnings side, more good news came late Thursday as Costco Wholsale Corporation (NASDAQ: COST) beat Wall Street analysts' expectations for revenue and earnings per share, while same-store sales rose 5%. Those results continue a recent stretch of better tidings from the retail industry. COST is just the latest big company to report a strong quarter, another reminder of the contribution earnings growth played in the market's rally to record highs.
Crude oil took it on the chin Thursday, falling below $50 a barrel despite OPEC extending its production cuts by an additional nine months. Many had expected the cartel to cut production even more from current levels, thinking that's what it would take to bring supply back into line as U.S. production continues rising. So the market might be reflecting disappointment that OPEC didn't go further. Oil prices edged up a little early Friday.
Stocks seem ascendant, but like water flowing downhill, the VIX keeps being guided by gravity this year. Arguably the most well known measure of market fear, the VIX tumbled back below 10 on Thursday to levels last seen before the Washington-related sell-off last week. A weak VIX reading often indicates traders don't see major catalysts that could send prices scurrying quickly up or falling rapidly lower.
VIX is now back above 10, and bears watching today. Trading might be somewhat normal the first hour of the day, but things could start to drift after that as many head for the exits early and volume thins. We might see a jumpy sort of trading, partly because some market participants might be hedging. It is a patriotic holiday, and after what happened in England earlier this week, some traders might want to take protection against any potential follow-up events over the next three days. It's sad to have to think about this, but it's not a good idea to ignore, either.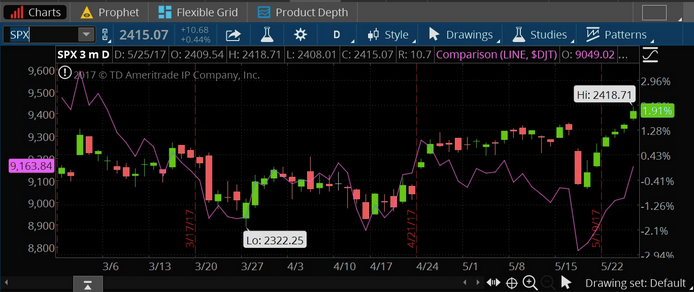 FIGURE 1: TRANSPORTS IDLE.
After trading pretty evenly with the S&P 500 (SPX) earlier this yer, the Dow Jones Transport Index ($DJT), denoted by the purple line and plotted through Thursday vs. the SPX on the thinkorswim platform from TD Ameritrade, has lost ground. Data source: Dow Jones, Standard & Poor's. For illustrative purposes only. Past performance does not guarantee future results
Transports Not Accelerating
The rally to record highs could seem like cause for a party on Wall Street, but one key sector isn't keeping up: Transportation. The Dow Jones Transportation Average ($DJT) is actually down more than 1% over the last three months, while the major stock indices have climbed. Transports' performance slightly improved this week, but still lag other sectors. Some analysts see transports as a proxy for the overall economy, so weakness there could point to economic trouble potentially brewing. Keep in mind, though, that transports hit a record high back in March and remain historically lofty, and Q1 corporate earnings appeared to indicate a healthy economy. Keep an eye on transports going forward, because continued divergence from the broader indices could be a bearish sign.
Signs of Life from Brick-and-Mortar
Reports of the death of brick-and-mortar stores appear to be greatly exaggerated, to paraphrase Mark Twain. Best Buy Co Inc (NYSE: BBY) reported strong earnings Thursday, which followed generally solid results a couple weeks ago from Home Depot Inc (NYSE: HD), Target Corporation (NYSE: TGT) and Wal-Mart Stores Inc (NYSE: WMT). Costco followed late Thursday with a firm quarter. The economy appears healthy, judging from the employment numbers and rising retail sales, and consumers are out there buying. What's important is that the old-line stores find ways to attract customers, and the outlets above appear to be succeeding. Now some of that is on the ecommerce side, with WMT's online sales growing 63% in Q1 and TGT online sales up 22%.
Keep on Toes for Pre-Holiday Action
With the three-day weekend approaching, investors might want to take a little more caution than usual wading into the market today amid potentially light volume. There could be some late-day position squaring as market participants depart for the holiday, and that could create volatility. Looking ahead to next week (and this may seem hard, being that it's still so far away), key data loom, especially non-farm payrolls next Friday. Investors also get an inflation update with PCE prices on Tuesday and another look at economic health with Chicago PMI on Wednesday. Hopefully that's all stuff you can put out of your mind for a bit while relaxing over the holiday, but be prepared to come back refreshed and ready for action next Tuesday.
Posted-In: JJ Kinahan TD AmeritradeCommodities Retail Sales Econ #s Federal Reserve Markets Tech
View Comments and Join the Discussion!