The Stronger Dollar Is Bringing Gold Down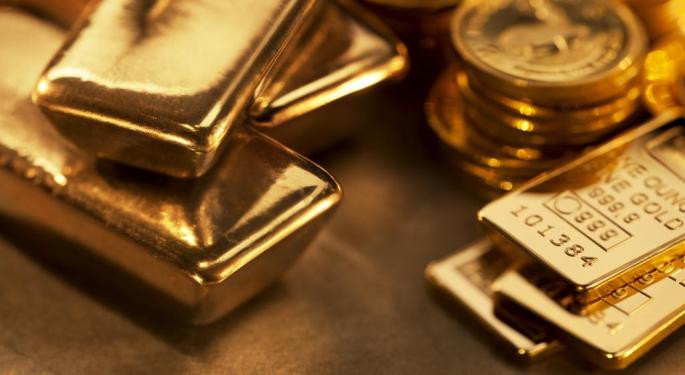 Gold is tanking. The SPDR Gold Trust (ETF) (NYSE: GLD) is at a five-year low and is down more than 2 percent on Monday. Benzinga reached out to Phil Davis, Founder of PSW Investments, to get his take on the downturn in the precious commodity.
According to Davis, gold's losses are largely attributable to a stronger dollar. He noted that "if you look at the dollar compared to the yen or the euro, it's up more than 15 percent from last year.
"But if you talked to a Japanese trader right now, they would say 'I wish I had more gold!'"
Some analysts have also suggested that increased stability in European and Chinese markets -- and therefore a lowered global risk profile -- could have contributed to a sell-off in gold, given its role as a risk mitigator. Davis is skeptical of this logic.
"In 2006 and 2007," he said, "gold rocketed higher" even though there wasn't much perception of risk in the markets.
According to Davis, gold is mostly a reflection of "inflationary factors [such as] the supply of money" as opposed to risk. Although the supply of money "has never been greater," gold prices are being held down by low money velocity. Davis expects global velocity to pick up as central banks' stimulus initiatives take effect and gold to climb with it.
In addition, Davis believes that a spike down in gold last week was triggered by the People's Bank of China's disclosure of its gold holdings. Although the figures indicated that China is the world's second-largest gold buyer, he said that investors were actually expecting China to have even more of the precious commodity. "People were hoping that China would move to a gold-backed currency....but there is no indication of that."
View Comments and Join the Discussion!
Posted-In: dollar euro Gold Phil Davis PSW InvestmentsCommodities Exclusives Markets Best of Benzinga