Oil Below $70 -- Is It Time To Position For A Rebound?
Last week, crude oil prices and market valuations in oil stocks saw some of their biggest declines in recent memory. OPEC's latest announcement to avoid cuts in its daily production target (30 million barrels) was the main catalyst behind this drop -- and crude oil is now trading at its cheapest levels since the middle of 2010.
For commodities investors, these trends have been par for the course for some time. Declining energy demand in Europe and renewed speculation of an economic slowdown in China have put pressure on crude prices -- and on oil stocks -- for most of this year. Add to this the supply disruptions that have been created by the boom in US shale oil production and we have a scenario that could lead to weakening oil prices well into next year. But are there scenarios that could turn things around in energy markets?
OPEC Decision
When we look at the reasoning behind OPEC's decision to maintain its production targets, it starts to become obvious that several member nations are operating on the assumption that continued declines in the price of oil will make it more difficult for shale oil companies in the US to remain competitive. Analyst estimates suggest that the fracking industry will have a difficult time surviving if the price of oil drops below $60 per barrel.
Increased oil shale production in areas like Oklahoma, Texas, and the Dakotas has created roughly 2 million jobs in the US and helped drive the average price of gasoline down to $2.80 per gallon. These are the lowest seasonal levels we have seen since 2009. But fracking involves drilling and excavation of shale found miles underground. This means extra costs for US companies that can be avoided by OPEC counterparts -- and this is why oil prices below $60 per barrel could make it economically unfeasible for these US companies to continue producing oil at the current rate.
Potential Positioning For A Commodities Rebound
On Friday, WTI crude prices closed just above $66 per barrel, so we are fast approaching the $60 "line in the sand" that has been set by many analysts in the sector. This means it is time for investors to start looking at assets that could benefit from a longer-term rebound in oil prices. Given the recent volatility that has been seen in these sectors, it makes sense to maintain a diversified stance while still building exposure to energy markets while assets are still cheap.
One name to watch here is the C-Tracks Miller/Howard MLP Fundamental Index ETN (NYSEARCA: MLPC), which tracks the broader performance in 25 Master Limited Partnerships (MLPs) in the Miller/Howard MLP Fundamental Index. An MLP is a limited partnership that is publicly traded, so investors receive the tax benefits typically associated with those investments.
http://i62.tinypic.com/2v33cyr.png
(Chart Source: CornerTrader)
Added drivers for potential returns in MLPC could be its elevated yield (4.7%) and the broadly diversified set of assets it covers. Focusing most of its attention on midstream oil and gas companies with an attractive distribution profile, MLPC offers access to 15 large caps and 10 mid-small caps in the sector. This balance should allow investors to capitalize on stable distribution growth while still creating a strong risk-return profile that could benefit from a longer-term rise in crude prices. With the added exposure to these smaller-cap companies, income generation could be heightened even further if we start to see an increase in industry consolidation.
Distribution growth is generally thought of as the most attractive aspect in MLP investments. So even if we continue to see stalling in energy markets for the near-term, long positions in MLPC should remain relatively protected. The ETN has fallen more than 11.3% from its yearly highs. So if we start to see changes in the supply/demand dynamic for the sector as a whole, key component names like EnLink Midstream (ENLK) and Sunoco Logistics (NYSE: SXL) should provide some supportive benefit.
Recent reports from the American Petroleum Institute have suggested that oil prices would be roughly double what they are now if the current boom in fracking was not influencing market prices. Given the latest decisions made by OPEC's member nations, it would not be surprising to start seeing changes in the way many of these businesses operate. With this in mind, it is time to start looking at companies that will benefit from higher oil prices. This could mean major reversal potential in instruments like the C-Tracks Miller/Howard MLP Fundamental Index ETN.
Stock chart: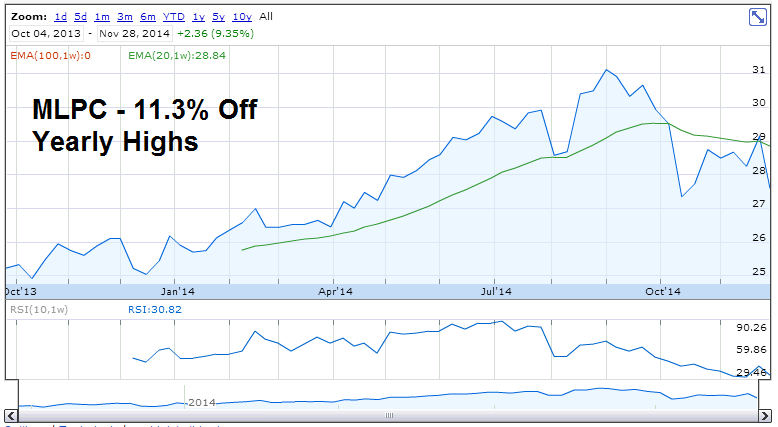 Posted-In: MLPCCommodities Markets
View Comments and Join the Discussion!