Oil Prices to Reach $80/Barrel?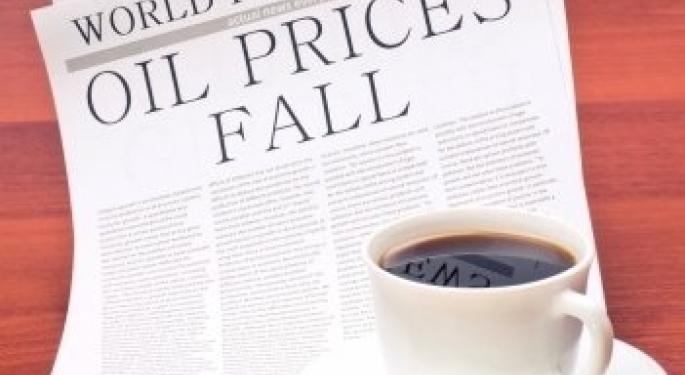 Oil prices are heading higher on the chart with the cash West Texas Intermediate (WTI) crude rallying back toward the $100.00 level after threatening to test $90.00.
Steady economic signs in the United States, China, and Japan—the three largest economies in the world—along with some muted growth in the eurozone and Europe are adding some spark to the oil futures… But hold on; doesn't the buying seem somewhat premature?
I'd say so, as I believe oil prices may have limited upside unless something dramatic surfaces in the Middle East that impacts OPEC oil.
The Organization of the Petroleum Exporting Countries (OPEC) has also come out and said it would maintain its current daily production quota and not cut supply in order to add support to oil prices.
Also Read: NYSE Holidays 2014
I doubt we will see $130.00-per-barrel oil prices anytime soon—unless, of course, tensions escalate in the Middle East and a war breaks out across a wider region that would impact the flow of OPEC oil. The current nuclear agreement in Iran has also added some stability to the region.
And the futures market for oil supports my view, too. A look at the oil futures actually shows expectations for oil prices should decline back towards $92.00 by the end of 2014, drop below $90.00 in 2015, and continue downward to $80.00 by 2018. The December 2022 futures contract points to $78.00-per-barrel oil.
The chart of WTI oil below shows the downward channel and recent breakout, which I doubt will have much holding power as it nears the $100.00 level.
Chart courtesy of www.StockCharts.com
Now while the prospects over the next eight years don't look great, the actual movement of oil prices will obviously be dependent on other variables that will come into play, such as demand, industrial growth, geopolitical tensions, and the production of domestic oil via fracking.
It's the rising production of domestic oil through fracking that could inevitably drive a downward push in oil prices of both WTI and Brent crude.
I believe that there's a real possibility America could cut its buying of OPEC oil in the future as fracking oil production rises. Of course, the country could also supplement OPEC oil with extra oil from the Alberta tar sands, which continues to be a major issue in the country.
If this scenario plays out, we could cut the volatility of oil prices that has played a big role in the past but has now lessened with the reduced buying of OPEC oil.
Oil and gas magnate T. Boone Pickens is surely enjoying what he is seeing, as he has always been extremely vocal about cutting the country's dependence on OPEC oil.
For the consumer, this may mean lower gasoline prices, and for businesses, it may mean lower energy prices.
The big winners will likely continue to be the oil companies that are undertaking fracking, such as Continental Resources, Inc. (NYSE: CLR) and Whiting Petroleum Corporation (NYSE: WLL). I also like Schlumberger Limited (NYSE: SLB) and Halliburton Company (NYSE: HAL).
This article Oil Prices to Reach $80/Barrel? was originally published at Investment Contrarians
The preceding article is from one of our external contributors. It does not represent the opinion of Benzinga and has not been edited.
Posted-In: Commodities Markets Trading Ideas
View Comments and Join the Discussion!