Gold Bears Are Gaining Confidence
By Poly

This is an excerpt from Wednesday's premium update from the The Financial Tap, which is dedicated to helping people learn to grow into successful investors by providing cycle research on multiple markets delivered twice weekly. Now offering monthly/quarterly ways to subscribe complete with 30 day refund.
By the close of trading yesterday, gold had essentially retraced the entire post FOMC $60 surge. This occurred on days 2 through 5 of a new Daily Cycle, typically a portion of any Cycle reserved for strength. To see an impressive launch of a new Cycle be retraced so early is obviously "on the surface" bearish.
So as it stands today, gold is still showing us a Day 1 top, and bears are certainly back in control. Last week's COT report indicates that the bears are again gaining confidence, as evident by the increase in short interest. The action since the Aug 28th 2nd DC Top has been bearish, and because of this prolonged weakness, I'm finding many of my weekly tracking oscillators are now trending lower. The level of decline suggests we need to be very cautious with our expectations for this 3rd DC.
Today we saw a $12 rise, but it came on a day where the dollar dropped significantly. Jitters around the approaching government funding shortfall and the need to raise the debt ceiling are likely to provide pressure on the dollar in the near future. The fear of a technical default by the US is still being heavily discounted, it's too early. At some point though, if this becomes a real political game of chicken, then there is no telling what impact it will have on the dollar and gold.
As it stands today, a gold counter trend bounce is not unusual; in fact it should be expected. We had a good 2 Daily Cycles before this one, so it would be just too sudden to expect a breakdown so early in the 3rd Daily Cycle. The question, for which I don't have an immediate answer for, is this a delayed start to a Cycle rally, or just an oversold bounce headed towards a retest of the FOMC surge. The fact is, the evidence supports both scenarios, and there is little clarity to support one scenario over the other.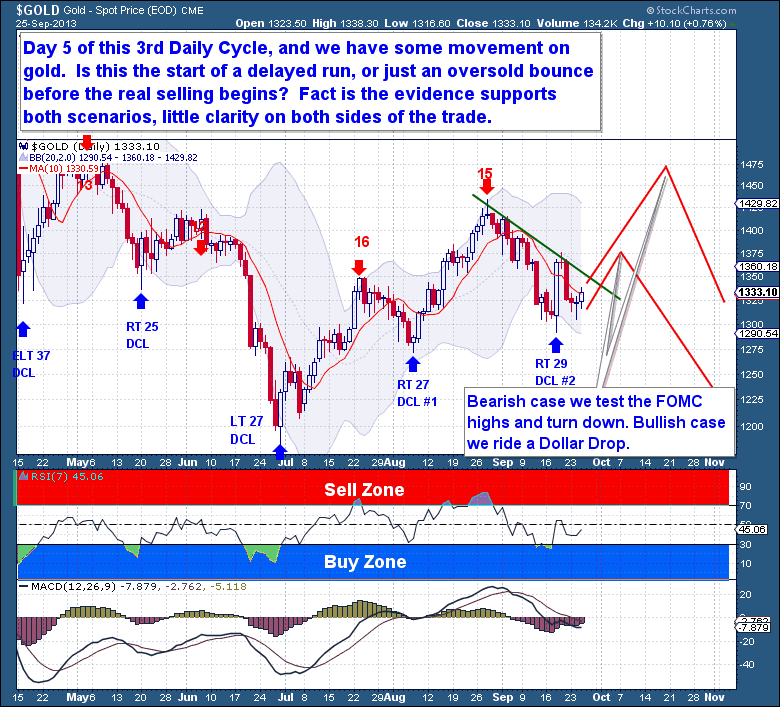 Gold has not technically failed and is just on Day 5, so plenty of time remains to support a bullish scenario. It has the room to move higher and sentiment is at lows conducive of an upside surprise. The retracement of the FOMC surge has the bears licking their paws, again, so the scene is ripe for another significant short covering rally. The dollar too looks weak, and this time it could be headed into the very worst of the Investor Cycle. If the dollar breaks down from here, it's hard to see how gold does not rally with the tailwind it would generate.
But then on the flipside, this 3rd DC just looks very weak, and weak price action trumps any "observation" one is willing to make. Also I would look to the dominant Investor Cycle, here if we factor in the age of the Cycle along with the turn of the oscillators; it's looking as if this IC might have topped 4 weeks ago. In that case this would be a final bounce that will be sold aggressively, likely at around the $1,350-70 range.
Within the weekend report I said that gold needed to rally hard out of this FOMC retracement. To date, it has not done that, which is why we had to reduce some of our exposure to this IC. If we're to see a bullish Right Translated Daily Cycle, then today's $12 move must be the start of that run. With that move today, gold reclaimed the 10dma, and holding that 10dma going forward will be important. If gold is headed to fresh DC and IC highs, we should not see another close below this 10dma. Any more weakness from this point forward or a drop below yesterday's $1,305 lows, then "it's curtains" for gold's Daily and Investor Cycle.
The preceding article is from one of our external contributors. It does not represent the opinion of Benzinga and has not been edited.
Posted-In: Commodities Markets
View Comments and Join the Discussion!