Crude Speculators Getting Caught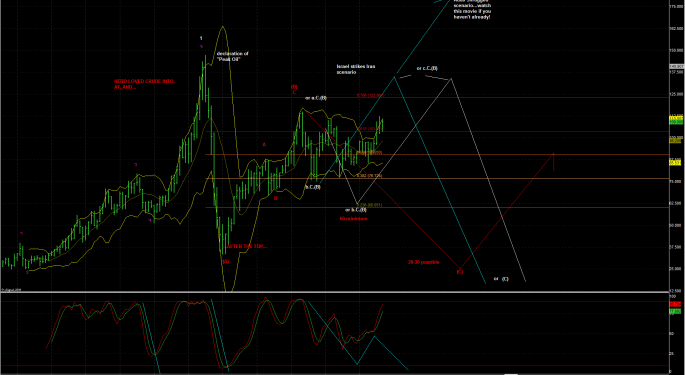 Speculators (hedge funds) are so certain there will be violence in the Middle East, they've assumed their large long exposure to crude in history (Commitment of Traders survey). Our Decision Support Engine (DSE) had given the long signal when crude was below 105 last month, with the 118 +/-7 zone for the final thrust. Now that the speculators have gone "all in", the odds of the higher end of our range being met are lessening quickly. You'll notice today that crude is ending the week around the 108 level. We were able to avoid committing capital to a trade in crude that appeared emotionally on Monday to be the right thing to do. This is how our DSE model provides balance to our trading. For Crude now, its intermediate and longer term degrees of trend are overbought, and point lower in the coming months. However, the Black Swan in the room is the Syria et al situation, and the potential for a "flash point" spike toward the upper end of our 118 +/-7 resistance zone. If Syria messes with PBO, through Russian intervention, the stage will be set for a WWIII-type, multi-year, multi-country, catastrophe that could push crude above the '08 "Peak Oil" delusion that hedge funds were telling themselves, of 147. Here's the chart we've used since then to explain the paths of highest probability. Where we've noted "Israel strikes Iran" can now be associated with America striking Syria, as they could all now be linked. Barring that, the longer term deflationary forces should take crude toward the white or red path targets in the coming 3-5 years. Again, if you haven't read or seen Atlas Shrugged, you won't understand my reference to the blue path's extension potential. Watch it this weekend!
The following article is from one of our external contributors. It does not represent the opinion of Benzinga and has not been edited.
Posted-In: Commodities Markets Trading Ideas
View Comments and Join the Discussion!