How to Profit from Higher Oil Prices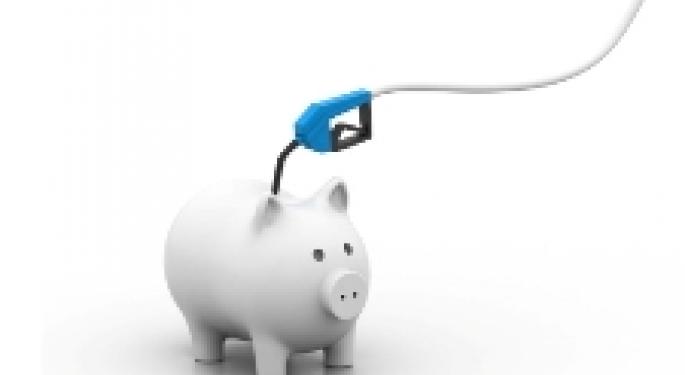 Recently, I've had several conversations with friends of mine who were quite worried about the latest rise in oil prices. They brought up two interesting questions that I can help shed some light on: 1) will higher oil prices have an impact on the U.S. economy; and 2) how can the average investor profit from this event?
As we all know, consumer spending is a huge part of the U.S. economy. And, to no surprise, Americans consume more gas than any other country on a per-capita basis. So yes, on the margin, higher oil prices will certainly impact the average American.
When it comes to long-term investing, we should incorporate these macro-economic variables, basically looking at the big picture. Oil prices have remained elevated for some time, and I believe they will continue to be relatively expensive.
Considering most Americans are not seeing significant increases in their wages, I would consider reducing exposure to firms that focus on discretionary income for my long-term investing strategy. Think of the things you want to buy but don't really need. I think we could see lower-than-expected revenue for these types of firms.
Also Read: NYSE Holidays 2013
For example, if you're short on cash this month, you will likely pay for food rather than some fancy gadget or expensive jeans.
Are there ways you can profit from higher oil prices when it comes to long-term investing?
I believe there are firms that will do quite well over the next decade. One of the companies I've mentioned before to my readers is Halliburton Company (NYSE: HAL). I've been a big fan of this company not only because of my belief that oil prices were headed higher for some time, but when it comes to long-term investing, you need to look for companies that have an edge.
The great thing with Halliburton is that it is a leading firm when it comes to technological advancements in energy extraction. Most people think that you can just drill a hole in the ground and get oil. These days, it is becoming an increasingly complex task to extract energy from the ground. We are going deeper and further than ever before to get the next marginal barrel of oil globally.
As oil prices continue moving up, for long-term investing strategies, this means that companies will be willing to pay more for services that can help them extract larger quantities of oil. Halliburton is one of the few leading companies with the technological know-how that will continue to benefit as long as oil prices remain elevated. While I am not specifically recommending buying Halliburton right now, I am pointing out that this is one company with the technological knowledge that can help them get the edge against their competition.
The chart for Halliburton is featured below:
Chart courtesy of www.StockCharts.com
The stock has certainly done well this year, and I believe the company will continue to benefit with oil prices remaining elevated. However, this is a company to put on one's watch list as a possible stock suitable for long-term investing purposes. Meaning, don't simply go and buy it tomorrow, but wait for pullbacks when the stock becomes attractive.
You should never rush into any investment, especially if you have a long-term investing strategy.
If you believe as I do that oil prices will remain elevated globally for the next decade, then looking at companies with an edge in the marketplace, such as Halliburton, is a good starting point when it comes to building a portfolio for long-term investing purposes.
This article How to Profit from Higher Oil Prices was originally published at Investment Contrarians
The following article is from one of our external contributors. It does not represent the opinion of Benzinga and has not been edited.
Posted-In: Commodities Markets Trading Ideas
View Comments and Join the Discussion!