The Week In Cannabis: Big Policy Wins Drive Stocks Up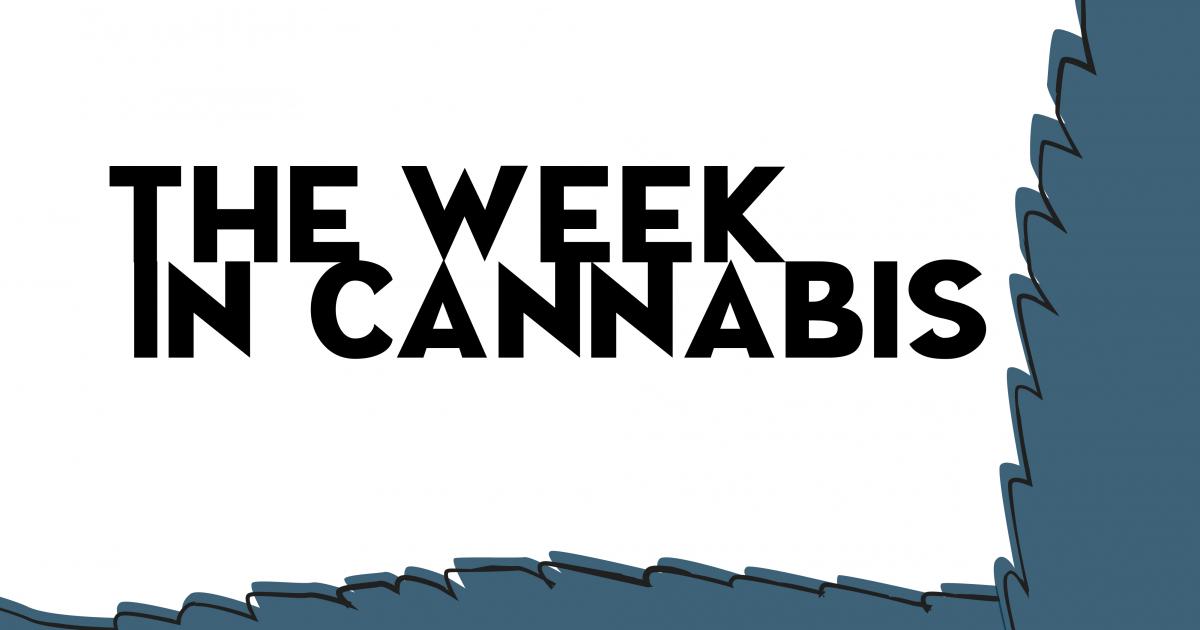 The cannabis industry scored five major ballot wins this past week as U.S. voters went to the polls. New Jersey, Arizona, Montana, and South Dakota approved measures permitting adult-use cannabis, while Mississippi voted to allow medical marijuana.
On the heels of voters approving a the constitutional amendment in New Jersey, Gov. Phil Murphy tapped Senior Policy Advisor Dianna Houenou to chair the Garden State's Cannabis Regulatory Commission. Houenou — who also serves as Gov. Murphy's associate counsel — will be responsible for defining the state's cannabis laws and also reducing the harmful impact marijuana laws have had on communities of color.
In addition, Oregon decriminalized the possession of small amounts of all illegal drugs, creating a support program for drug abuse and addiction, as well as a program for the therapeutic use of psilocybin — the active ingredient in "magic mushrooms." Finally, the District of Columbia approved an initiative that aims to effectively decriminalize the use of several psychedelic substances.
The good news drove cannabis stocks up, helping them post massive gains on Thursday and Friday.
Over the five trading days of the week:
In other local news, Illinois adult-use cannabis sales, which have been noticeably increasing month over month, reached the highest point in October with a total of $75.28 million. Out of that $75.28 million, around $55 million came from in-state consumers and almost $21 million from out-of-state tourists.
Earnings Reports
Net sales at TerrAscend Corp. (CSE:TER) (OTCQX:TRSSF) amounted to CA$51 million in the company's third quarter earnings report for 2020. That's a sequential increase of 8% and a 90% year-over-year.
Moreover, adjusted EBITDA amounted to CA$17.8 million for the same period, up by 56% sequentially.
Biopharmaceutical company GW Pharmaceuticals plc (NASDAQ:GWPH) said its revenue for the third quarter hit $137.1 million, up by 51% year-over-year. For the first nine months of this fiscal year, total revenue amounted to $378.6 million versus $202.3 million for the same period of 2019.
For the quarter, net loss was $12.2 million, down by 13.1% compared to last year's corresponding quarter. As of Sept. 30, the company had $480.3 million in cash and cash equivalents.
The Scotts Miracle-Gro Co.'s (NYSE:SMG) announced its total revenue spiked 79% to $890.3 million in the fourth quarter.
For the year, company-wide sales rose 31% to $4.13 billion. Moreover, Hawthorne Gardening Company's sales increased by 68% to $351.9 million. The other segment of Scotts Miracle-Gro, U.S. Consumer, spiked 90% to $497.2 million.
Jim Hagedorn, the company's chairman and CEO, said Wednesday that September was its "highest sales month ever," as Hawthorne "continued to gain steam."
Next Green Wave Holdings Inc. (CSE:NGW) (OTCQX:NXGWF) reported it has generated over $1.7 million in revenues for October. Its cash costs for the period amounted to around $700 000.
The Vancouver-based company achieved positive adjusted EBITDA of roughly $1 million. Next Green Wave also obtained the City of Coalinga's Certificate of Occupancy for its manufacturing facility, which spans 3,500 square feet. It intends to commence operations right away.
Cronos Group Inc. (NASDAQ:CRON) (TSX:CRON) reported its consolidated net revenue for the third quarter amounted to approximately $11.4 million. That's up by $5.6 million or 96% on a yearly basis.
For the nine months ended Sept. 30, net revenue was $29.7 million. That's an 80% year-over-year increase.
Read all about these earnings reports and others in Benzinga Cannabis' Earnings Center.
More News From The Week
Canopy Growth Corp. (NYSE:CGC) said t would move its U.S. stock listing from the New York Stock Exchange to the Nasdaq Global Select Market effective November 13.
The Canada-based company also released its first CBD beverages line in Canada: Quatreau.
Aphria Inc. (NASDAQ:APHA) gains access to the U.S. market through the acquisition of SW Brewing Co. LLC in a deal worth around $300 million.
The company disclosed several possible strategic and financial benefits coming from this deal, one of them being simple and accelerated access to the U.S. market in case of federal legalization.
The "combined branded cannabis lifestyle products company" should reach around CA$650 million ($498 million) to CA$675 million of annualized pro-forma net revenue, and about CA$65 million to CA$70 million of annualized pro-forma adjusted EBITDA.
The company says the move also brings cross-selling opportunities and an accomplished executive team.
Ayr Strategies (OTCQX:AYRSF) purchased a vertically integrated operation in Arizona. It includes both growing and processing facilities as well as three licensed dispensaries.
Curaleaf Holdings Inc. (OTCQX:CURLF) finalized the purchase of Alternative Therapies Group's licensed cultivation and processing facility in Amesbury, Massachusetts.
PharamCielo (TSXV:PCLO) (OTCQX:PCLOF) announced it began the first harvesting cycle of six proprietary high-THC cultivars at its Rionegro complex. The company is expecting a yield of more than 10 tonnes of dry flower that will be extracted at its new processing and extraction center.
GrowGeneration Corp. (NASDAQ:GRWG) agreed to acquire The GrowBiz for an undisclosed price.
Cannabis retailer Fire & Flower Holdings Corp. (OTCQX:FFLWF) continued its expansion spree with the newly announced acquisition of Friendly Stranger Holdings Corp.
The move will add 11 licensed cannabis retail stores in Ontario to Fire & Flower's portfolio, with four more stores expecting to be licensed and running by the end of the fourth quarter in 2020.
Flora Growth Corp. confirmed its Mind Naturals CBD skincare brand will be available in up to 111 Falabella stores across Latin America. Under the distribution deal with Flora's Flora Beauty division, founded by former Miss Universe Paulina Vega and retailer Grupo SACI Falabella (BCS: FALABELLA), Mind Naturals products will be initially sold in 15 physical retail locations in Colombia.
CURE Pharmaceutical Holdings (OTCQB:CURR) has secured $10 million in financing through the issuance of convertible notes. The Oxnard, Calif.-based company already raised $4 million under the first tranche of financing.
Benzinga Cannabis' content is now available in Spanish on El Planteo.
From The Earth announced that it has signed its first licensing agreement with Los Angeles-based licensee, ACES LA Inc. Under this agreement, From The Earth will execute its first complete management takeover at a licensed retail store. Located at 738 N. Highland Ave., From The Earth Highland is expected to open to adult-use customers in March 2021.
Viola announced it is expanding into the Pacific Northwest. The largest Black-owned multi-state operator in the United States plans to bring six concentrate strains to state residents. Founder Al Harrington said this is "a big moment for Viola, and is setting us on a course to continue our expansion out east and across the country."
Multi-state operator Acreage Holdings, Inc. (OTCQX:ACRHF) (OTCQX:ACRDF) has obtained first funding from a group of lenders for a "first advance" of $28 million under a senior secured term loan facility. Seaport Global Securities LLC is named the only placement agent for the facility.
CBD producer Socati Corp. partnered with eight-time world wakeboarding champion Harley Clifford.
Top Stories Of The Week
Check out the top stories on Benzinga Cannabis this week:
Top Spanish stories:
Lead image by Ilona Szentivanyi. Copyright: Benzinga.
© 2020 Benzinga.com. Benzinga does not provide investment advice. All rights reserved.
---