Leveraging Its Account API, Payment Platform Spence Looks To Set The Standard In Cannabis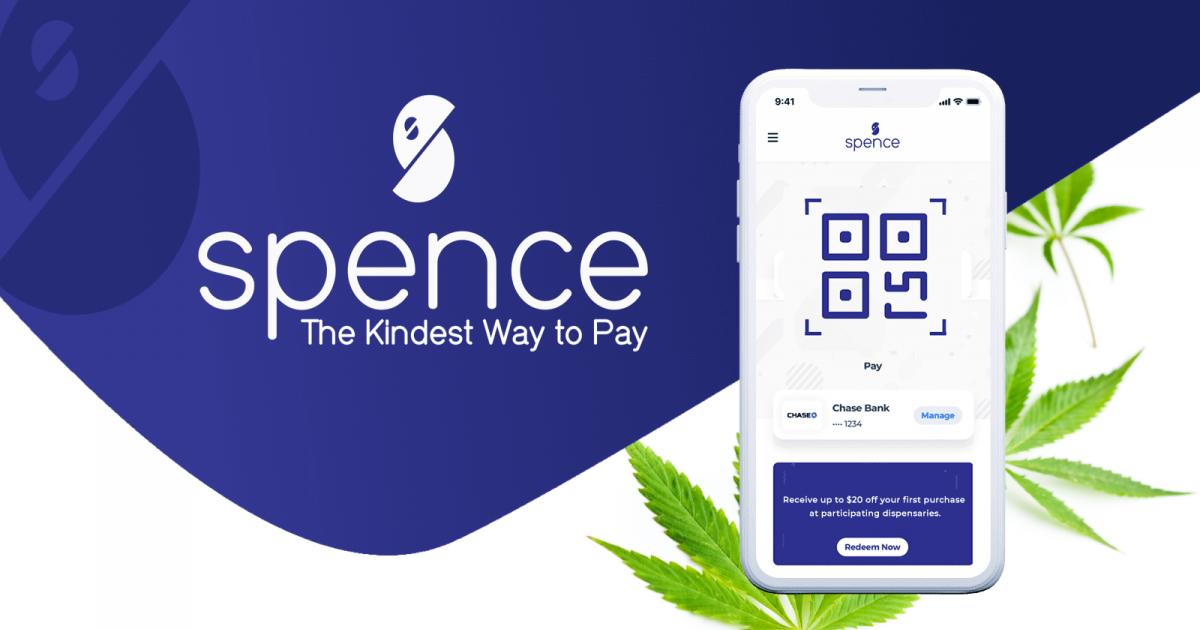 As the cannabis industry formalizes around existing and developing state ordinances for medical and adult use sales, efficiency and security are becoming increasingly relevant qualities consumers and dispensaries are looking for in the cannabis retail ecosystem.
Cannabis fintech Spence Labs is looking to define those qualities. The Spence digital payment platform and its API were designed so that consumers and dispensaries could make secure, transparent, and reliable bank transactions that both protect consumer privacy and provide dispensaries with sales data that streamline their accounting and comport with state regulations.
Spence Labs Co-founder and CEO Chris Rentner explained the genesis of the platform in an interview with Benzinga on their recent launch.
"Our opinion was that if you could get the top of the funnel, the consumer, to not use cash any longer that would filter down to the rest of the industry. When the consumers don't use cash, then the dispensary doesn't have to deal in cash and they can pay for their wholesale products without cash. It basically makes the industry more efficient, less burdensome, and just a better, more trusted industry than continuing to operate in an all-cash or nearly all-cash environment."
Partnerships In Trusted Expertise
Throughout the platform's development up to its launch in early August, Spence Labs focused on fostering critical partnerships with leaders in the banking and account aggregation worlds to create the digital service.
In first establishing Spence Labs, Rentner partnered with Burling Bank of Chicago, which was an early banking presence within the cannabis industry. From there, the nascent Spence Labs turned to a well-known account aggregation company to provide the financial API that would serve as the framework for the platform.
"Through our partner, we found we gained the most flexibility and trust because they've been a long-operating company compared to the number of newer firms out there now," said Rentner. "Their long-standing operating history, trust within financial institutions, emphasis on security and encryption, and the overall value of the service they provide was far beyond other providers we saw on the market. That made it very easy for us to select the organization we did."
According to Rentner, at the core of all of Spence's partnerships is its overriding dedication to security and transparency. This requires working closely with its account API in designing a transaction system that securely meshes with Spence Labs' in-house servers.
"We wanted to make sure the level of reporting and transparency to the regulators were there. Simultaneously we wanted to make sure the consumers who are signing up to pay with Spence at our different dispensary partners have a very high level of comfort in their anonymity in making a purchase. They should feel confident that their names are not made available to the dispensary or to the regulators as part of a transaction and all of that data is kept behind a very secure, encrypted system that we maintain."
Setting Standards Through Scalability
Alongside its banking and account aggregation partners, the Spence platform underwent months of refinement to its security, encryption, and interface to provide users with a seamless and intuitive digital payment experience. The result of this fine-tuning is what Rentner feels is a first of its kind fintech platform for the cannabis industry.
The platform launched on August 3, 2020, with PharmaCann, one of the nation's largest multi-state operators, as its first customer. Beginning with the Verilife dispensary in North Aurora, Il., the fintech is preparing to show its scalability in the coming months as it expands to all of the 26 dispensaries PharmaCann is licensed to operate, with additional customers on the horizon.
"We've put the pieces in place to do that with [Burling Bank] and our payment capabilities on a national basis," said Rentner. "PharmaCann operates in six states around the country, and we're excited to have other partners that we'll be announcing in the future."
Although Rentner believes large-scale deals with PharmaCann and other multi-state operators will help to illustrate the scalability of the Spence platform, he also voiced enthusiasm at the potential of local mom and pop dispensaries to see the benefits of the platform as well. His goal is to have a ubiquitous payment platform across the United States for the cannabis industry.
Unleashing A Dormant Industry
In addition to building out its client portfolio, Spence Labs is keen on expanding upon its list of partners in the banking and technology realms, to which the flexibility of the platform's account API will play a key role.
Due to the high regulatory requirements of the industry, Rentner sees a latent market surrounding cannabis retail that is desperate for a scalable and reliable digital platform to mediate transactions, intimating there would be news on this front in the near future.
"Our platform is not just a consumer retail payment solution in the dispensary, we also built an SDK package and a whole API to allow for PoS companies or e-commerce companies or delivery and pick up solutions to integrate with our API," Rentner explained.
As Spence Labs prepares for the coming months of expansion, Rentner expressed one final litmus test that he feels is key to his vision of success for the fintech.
"I think the biggest thing people should be asking themselves is: When you're paying for cannabis, what's most important to you? We believe a digital solution on your phone is common practice in every other industry besides cannabis. We think businesses will be excited to move into digital cannabis payment."
© 2020 Benzinga.com. Benzinga does not provide investment advice. All rights reserved.
---