From Titers To Toys To THC: Michigan Family Adapts Pharmacy, Toy Store Experience To Cannabis Business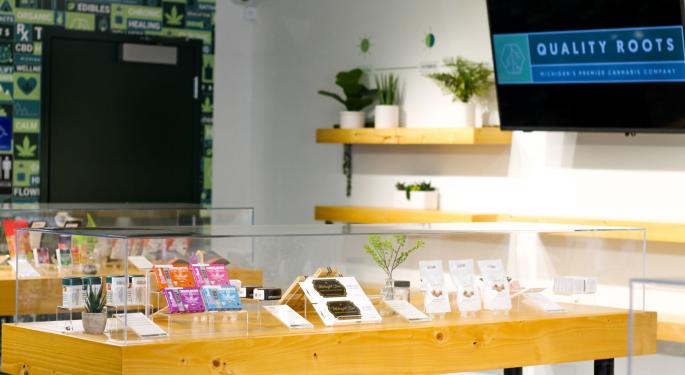 When Aric Klar was 8 years old, his parents gave him a little space in their family-owned pharmacies to flex his entrepreneurial muscles and sell whatever he wanted. A four-foot section of Beanie Babies eventually evolved into a 3,000-square-foot toy store in West Bloomfield, and then another in Bloomfield Hills, and then another in Royal Oak.
By founding and running a "vertically integrated" toy retail chain with wholesale and distribution, Klar became intimately familiar with supply chain management, consumer trends and buying patterns. He learned to curate products and to prioritize vendor rapport and team development.
"My past helps me understand shelf space, vendor relations, that's the business I've built my entire life," Klar told Benzinga. "The entire toy and gift community knows Aric Klar as the guy who has the stuff when it's demanded."
Now, he's adapting his reputation and his operational and regulatory know-how to compete in a new industry: cannabis.
Nurturing New Flowers From Old Roots
Klar is the CEO of Quality Roots, a business founded in partnership with Michigan's Schostak family, Klar's father, Mark, and his brothers, John and Michael. The company blends the Klar family's pharmacy and toy-retail experience to bring consumers music, tactile items, "unique things that balance wellness and quality of life" — and cannabis.
"We're turning into a retail platform that just happens to sell cannabis," he said. "[Our products] complement the high, the buzz, the reaction. That's going to be our competitive advantage for a number of years… Friends in the industry ask why average ticket prices are so high, and it's because it's a retail platform that sells things beyond just cannabis."
The Path From Toys To Cannabis
Klar first entered the industry in 2010, when he began to advise friends on their caregiver growing operations and invest in marijuana ventures out west.
"As I built the toy business, the cannabis business never left my mind," he said. "In late 2016, it became very clear to me that I wanted to operate a family-based cannabis company… It [also] became clear that the medical recreational shift was about to happen [in Michigan] and that it was a peak time to get in the business."
He began to educate municipalities where he sought to do business, capitalizing on his local reputation and relationships built through the pharmacy and toy businesses.
"I'm known as the family guy," he said. "At the end of the day I'm a family-based operator" — and that wins points.
Cannabis In The Age Of Coronavirus
The first Quality Roots site was scheduled to open March 14 in the "C-market" of Battle Creek, but Michigan's coronavirus outbreak delayed the launch. Klar opened for medical curbside and delivery sales on April 6, with recreational sales following May 21.
The timing seemed to work out. The business' first month of adult-use sales brought in nearly $500,000.
"It's all about opening up during that shift, not before, not too early, not too late," Klar said. "We weren't going to be relaxed and wait… [We] put measures into place to make sure that we could be live during the medical to recreational shift."
Next Up For Quality Roots
Quality Roots plans to have eight sites operational by February 2021. The next store is slated to open in Adrian by August, and sites in Madison Heights, Berkley, Westland and other competitive municipalities are in earlier planning stages.
With more secured sites, Quality Roots plans to initiate a near-term capital raise.
"If capital markets are as compressed as they have been, for me that's no issue, because I've built businesses from the ground up," Klar said. "I'm not afraid to put the time in."
To learn more about investing in Quality Roots, check out Benzinga's Cannabis Hour with Aric Klar.
View Comments and Join the Discussion!
Posted-In: Aric Klar Quality RootsCannabis Top Stories Small Business Exclusives Markets Interview Best of Benzinga