Parents And Pot: Why Moms Are Talking About Marijuana More Than Dads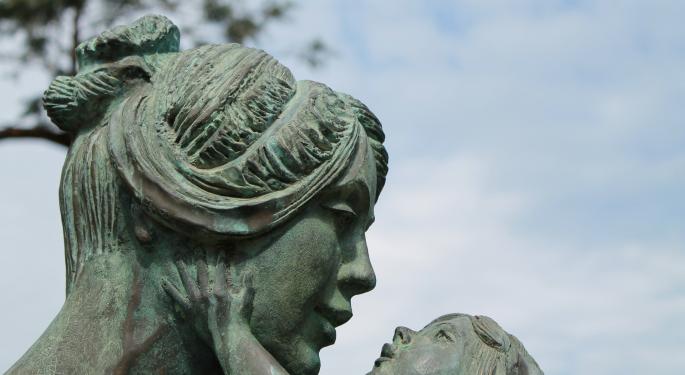 More moms are wanting their children to learn about — and potentially use — hemp or CBD for its healing properties.
That's according to analytics provider Oasis Intelligence. The Los Angeles-based firm recently published a detailed report with survey findings and data points to help illustrate the trend.
"Our study of 20,000 individuals was split into different categories," Oasis spokeswoman Laura Albers told Benzinga. "On the first level, it was divided between cannabis and hemp CBD."
Don't miss this opportunity to connect with THE cannabis movers and shakers from across the globe during Benzinga's first Virtual Cannabis Capital Conference on June 1.
The Findings On Cannabis And Parents
Over half (54%) of cannabis-using moms recently surveyed by the company agree with providing children — those who are under 17, at least — cannabis for pain relief and other medical treatments so long as they're being monitored.
Cannabis-using dads are less inclined to opt for pot as a treatment for kids, with the number hovering at 46%.
Oasis reported an even greater proportion of hemp-CBD using moms. Up to 66% of the moms agree with providing children under 17 hemp CBD for pain relief, as well as other medical treatments, so long as they're monitored by a parent or guardian.
Some 55% of dads and 61% of non-parents voiced support.
Marijuana Moms 'Leading The Charge'
"It's interesting to note that dads are the least likely to support the usage of either cannabis or hemp CBD to children," Albers said.
"This could be due to moms likelihood of being the primary medical and wellness caretaker in families and indicating increased willingness to try more natural healing modalities than fathers."
The same trend holds true for those who favor educating students about the risks and benefits of cannabis and hemp. While 82% of moms are in favor, 73% of dads and 76% of non-parents are not.
"I would say it was more encouraging than surprising to see moms leading the charge when it comes to educating young people today about the benefits and risks of using cannabis and/or hemp CBD," Albers added.
"Education always begins at home first and seeing the inclinations of mothers wanting to provide more information to the youth of today demonstrates that continued demonstration of it mainstreaming into society as a healing modality that requires intention and care with using it."
View Comments and Join the Discussion!
Posted-In: cannabis industry CBDCannabis Health Care Crowdsourcing Markets Interview General Best of Benzinga