3 Reasons Why Oregon's Cannabis Market Might Be The Best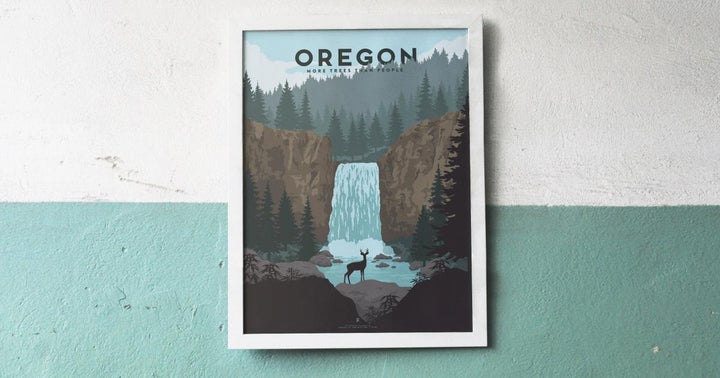 By Goldleaf's Alfonso Colasuonno, provided exclusively to Benzinga Cannabis.
For adults over the age of 21, recreational cannabis is now legal in 11 states and medical cannabis is legal in 33. In 2014, the state of Oregon legalized recreational cannabis after voters overwhelmingly approved Measure 91. Since then, Oregon has developed one of the most robust, tightly regulated, health and environment-conscious cannabis markets in the United States. If you're planning a trip to the Beaver State, this article will give you a taste of what's in store for you.
Purity
One of the most tangible differences between Oregon's cannabis and the plants grown and sold in other states is the quality. When the state of Oregon set regulations, safety was prioritized. Oregon permits fewer pesticides than Colorado and Washington, allowing them to be present only when in significantly smaller amounts. Cannabis testing labs must be accredited by Oregon's Department of Environmental Quality and producers are required to test every ten pounds of cannabis for potency and purity. As a result of these tight regulations, Oregon's cannabis is the safest in the nation.
Dispensaries
Oregon is home to a wide selection of upscale cannabis dispensaries. Cannabis enthusiasts in Oregon are used to a high level of professionalism and quality in their dispensaries, and this has driven businesses to provide excellent (rather than simply good) service and product.
See Also: Jack Herer: A Lifelong Cannabis Advocate
Many of these businesses are driving the future of responsibly grown and consumed cannabis forward, and should serve as inspirations to other dispensaries in Oregon and elsewhere. While quality abounds in Oregon, here are a few particularly noteworthy dispensaries:
Leafly calls this one the "Best Boutique Dispensary in Oregon," as well as one of the "Ten Most Beautiful Dispensaries in America." It's real selling point, though, comes from its history: Farma opened when medical cannabis was legal, but recreational cannabis was not. As a result, their budtenders bring an above-average amount of scientific and medicinal knowledge to the table and often help educate customers while they shop.
Serra is more than a dispensary, it's a cannabis lifestyle brand that aims to "set a new standard for modern cannabis culture, pushing aside the stoner vibe in exchange for something more artful and sophisticated." Both of Serra's locations model themselves after old-timey apothecaries with modern, minimalist sensibilities. They are shining examples of excellent interior design, using natural light and open space to create calming, pleasant environments.
Cannabliss & Co – Portland / Eugene / Springfield
Cannabliss currently has five locations, all of which possess a unique atmosphere. One, for example, is in an old fire station, while another is inside a repurposed sorority house. They sell tasteful branded clothing in addition to high-quality cannabis from growers like Pruf Cultivar. This is also the first recreational cannabis dispensary featured on television, as a scene from HBO's Here and Now was shot in the building.
Farms and Growers
Great dispensaries are… well, great, but the cannabis that they sell is even more important. Oregon's strict regulations for growers ensure a high level of quality, so you can rest easy knowing that wherever you go, you'll find great products. Regulations aside, Oregon is home to several exceptional farms that are working to improve the future of cannabis by breeding better plants. One of the best is:
East Fork Cultivars – Takilma, OR
East Fork Cultivars is a living laboratory for sustainable agriculture with a focus on breeding high-CBD, certified organic cultivars. Tours of their small family farm nestled between the pristine waters of the Illinois River and the Siskiyou Wilderness are offered by appointment during most of the year. If you're seeking to expand the depth and breadth of your knowledge of the cannabis space, East Fork offers CBD Certified, a CBD-focused cannabis science workshop and CBD Summer Camp, an annual adult summer camp loaded with workshops on sustainable agriculture, cannabis science, and healthy living.
See Also: 7 Nonprofits On The Front Lines Of Cannabis Progress
The Final Word
Oregon's recreational cannabis market features over 500 dispensaries currently operating across the state. This abundance of options keeps cannabis affordable for consumers, while regulations ensure that the quality of Oregon's cannabis is the best in the US. If that's not enough to convince you to visit, there is one last bonus that legislators have granted Oregon's cannabis consumers: legalized cannabis delivery. Without a doubt, cannabis enthusiasts with the opportunity to travel will be thrilled by Oregon's offerings.
More from Goldleaf on El Planteo.
© 2020 Benzinga.com. Benzinga does not provide investment advice. All rights reserved.
---