Scoop: CLICK To Launch New Cannabinoid Sprays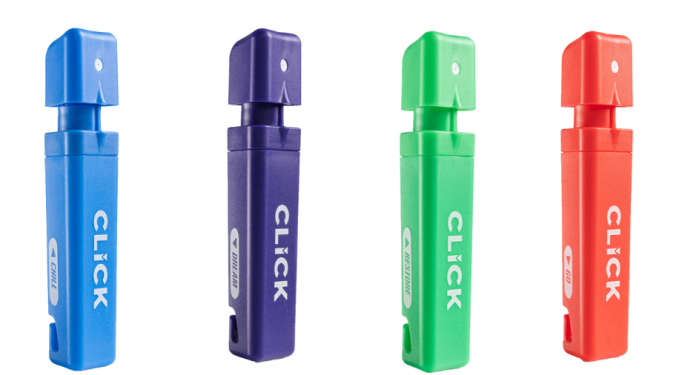 CLICK will be launching four new flavors and formulations of its leading product, CLICK Spray, a sublingual mouth spray that delivers 2.5mg of cannabinoids per spray straight to your bloodstream, Benzinga has learned.
Now available throughout dispensaries in California, CLICK Sprays feature luxurious ingredients such as all-natural pineapple extract, lemon extract, calming ginger grass, Boswellia, peppermint and all-natural green tea. Because of their sublingual delivery method, effects can be felt in as little as 6-8 minutes.
"Our new lifestyle brand, CLICK, gives consumers a great-tasting alternative to smoking or vaping in a cutting-edge patent-pending spray bottle. We must do everything we can to not only educate the public on what cannabis is or does but also provide them with easy-to-consume, safe and accurately-dosed products," said CLICK CMO Jared Gray.
The four spray flavors include:
CHILL 2:1 THC to CBD - TropiCali Flavor with L-Theanine: Combines THC and CBD with the immunity-boosting properties of all-natural pineapple extract, the probiotic powerhouse effects of mango with L-theanine for heart and brain health, and the Vitamin C and B rich properties of passion fruit for a "whole-lotta-relax" in a super small dose.
DREAM 1:2 THC to CBD - Midnight Mint Flavor with Melatonin: Fall into a deep sleep with the deep-sleep inducing effects of melatonin and aromatic and digestive-aids found in peppermint along with THC and CBD.
RESTORE 1:5 THC to CBD- Lemon Ginger Grass Flavor with Boswellia: Custom-built for those who want to restore their body through the power of cannabis, this high-CBD spray features all-natural lemon extract, calming ginger grass, and anti-inflammatory Boswellia.
GO THC - Pep-A-Mint Flavor with Green Tea Extract: Made with the highest grade of THC, this icy-cool peppermint and all-natural green tea extract spray was created for people who want the active and energy-enhanced effects that cannabis provides.
View Comments and Join the Discussion!
Posted-In: Cannabis News Exclusives Markets