Better Late Than Never: How The Tobacco Industry Could Benefit From Pot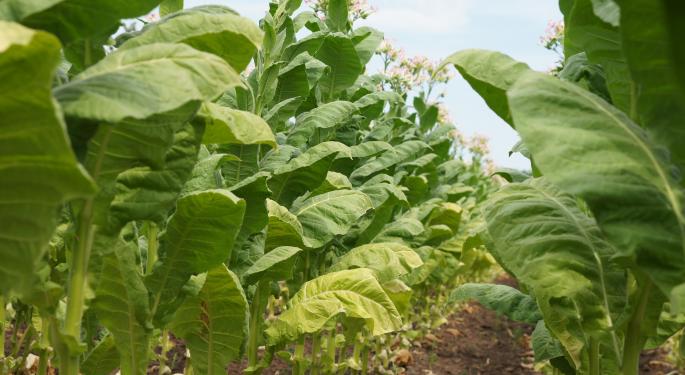 Legend has it that Lucky Strike cigarettes got their name because, back in the days before marijuana became illegal, the manufacturers added one marijuana cigarette in some packs. Whoever got the joint would get the "lucky strike."
This legend is an easily debunked myth. But it seems apropos now that marijuana is being decriminalized and synergies between tobacco and marijuana are being discussed once again.
The report Monday that Marlboro maker Altria Group (NYSE: MO) is, according to Reuters' sources, in early talks to buy Cronos Group Inc (NASDAQ: CRON), could be a signal that Big Tobacco's silence on cannabis is drawing to a close.
On The Sidelines
The first major move into cannabis by a tobacco company took place earlier this year, when U.S-based Alliance One International, a small player in tobacco production and packaging, rebranded itself into Pyxus International Inc (NYSE: PYX).
The company's indirect subsidiary Canadian Cultivated Products — rebranded into FIGR — acquired 75 percent of Canada's Island Garden and 80 percent of Goldleaf Pharm.
Recently, Goldleaf Pharm received an Access to Cannabis for Medical Purposes Regulations, or ACMPR, cultivation license from Health Canada. The company has a 20,000-square-foot indoor growing facility that it plans to expand it to more than 700,000.
The other acquisition, Island Garden, has also entered into a supply agreement with the province of Prince Edward Island for 1,000 kilograms of cannabis products.
A previous unconfirmed rumor had Altria in talks to acquire a minority stake in cannabis producer Aphria Inc (NYSE: APHA), potentially even becoming a majority stakeholder over time.
The involvement of tobacco companies in the marijuana space has otherwise been relatively small.
For example, in 2016 Philip Morris International Inc. (NYSE: PM) invested $20 million in Israeli company Syqe Medical, which was developing a cannabis inhaler.
Earlier this year, Imperial Brands plc (OTC: IMBBY) joined forces with Snoop Dogg's Casa Verde to invest in Oxford Cannabinoid Technologies, a British medical marijuana research company.
Cannabis investors can't miss the Benzinga Cannabis Capital Conference, the No. 1 networking event for institutional capital and the leading cannabis companies. Secure your tickets before they run out here.
Big Changes Coming?
It won't be like this for long: tobacco companies have been waiting to see where the cannabis industry goes, said Matthew J. Nordgren, CEO of ARCADIAN Fund, which invested in High Time magazine, among other cannabis holdings.
"It won't be too much longer before some major news starts to see the light of day. As big as the tobacco companies are, they really do not have any reason to make the move today, much less talk about it. When they make the move, it will happen quick and the news will be very big," he said.
It's likely that big tobacco will start making waves in the cannabis space as soon as 2019, Nordgren said.
Tobacco Companies Need Cannabis
The relative lack of buzz about tobacco industry tie-ins is interesting when considering the state of the industry.
Smoking rates have been on a decline for the last two decades and most major economies have embarked on a mission to reduce smoking by banning it in public places, setting taxes to drive prices higher and requiring manufacturers to abandon branding on packs of cigarettes and replace it with warnings.
Overall, between 2000 and 2015, the number of smokers around the world fell by 29 million, according to a World Health Organization report released earlier this year. An estimated 1.1 billion smokers are still lighting up globally, but the consensus is that this number will continue to decline and will be much smaller within a decade.
In this environment, big tobacco is still racking up profits, but the market is well aware of the challenges that the industry is facing — which is why some tobacco stocks have been lagging.
Philip Morris's stock is 1.7-percent in the red over the last five years, while British American Tobacco is down by 35 percent.
Altria Group is up by 45 percent, even though its revenue has been growing in the low-single digits since 2014 due to a strategy of cutting expenses to drive profits.
Turning To Tech
One strategy that big tobacco firms adopted to counteract the falling demand in cigarettes is technology. Sales of e-cigarettes have been booming, with a CDC report released earlier this year showing that between 2012 and 2017, sales of e-cigarettes increased by 132 percent in the U.S.
So far, e-cigarette sales pale in comparison to traditional smoking products. In 2016, Philip Morris released IQOS, a device that heats tobacco instead of burning it. In the third quarter of 2018, sales of IQOS accounted for $823 million, or 11 percent of the company's total revenue. PMI recently updated IQOS with new versions of the devices to strengthen its market share.
Devices for heating tobacco might be able to help cigarette makers to offset losses from cigarettes. Euromonitor International estimates that heated tobacco sales were $5.82 billion last year and could reach $18.66 billion by 2022.
Focusing On Cannabis Makes Financial Sense
Even though sales for heated tobacco products and e-cigarettes are expected to grow, they pale in comparison with estimates for cannabis sales, which should top $63 billion by 2024. In this way, investing in marijuana could allow tobacco companies to shift their business models and adapt to new consumer trends.
In addition, it makes sense for tobacco companies to get involved in the marijuana industry. For one, they have the cash to make deals. Buying stakes in manufacturers like Aphria, Canopy Growth or Aurora Cannabis — or even acquiring entire companies — should not be difficult. It's unlikely tobacco investors would oppose such moves given the diverging fortunes of the two industries.
Tobacco and marijuana companies could have some synergies.
They are mostly in the recreational marijuana segment, rather than medicinal, where tobacco companies have no experience, said Prad Sekar, director and CEO of CB2 Insights, which provides business intelligence and cannabis-focused predictive analytics solutions.
"The tobacco market continues to shrink and their subsequent desire to enter cannabis perhaps makes sense from a dried flower perspective, in particular for recreational purposes, but the vast majority of legalized usage globally is medically focused — an area that tobacco companies have no experience in," the CEO said.
"The synergies exist primarily in distribution to recreational users, which at this point is a narrow focus on the market if you look globally."
One factor that might be holding tobacco companies back is the question of whether smoking will continue to be the most popular way to consume cannabis. In some U.S. states, flower sales have been falling in favor of concentrates. In Colorado, flower sales declined from 67 percent of the total to 44 percent between 2014 and 2017, while sales of butter surged.
'Prices Will Inevitably Decrease'
The involvement of tobacco alongside big alcohol companies would provide the cannabis industry with an influx of capital.
More funding will translate to higher-quality and more effective cannabis products — and hopefully increased safety for consumers, said Leith Pedersen, president of Sunniva Inc (OTC: SNNVF).
"There are currently still serious concerns about cultivators using harmful pesticides and chemicals in their facilities," Pedersen said.
"Prices will inevitably decrease as capital and new technologies are utilized, which will eventually alleviate the existing — and unsafe — trillion-dollar black market."
Increased acceptance of and investment in cannabis means more funding for clinical studies for patients who could benefit from the plant, Pederson said.
Javier Hasse, director of Benzinga's cannabis newsdesk, contributed to this report.
Related Links:
Cantor Fitzgerald Lowers GW Pharmaceuticals Price Target
Posted-In: Leith Pedersen marijuana Matthew Nordgren medical marijuana potCannabis Top Stories Markets Best of Benzinga
View Comments and Join the Discussion!