What 2017's Markets Might Spell For 2018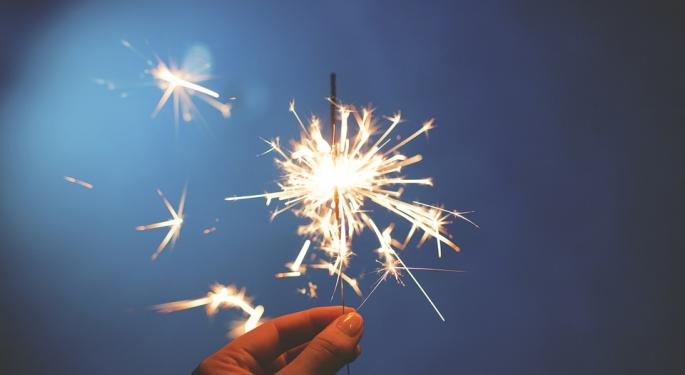 As always, it's hard to say what a year will bring. Unexpected events will always come up and it's uncertain how they are going to end up impacting different aspects of the markets.
With 2017 quickly coming to an end, it's an opportunity to review what happened in the markets over the past year, and some of the factors that influenced trends.
It's also an opportunity to take some time to think about your investing and trading strategy going into 2018 to make sure that you feel prepared for the new year.

The Year in Review. In this video, JJ Kinahan looks back at some of the key stories and trends in market activity in 2017, as well as a look ahead to 2018 and some steps you might want to consider in the new year.
2017: A Look Back
The U.S. and Global Economy continued to grow and many of the major economies, such as China, India and much of the European Union, exhibited synchronized growth. The U.S. economy picked up the pace and gross domestic product (GDP) in the third quarter grew the fastest since 2014, coming in at a 3.3% annualized rate, according to the Bureau of Economic Analysis' second estimate. U.S. consumers were feeling pretty good about the economy too and consumer confidence was the highest it has been since December 2000.
Major indices continued their upwards march, despite a series of natural disasters in the U.S. and geopolitical concerns that dominated headlines. Accelerating economic growth and strong quarterly earnings helped push the Dow ($DJI), S&P 500 (SPX), Nasdaq 100 (NDX) and the Russell 2000 (RUT) to all-time highs. On a year-to-date basis as of December 19, they were up 24.56%, 19.02%, 32.05% and 13.35%, respectively.
The Tech Sector was the best performer of the year. As of December 19, the S&P Technology Select Sector Index (IXT) was up 32.83% year-to-date. On the other hand, energy stocks slumped and the S&P Energy Select Sector Index (IXE) was down 8.14% year-to-date, although it had bounced back quite a bit from mid-August lows.
Commodities, for the most part, climbed higher this year. Crude oil bounced back from mid-summer lows and is likely looking at a high single-digit gain, while natural gas prices struggled to turn positive and sharply declined at the start of December. Gold is looking at a small potential gain on the year, and economic growth helped boost demand and prices for industrial metals such as copper and aluminum.
Central Banks and Interest Rates. Right before the start of 2017, the Federal Reserve hiked rates for the second time in ten years. The Fed raised rates by a quarter-point three times, bringing the fed funds rate to a target range of 1.25% to 1.50% by the end of the year. While many have expressed concerns about the flattening yield curve, Fed chair Janet Yellen recently said "I think there are good reasons to think that the relationship between the slope of the yield curve and the business cycle may have changed."
2018: What's on the Horizon?
While no one knows for sure how 2018 is going to play out—2016 and 2017 were certainly full of surprises—there are some things that you may want to keep your eye on.
Markets are at all-time highs. The stock market hasn't seen a correction since the first quarter of 2016. That's not to say that a correction is coming anytime soon, but to use a famous quote, "it's the punch you don't see that knocks you out." While there were a few dips throughout the year, many investors saw that as a buying opportunity and stocks continued their upward march, but the reality is that bear markets and corrections can be swift and unexpected.
The Fed picked up the pace of rate hikes in 2017 and also started the process of reducing their balance sheet that ballooned when they started buying assets to keep interest rates low in the wake of the 2008 financial crisis. In 2018, will the Fed's assessment of the U.S. economy support future rate hikes and how quickly will they raise the fed funds rate? Another thing to consider is how balance sheet unwinding might trickle through markets and impact different assets. The prospect of higher interest rates has the potential to threaten the decades-long bull market in bonds.
Politics in Washington were a focus in 2017 as investors considered how potential healthcare, tax, and regulatory reforms could impact different sectors and industries. What new reforms might Congress try to enact in 2018, and will the mid-term elections shift the balance of power in Congress?
Considerations for The New Year
Learn to expect the unexpected. With that in mind, investing and trading is about controlling what you can and defining your own level of risk. And remember, you don't have to be all in or all out.
If you're a longer-term investor, it might be a good idea to take some time to review your investing plan. If you have specific financial goals, are you on track to hit them? If not, what steps do you need to take to get there? If you're thinking about rebalancing your portfolio, take the time to do some research and ask questions, either by talking to your advisor if you have one, or by reaching out to your broker's service team.
For more active traders, now is a good time to look back on your year and keep an eye out for potential opportunities that might be coming up in both the short and long term. TD Ameritrade clients can access market calendars by logging into their accounts via the thinkorswim® platform or TDAmeritrade.com to keep an eye out for upcoming events.
And for those of you who aren't investing, it's never too late to get started, although you should probably consider starting slowly. It's important to remember that investing is a marathon, not a sprint. Historically, the stock market has grown over longer periods of time, but bear markets and corrections are always a possibility. Take into account your timeframe and don't invest money in riskier assets if you are going to need it in the short-term to cover important expenses.
Regardless of your experience level, there's always an opportunity to keep learning. At TD Ameritrade, we have a wide variety of educational resources to help you do just that. If you haven't had a chance, make sure to check out The TD Ameritrade Network*, which provides live programming that brings you the news and helps you interpret it. Also, I'll continue to write the daily Market Update, which I hope you find helpful as a way to get a quick overview of what's happening across markets.
Thanks for taking the time to check out the year-end review. I hope you're looking forward to 2018 as much as I am. It's a new year, and with that comes the opportunity to pursue whatever goals you have set.
Information from TDA is not intended to be investment advice or construed as a recommendation or endorsement of any particular investment or investment strategy, and is for illustrative purposes only. Be sure to understand all risks involved with each strategy, including commission costs, before attempting to place any trade.
Posted-In: JJ Kinahan TD Ameritrade The Ticker TapeBonds Commodities Federal Reserve Markets General
View Comments and Join the Discussion!