Is Carl Icahn Right About The High-Yield Market?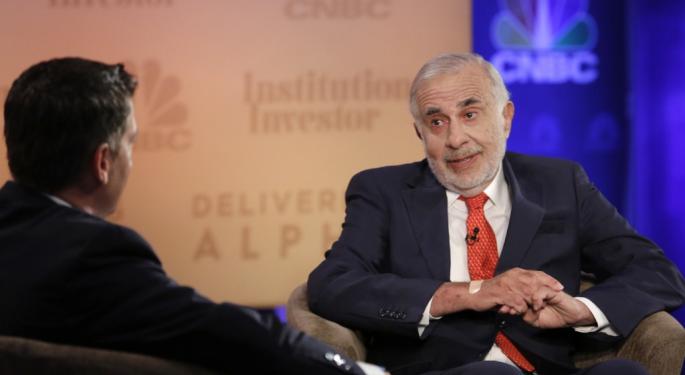 It's no secret that everything Carl Icahn says seems to send tremors through the finance sphere.
His latest insight? At CNBC's Delivering Alpha conference last week, he revealed he's bearish on high-yield debt, warning increased interest rates at the end of the year that could cause a sell off and crash.
What Are Junk Bonds?
Junk bonds are pretty risky to deal with.
The term "junk bond" refers to a high-yield bond or non-investment grade bond that can be corporate or government bonds. They are lower rated and have high-default risks. Yet, they are attractive because they offer greater yields than less risky bonds.
As the yield increases, price decreases, and vice versa.
While government bonds are safer because you can ride out the bond until expiration and get your money back, corporate bonds can default and all you can do is wait to see if it goes back up. ETFs like iShares iBoxx $ High Yid Corp Bond ETF (NYSE: HYG) are risky in this way as well, since you can't wait until the bond expires.
Waiting On Interest Rates...
Getting back to Carl Icahn: Last week, he even speculated that this crash could kill the market like in 2008.
Others say that this warning against buying bonds is a recurring trend that has never really played out.
The past few years we've heard warnings of higher interest rates, spikes in inflation, and that if you buy bonds, you'll end up losing a lot of money.
Yet, over the past few years, people have managed to make money in the bond market. The higher rates haven't happened just yet.
Data from the CME predicts there's an 80% that the Federal Reserve will raise rates in December of 2015, while others speculate it will hold off until 2016.
Percent Probability Of A Fed Rate Hike:

Eagle Bay Capital Founder JC Parets told us he doesn't think interest rates are going anywhere this year.
"My entire life interest rates have been going down and then you just have this media obsession with when rates are going up and I'm really not sure why everyone is in such a rush." Parets said. "Historically a bottoming out of interest rates takes 10-15 years and we just hit new lows in interest rates so why should we expect this?
Parets suggested ignoring economists and focusing on the charts and markets for when interest rates will actually rise. As of now, he expects the probability of hike to continue decreasing.
Word On The Street
The truth about the high-yield bond market is that it is very large and diverse. It's difficult to make a sweeping generalization about the whole market which involves different sectors, qualities, and durations.
Andrew Toburen, senior portfolio manager at Chartwell Investment Partners, said in an interview with TheStreet.com that while investors should be cautious right now in lower quality CCC in energy and metals, higher quality BB and B rated bonds in retail and service are attractive and safe.
Pimco's Chief Investment Officer, Mark Kiesel, told CNBC that while he doesn't foresee a crisis, it's important to be conservative and avoid lower-quality, high-yield bonds.
Josh Brown, a financial advisor at Ritholtz Wealth Management, told USA Today that if there really was a crash – it wouldn't matter if you owned bonds or not–we would all get hurt.
What To Watch
If you're interested in following the bond market, here are a few ETFs to follow:
iShares iBoxx $ HY Corp Bond Fund ETF (NYSE: HYG) 5 year chart: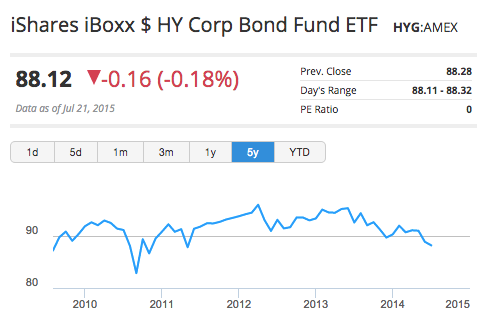 SPDR Barclays Capital High Yield Bond ETF (NYSE: JNK) 5 year chart: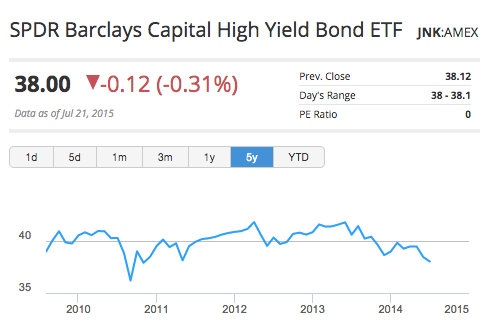 PIMCO 0-5 Year High Yield Corporate Bond Index Fund ETF (NYSE: HYS) 5 year chart: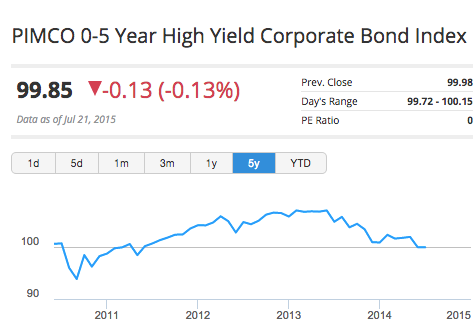 JC Parets is also a technical analyst with more than a decade's worth of experience. He told us that when looking at high-yield bonds as a group -- like with the iShares iBoxx $ High Yid Corp Bond ETF (NYSE: HYG) -- he would be a seller of strength particularly toward $90.
"But you also want to look at the high-yield market relative to the U.S. Treasury. So you have guaranteed government bonds, and essentially comparing them to the junk and treasuries -- continue to outperform," Parets said. "I think that ratio continues to get better. I think you keep buying treasuries on their own and I think you can short the high-yield against it also."
You can read more about what Carl Icahn said here.
Posted-In: Marketfy InsightsBonds Markets Trading Ideas ETFs Best of Benzinga
View Comments and Join the Discussion!