Buy 'Dividend Aristocrats,' not Municipal Bonds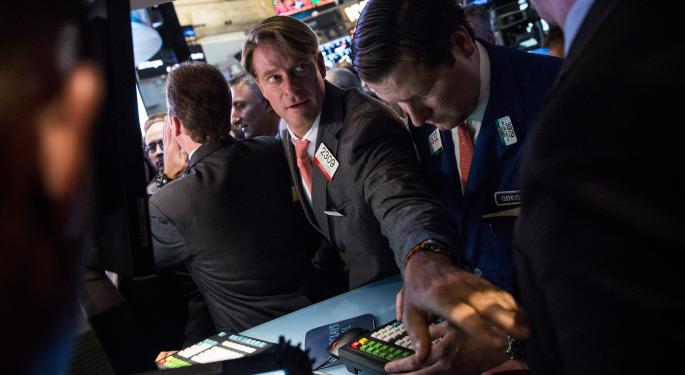 In a recent article in The Wall Street Journal, Mike Cherney reported that investors were buying up municipal bonds due to yields increasing. "Municipal bonds," he wrote, "have long attracted individual, or retail, investors because interest payments from them are generally exempt from income taxes."
Individual investors would be far better off buying "Dividend Aristocrat" stocks such as Coca-Cola (NYSE: KO), Wal-Mart (NYSE: WMT) and ConocoPhillips (NYSE: COP) and placing the shares in an individual retirement account, or a similar vehicle protected from taxes.
Dividend Aristocrats are publicly-traded companies that have increased the dividend payment annually for at least 25 years.
As detailed in a recent article on Benzinga, the dividend from an equity has provided more than 40 percent of the historic total return. With the dividend increasing every year, so will the total return. Do not expect the interest paid by a municipal bond to increase annually, if ever.
To get the highest yield from a municipal bond, you have to buy the worst in the market.
And that, at present, is debt from Detroit and Puerto Rico. By contrast, a Dividend Aristocrat is one of the best companies. Only a blue chip can afford to increase its dividend annually for more than 25 years.
Just look at some major events since 1988: the 1990 recession, the 2000 recession, the dot-com bubble and the Great Recession -- not to mention a major terrorist attack on 9/11, the impeachment of an American president and several wars involving U.S. forces.
Despite all of that, the income rose for the shareholders of Dividend Aristocrats. It is no wonder that legendary investor Warren Buffett is a major shareholder of Coca-Cola, Wal-Mart and ConocoPhillips.
If an investor is from Michigan and wants to rep the state, then Kellogg (NYSE: K) and Dow Chemical (NYSE: DOW) should be considered. Kellogg Company is headquartered in Battle Creek, Michigan -- and Dow Chemical is based in Midland, Michigan.
Each has a very strong dividend framework, comparable to that of a Dividend Aristocrat.
Kellogg Company has a dividend yield of 3 percent. The average dividend for a member of the Standard & Poor's 500 Index is around 1.9 percent. The five-year dividend growth rate for Kellogg is 5.01 percent. For Dow Chemical Company, the dividend yield is 3.29 percent. The growth rate has been more than 9 percent over the last 5 years for Dow Chemical.
Whatever a municipal bond can do, a Dividend Aristocrat or similar stock can do much, much better. To gain a total return that is tax free, hold the equity in a retirement account. It is better to profit from investing in the best stocks rather than speculating on the worst municipal bonds.
Posted-In: Long Ideas News Bonds Dividends Dividends Politics Economics Markets Best of Benzinga
View Comments and Join the Discussion!