Market Wrap for October 30: Fed Worries Push Stocks Lower, Facebook Earnings Raise Concerns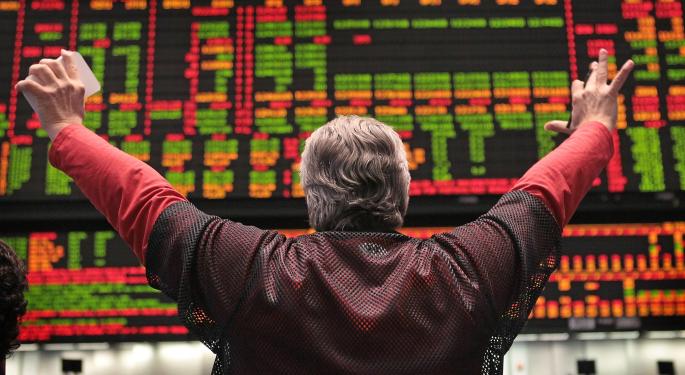 Wall Street got what it wanted from the Federal Reserve on Wednesday -- no hint on when the Fed might taper its bond buying program -- but stocks fell back anyway.
Market News
What's not clear is whether the sell-off will be anything more than a one-time event. One uncertainty is how investors deal Thursday with Facebook (NASDAQ: FB). Shares soared as much as 14.5 percent to $56.12 immediately after reporting that third-quarter earnings more than doubled from a year ago. But the gains disappeared after Chief Financial Officer David Ebersman said the company had seen a decline in teen daily active users, a key user group. Usage within the demographic remained steady, however. At 6:12 p.m. ET, the shares were trading at $47.43, down 3.3 percent from the regular close of $49.01.
But if Facebook was turning into a disappointment, travel site Expedia (NASDAQ: EXPE) was delighting investors. Shares were up more than 18 percent after hours to $59.05 after the company's revenue and earnings in the third quarter beat Street estimates. Expedia earned $1.43 a share, up 18 percent from a year ago and ahead of the $1.36 estimate. Revenue jumped 17% to $1.4 billion. Analysts had expected $1.37 billion.
The Dow Jones industrials ended the day down 62 points, or 0.4 percent to 15,619. The Standard & Poor's 500 Index dropped 9 points, or 0.5 percent, to 1,763, and the Nasdaq Composite Index fell 22 point, or 0.55 percent to 3,931.
The Dow and S&P 500 hit record closes on Tuesday, while the Nasdaq reached a 13-year high. The averages moved higher after Wednesday's open, but selling set in even before the Fed announced its policy for the next two months.
The issue with the Fed was this: It might start to taper in December. It might not. While "fiscal policy" is restraining the economy, the Fed said saw "improvement in economic activity and labor market conditions since it began its asset purchase program as consistent with growing underlying strength in the broader economy."
That told traders they should sell bonds, which meant interest rates moved higher: The 10-year Treasury yield moved up to 2.534 percent from Tuesday's 2.507 percent. And stocks sold off. The Dow was off as many as 106 points when new buying trimmed the decline.
Facebook
At first, Facebook's report looked just plain gaudy. Earnings after one-time charges were 25 cents, up 108 percent from a year ago. Revenue was up 59.7 percent to $2.016 billion. Mobile ad revenue, non-existent a year ago, is now 49 percent of revenue.
Then came Ebersman's comment about the decline in daily teen users. The issue it raised was whether Facebook was still cool among younger users. Investors didn't like what they heard, and selling erupted. The stock had fallen 9.6 percent between its Oct. 18 close of $54.22 and Wednesday's close.
While investors were excited about Facebook, they were not impressed with Starbucks' (NASDAQ: SBUX) results. Shares fell 1.9 percent after hours to $79.30. The issue was that the coffee-house chain repeated its forecast that fiscal 2014 earnings will come in at 2.65 a share. Analysts have been looking for $2.67. Growth in Asia hasn't been as robust as expected, the company said. Earnings of 63 cents a share beat the Street estimate of 60 cents and were up 37 percent from a year ago. But revenue of $3.8 billion was only in line with estimates.
GM cheers investors
While the market wasn't excited about the Fed, there was some good news elsewhere.
General Motors (NYSE: GM) shares were up 3.2 percent to $37.23. The auto giant reported better-than-expected third-quarter net income. GM's quarterly earnings declined to $698 million, or $0.45 per share, from $1.48 billion, or $0.89 per share, in the year-earlier period.
The gain came because, excluding one-time items, the company earned $0.96 a share, two cents better than the Street consensus. Revenue climbed four percent to $39 million; analysts had expected $39.2 billion.
Only five of the 30 Dow stocks ended with gains on Wednesday, led by General Electric (NYSE: GE), up 0.6 percent to $26.37. It hit a 52-week high of $26.48 during the session. Only 95 S&P 500 stocks had gains, led by Electronic Arts (NYSE: EA), up 7.75 percent to $26. Twenty-five Nasdaq-100 stocks were higher, led by Gilead Sciences (NASDAQ: GILD), up 4.56 percent to $72.67.
Equities Trading UP
Electronic Arts (NASDAQ: EA) shot up 7.8 percent to $26 after the company reported upbeat profit for the fiscal second quarter.
Shares of Ariad Pharmaceuticals (NASDAQ: ARIA) got a boost, shooting up 4.5 percent to $3.96. Sarissa Capital Management LP has taken a 6.22 percent stake in the company.
DreamWorks Animation SKG (NASDAQ: DWA) was also up, gaining 17.4 percent to $32.65 on upbeat third-quarter results.
Equities Trading DOWN
Western Union (NYSE: WU) shares tumbled 12.4 percent to $16.85 on weak third-quarter results. Raymond James downgraded the stock from Outperform to Market Perform.
InvenSense (NYSE: INVN) shares slumped 12 percent to $16.39 on a weak third-quarter forecast. The company forecast 16 to 18 cents a share in earnings; the Street had been looking for 22 cents.
Cirrus Logic (NASDAQ: CRUS) sagged 13.8 percent to $21.06. The company reported decent second-quarter results except for one thing: Gross profit margins are getting squeezed.
Barclays downgraded the stock from Equal-Weight to Underweight.
Commodities
Crude oil traded down 1.46 percent to $96.77. Gold traded up 0.28 percent to $1,349.30 an ounce. Silver traded up 2.18 percent to $22.98, while copper rose 1.45 percent to $3.33 a pound.
Separately, crude supplies climbed 4.1 million barrels for the week ended October 25, the Energy Department said. That was bigger than the analyst estimate of 3.5 million barrels.
Eurozone
European shares were lower today. The Spanish Ibex Index fell 0.86 percent, while Italy's FTSE MIB Index declined 0.47 percent. Meanwhile, the German DAX fell 0.13 percent and the French CAC 40 dropped 0.09 percent. U.K. shares closed up 0.08 percent.
Economics
Private-sector employers added 130,000 jobs in October, according to Automatic Data Processing (NYSE: ADP). The estimate was weaker than the consensus estimate of 150,000 jobs. The Labor Department will report on job growth and unemployment on Nov. 8.
US consumer prices increased 0.2 percent in September. Core CPI climbed 0.1 percent, a touch less than the Wall Street estimate of a 0.2 percent increase.
The Mortgage Bankers Association reported that its index of mortgage application activity rose 6.40 percent in the week ended October 25.
The worries about whether the market is setting itself for a fall were loud and clear by the end of the day. The S&P 500 ended Wednesday up 4.9% so far in October. That is potentially its best October performance in two years .
But Facebook's late selling didn't help matters. Neither did Starbucks. Thursday brings results from Exxon Mobil (NYSE: XOM), whose shares are up just 2.61 percent in 2013.
View Comments and Join the Discussion!
Posted-In: Earnings News Bonds Commodities Economics Federal Reserve After-Hours Center Markets Best of Benzinga