Market Wrap for October 29: Dow, S&P 500 Hit New Highs on Hopes Fed Won't Taper Bond-Buying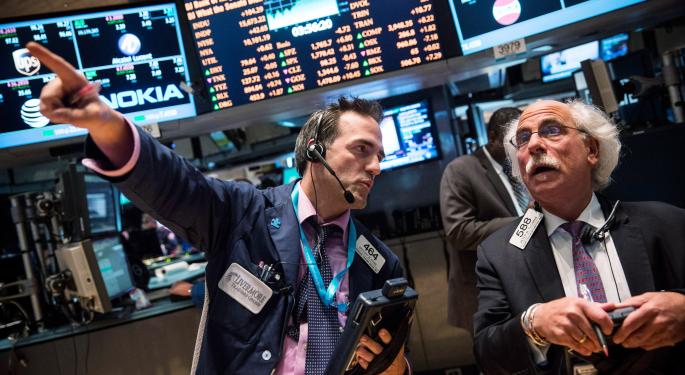 Stocks pushed higher Tuesday in a rally that sent the Dow Jones industrials and the Standard & Poor's 500 Index to new highs.
The Nasdaq Composite Index finished at a 13-year high.
The rally was built on expectations the Federal Reserve will leave its current bond-buying program in place after it finishes a two-day meeting on Wednesday. In addition, investors appear to be satisfied with the third-quarter earnings season.
The Fed has been buying in longer-term Treasury and mortgage bonds to keep interest rates low and support the economy. The 10-year Treasury yield fell 2.507 percent from Monday's 2.512 percent.
It was not clear if Tuesday's momentum will be sustained in Wednesday's trading. Shares of LinkedIn (NASDAQ: LNKD) fell 3.2 percent to $239.26 after hours because of a conservative fourth-quarter forecast. Consumer review site Yelp (NASDAQ: YELP) fell more than 7 percent to $64 after hours when investors didn't like its third quarter earnings or fourth-quarter forecast. Also hurting the stock was Yelp's announcement of a $250 million secondary stock offering.
But Dreamworks Animation (NYSE: DWA) cheered investors with strong results. Shares jumped 8.7 percent to $30.25 after hours.
The Dow closed up 111 points, or 0.7 percent, to 15,680, breaking its old record of 15676.94, set on Sept. 18. The S&P 500 added nearly 10 points, or 0.56 percent, to 1,772, its fourth straight gain and ninth in the last 10 sessions. The Nasdaq rose 12 points, or 0.3 percent, to 3,952, its best close since Sept. 8, 2000. 
The Dow was boosted by IBM's (NYSE: IBM) announcement it's adding $15 billion to its stock repurchase program. Big Blue's shares jumped $4.83, or 2.7 percent, to $182.18. That contributed 31 points to the Dow's gain alone.
Also helping stocks were decent earnings from cell-phone Nokia (NYSE: NOK). Nokia's 10.4 percent gain to $7.45 also boosted AT&T (T), up 1.97 percent to $36.27, and Verizon Communications (VZ), up 1.04 percent to $51.10. They added about 12 points to the Dow's gain.
The rally was decently broad. A total of 401 S&P 500 stocks were higher, along with 24 Dow stocks. In addition, 70 Nasdaq-100 stocks were higher; the index gained 9 points, or 0.3 percent, to 3,192.
Equities Trading UP
Nokia (NYSE: NOK) shot up more than 10 percent to $7.45 after the company issued an upbeat outlook for its Nokia Solutions and Networks unit. Nokia posted a Q3 net loss of 91 million euros ($125 million), versus a year-ago net loss of 969 million euros.
Shares of Pitney Bowes (NYSE: PBI) got a boost, shooting up 8.63 percent to $20.90 after the company reported an upbeat third-quarter profit.
Xylem (NYSE: XYL) was also up, gaining 12.44 percent to $32.53, top among S&P 500 stocks. The maker of water-treatment systems reported better-than-expected third-quarter results and lifted its FY13 outlook.
Equities Trading DOWN
Shares of Volcano (NASDAQ: VOLC) were down 13.83 percent to $20.99 after the company reported Q3 revenue. JP Morgan downgraded the stock from Overweight to Neutral and lowered the price target from $29.00 to $24.00.
Swiss banking giant UBS (NYSE: UBS) shares tumbled 8.2 percent to $19.62 on Q3 results. It also warned that it faces potential new costs from legal cases.
Engine-builder Cummins (NYSE: CMI) dropped 5.2 percent to $127.84 after the company reported $1.90 a share in earnings, missing the Street estimate of $2.11 and lowered its FY13 revenue outlook.
Commodities
In commodity news, crude oil in New York traded down 0.49 percent to $98.20, while gold traded down 0.5 percent to $1,345.50 an ounce. Silver settled down 0.2 percent Tuesday to $22.49 an ounce. Copper ended up 0.28 percent to $3.28 a pound.
Euro zone
European shares were higher today. The Spanish Ibex Index rose 1.31 percent, while Italy's FTSE MIB Index surged 2.27 percent. Meanwhile, the German DAX Index rose 0.48percent, and the French CAC 40 surged 0.62 percent. The U.K.'s FTSE-100 Index gained 0.73 percent.
Economics
US retail sales fell 0.1 percent in September. Economists had expected sales to be unchanged in the month.
The US producer price index declined 0.1 percent in September, while core wholesale prices climbed 0.1 percent. Wall Street was looking for a 0.3 percent gain in the overall PPI and a 0.1 percent increase in the core PPI.
The S&P/Case-Shiller home price index rose 12.82 percent year over year in August, up from 12.40 percent growth in July. Economists had expected a 12.50 percent rise.
The ICSC-Goldman Sachs store sales index dropped 0.4 percent in the week ended Saturday from the earlier week. The Johnson Redbook Sales Index declined 1.3 percent in the first three weeks of October versus September.
The Conference Board's consumer confidence index fell to 71.20 in October, from a prior reading of 79.70. Economists had expected a reading of 75.
US business inventories rose 0.30 percent in August, in line with the Street consensus but down from 0.40 percent growth in July. However, economists were expecting a 0.30 percent gain.
Where things stand
With Tuesday's rally, the Dow is up 19.7 percent for the year, and the S&P 500 is up 24.2 percent. The Nasdaq has gained 30.9%. The gains for the year are the best for the indexes since 2003, when the Dow gained 25.3 percent, the S&P 500 shot up 26.4 percent and the Nasdaq soared 50%.
The big question is if the stock market is now in a bubble like 2006 or the late 1990s. 
The worriers cite huge gains for stocks like Google (NASDAQ: GOOG), up 45 percent this year to a record $1,036.24; Amazon.com (NASDAQ: AMZN), up 44.6 percent to $362.70; Netflix (NASDAQ: NFLX), up 253.5 percent to $327.30 and Best Buy (NYSE: BBY), up 262.2 percent to $42.92. In addition, margin debt is increasing. Unemployment is still above 7%. The economy is growing at maybe a 2 percent rate. 
But the bulls concede the economy is growing, albeit slowly now but with the potential of catching up to the stock market. With the Fed keeping interest rates at ultra-low levels, many investors and savers believe they have no choice but to invest in stocks. Plus, they argue there are few catalysts, like a collapsing housing market, that could bring the market down.
There are still two months left in 2013. The S&P 500 looks like it could reach 1,800 for the first time; 4,000 is in sight for the Nasdaq for the first time since Sept. 7, 2000.
What what happens in 2014 is anyone's guess. Responsibility demands that the market rally that began after March 9, 2009 be put in context. The Dow is up 140 percent since the  2009 bottom. The S&P 500's gain: 162 percent. And the Nasdaq is up nearly 212 percent.
From the end of 1994 to the end of 1999, the Dow jumped 199.8 percent, with the S&P 500 up 219.9 percent and the Nasdaq a mind-boggling 441.2 percent. That's what a bubble looks like.
View Comments and Join the Discussion!
Posted-In: Earnings News Bonds Eurozone Commodities Economics Federal Reserve After-Hours Center Best of Benzinga