Market Wrap for October 25: S&P 500 Hits New High as Amazon, Microsoft Cheer Investors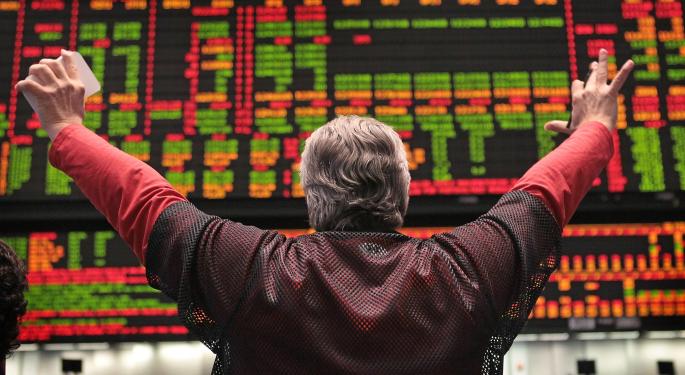 Stocks finished the week with decent gains, although bullish earnings reports on Thursday let shares of Amazon.com (NASDAQ: AMZN) and Microsoft (NASDAQ: MSFT) enjoy rather big gains.
Better still, the major averages finished near their highs of the day, a potentially bullish signal for the week ahead.
Top Headline
The Standard & Poor's 500 Index set a new intraday high of 1,759,82 and finished at a closing high of 1,759.77, up 0.44 percent. The Nasdaq Composite Index finished at 3943, up 0.37 percent and a new 13-year high. The Dow Jones Industrial Average gained 61 points, or 0.39 percent, to 15,570 and ended the day within 107 points of a new closing high.
If there were downsides to the market, it was that the Dow Jones Transportation Average and the Russell 2000 Index finished lower after reaching new intraday highs.
What's Ahead
The market faces some drama next week.
The Federal Reserve's policy-making body meets Tuesday and Wednesday. But the consensus view is that the central bank will delay again a decision on tapering its $85-billion-a-month bond-buying program. You can see the consensus in the decline in the 10-year Treasury yield to 2.503 percent from Thursday's 2.522 percent and 2.938 percent on Sept. 6.
Equity Movers
Apple (NASDAQ: AAPL) reports fiscal-fourth-quarter results after Monday's close. Starbucks (NASDAQ: SBUX) reports after Wednesday's close. Oil giants Exxon Mobil (NYSE: XOM) and Chevron (NYSE: CVX) report on Thursday and Friday, respectively.
With just four days of trading left in October, the market is enjoying a very nice month. The Dow is up 2.91 percent, while the S&P 500 is up 4.65 percent and the Nasdaq is up 4.56 percent. For the year, the Dow is up 18.8 percent, the S&P 500 is up 23.39 percent, and the Nasdaq is supporting a gaudy gain of 30.6 percent.
If this were Dec. 31, the gains for the major averages would be their best since 2009 -- in the early stages of the stock market's recovery from the 2008 crash.
The gains have come while the economy has been struggling to shift into a higher gear. Growth has been modest, and the national unemployment rate is still above 7 percent.
Amazon.com closed up 9.39 percent to $363.39, a new closing high. It also hit a new intraday high of $368.40. There was talk the stock is headed to $400, perhaps higher. Third-quarter revenue jumped about 24 percent from a year ago to $17 billion. The company added 9 million more customer accounts in the quarter; it now has 224 million active accounts. And sales grew domestically and internationally.
Microsoft added 6 percent to $35.73. Its $36.29 high was just below its current 52-week high of $36.43, reached on July 16. The catalyst: better-than-expected fiscal first-quarter results.
Meanwhile, Procter & Gamble Co (NYSE: PG) shares fell 0.76 percent to $80. The company reported a 7.6 percent rise in its fiscal first-quarter earnings. P&G's quarterly profit surged to $3.03 billion, or $1.04 per share, from $2.81 billion, or $0.96 per share, a year ago. Excluding one-time items, core earnings declined to $1.05 per share from $1.06 per share. Its sales rose 2.2 percent to $21.21 billion. However, analysts were expecting earnings of $1.05 per share on sales of $21.04 billion.
Zynga (NASDAQ: ZNGA) shot up 10.33 percent to $3.90 after the company posted a narrower-than-expected third-quarter loss.
Callaway Golf (NYSE: ELY) was also up, gaining 19.83 percent to $8.70 after the company reported a narrower third-quarter loss and lifted its 2013 forecast. DA Davidson upgraded the stock from Neutral to Buy and lifted its price target from $7.50 to $11.
If the gains weren't big, they were broad; the best performing sector was utilities, thanks to falling interest rates.
Eighteen of the 30 Dow stocks were higher, along with 339 S&P 500 stocks and 49 stocks in the Nasdaq-100 Index. The 0.64 percent gain for the index to 3,383.83 was fueled mostly by the Amazon and Microsoft gains.
Commodities
In commodity news, oil traded up 0.76 percent to $97.85 a barrel in New York. Gold for December delivery settled up 0.16 percent to $1,352.50 an ounce. Silver traded down 0.8 percent Friday to $22.639 an ounce, while copper rose 0.17 percent to $3.269 a pound.
For the week, crude oil was down 3.2 percent. Gold gained 2.9 percent.
The retail price of gasoline nationally fell to $3.315 a gallon, according to AAA's Daily Fuel Gauge Report, and was off 1.3 percent from a week ago. The price had reached a high of $3.786 a gallon on Feb. 27. That was up 15 percent. With Friday's price, the gain has been trimmed to just 0.7 percent.
Eurozone
European shares were mostly lower today. The Spanish Ibex Index fell 1.01 percent, while Italy's FTSE MIB Index tumbled 1.45 percent. Meanwhile, the German DAX climbed 0.06 percent and the French CAC 40 Index fell 0.08 percent while U.K. shares gained 0.12 percent.
For the week, the Dax and FTSE-100 indices were up 1.4 percent and 1.5 percent, respectively. The CAC-40 was off 0.3 percent.
Separately, Japan's Nikkei 225 index fell 2.75 percent on the day and was off 3.3 percent for the week.
Economics
US durable-goods orders rose 3.7 percent in September. Economists had been looking for a 2.3 percent gain. However, core durable-goods orders fell 0.1 percent in the month.
The final reading of the Reuter's/University of Michigan's consumer sentiment index declined to 73.2 in October, versus a final reading of 77.5 in September. However, economists were projecting a final reading of 75.0. The government shutdown and political uncertainty was blamed for the decline.
US wholesale inventories rose 0.50 percent in August, versus economists' expectations for a 0.30 percent gain.
Posted-In: Market WrapEarnings News Bonds Economics Federal Reserve After-Hours Center Markets Best of Benzinga
View Comments and Join the Discussion!