Benzinga Market Primer for September 12: Kerry and Lavrov Discuss The Terms Of Syria Resolution At Two Day Meeting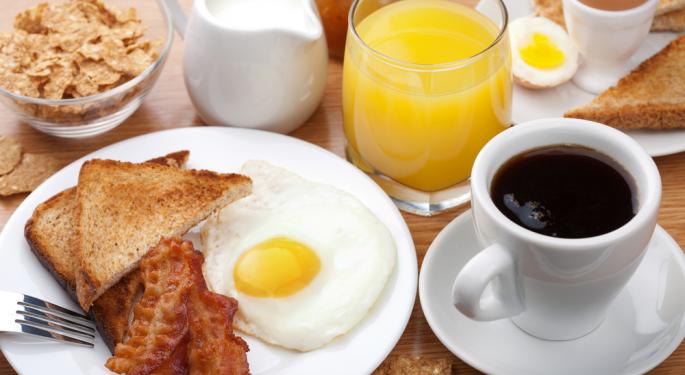 All eyes will be on US Secretary of State John Kerry and Russian Foreign Minister Sergei Lavrov as they kick off two days of meetings on Thursday to discuss how to handle Syria's chemical weapons.
Although the US has backed the Russian-led proposal to allow Syria to turn over its chemical weapons and avoid military intervention, tension and mistrust between the US and Russia has many worried that Vladimir Putin is simply buying time for his Syrian ally. The key issue between the two sides will be whether or not the resolution will include the threat of military force if Syria does not comply.
In other news around the markets:
On Wednesday, Verizon (NYSE: VZ) held the largest ever bond offering which raised $49 billion and far eclipsed Apple's (NASDAQ: AAPL) previous record of $17 billion. The cash raised will go towards Verizon's $130 billion buyout of Vodafone's stake in their joint venture, Verizon Wireless.
Umpqua Holdings (NASDAQ: UMPQ) announced that it will acquire Sterling Financial Corp, which will create one of the largest community banks on the west coast. The deal will cost $2 billion in cash and stock and will leave Umpqua with $22 billion in assets and almost 400 branches.
Facebook (NASDAQ: FB) shares are finally living up to the highs associated with its trading debut back in May 2012. The company's stock hit a new high of $45.09 on Wednesday, and ended with gains of 2.9 percent at $44.88 at the end of the day.
Australian unemployment data disappointed, rising to its highest level in four years at 5.8 percent. The figure suggests that the Reserve Bank of Australia will cut interest rates in the coming months and weighed down the Australian dollar.
Asian markets were mostly up on Thursday with the exception of the Japanese NIKKEI which fell 0.26 percent. The Shanghai composite and the Shenzhen composites were up 0.64 percent and 0.16 percent respectively and the Hang Seng index and KOSPI index were both flat.
European Markets
European markets got off to a good start, the UK's FTSE was up 0.15 percent and the eurozone's STOXX 600 was up 0.08 percent. The Spanish IBEX gained 0.52 percent and Amsterdam's AEX was up 0.38 percent.
Brent crude futures were up 0.13 percent to $111.65 on Thursday, but WTI futures fell 0.16 percent. Gold dropped 1.55 percent to $1,342.70 per ounce and silver lost 2.06 percent. Copper also lost 1.13 percent but aluminum was up 0.33 percent.
The euro and the pound gained 0.12 percent and 0.15 percent against the dollar respectively. The yen fell below the 100 yen to one dollar mark and gained 0.32 percent against the dollar.
Earnings Reported Yesterday
Notable companies that reported earnings on Wednesday included:
Men's Wearhouse, Inc. (NYSE: MW) reported second quarter EPS of $1.01 on revenue of $647.30 million, compared to last year's EPS of $1.15 on revenue of $662.30 million.
Vera Bradley, Inc. (NASDAQ: VRA) reported second quarter EPS of $0.37 on revenue of $125.40 million, compared to last year's EPS of $0.33 on revenue of $123.04 million.
Stocks moving in the pre-market included:
Eli Lilly and Co (NYSE: LLY) gained 1.08 percent in pre-market trade after recently inking a multiyear research deal with Humana (NYSE: HUM)
Newmont Mining Corp (NYSE: NEM) lost 1.56 percent in pre-market trade as gold prices tumbled.
Notable companies expected to report earnings on Thursday include:
United Natural Foods, Inc. (NASDAQ: UNFI) is expected to report EPS of $0.60 on revenue of $1.63 billion, compared to last year's EPS of $0.51 on revenue of $1.34 billion.
Kroger Company (NYSE: KR) is expected to report EPS of $0.60 on revenue of $22.67 billion, compared to last year's EPS of $0.51 on revenue of $21.73 billion.
Lululemon Athletica Inc. (NASDAQ: LULU) is expected to report EPS of $0.35 on revenue of $343.10 million, compared to last year's EPS of $0.39 on revenue of $282.63 million.
Economics
Notable economic releases on Thursday include eurozone industrial production, Spanish CPI, Italian industrial production, French CPI, Indian CPI and industrial production, Brazilian retail sales, and US import and export prices.
An 8:30 am EST report of initial jobless claims from the Department of Labor is expected to show an increase to 330,000 for the period ending September 7, an increase from the 323,000 reported in the previous period.
Happy trading and good luck!
For a recap of Wednesday's market action, click here
Tune into Benzinga's pre-market info show with Dennis Dick and Joel Elconin here.
Posted-In: Earnings News Eurozone Futures Commodities Global Econ #s Economics Best of Benzinga
View Comments and Join the Discussion!