Benzinga Market Primer for September 11: Apple Shares Continue to Slump, Non-Violet Action Planned in Syria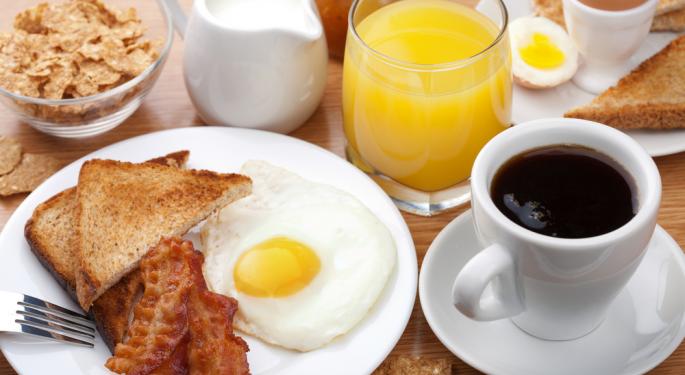 President Obama addressed the US people on Tuesday night and confirmed that he was planning to put his plan to launch targeted military attacks in Syria on the shelf, for now. The President, together with the UN, has agreed to allow Syria to turn over its chemical weapons in order to avoid a military strike.
There is a lot of skepticism surrounding the proposal, backed by Syrian ally, Russia, as many worry about stalling tactics. Moving forward, UN leaders are expected to iron out the details of this plan and avoid military involvement.
In other news around the markets:
The Bank of Japan's Koji Ishida said on Wednesday that exports will be a vital part of the country's recovery. He also argued for the Japanese government's planned sales tax hike, saying it could increase consumption as it may boost confidence in Japan's economic outlook. He said the bank is willing to step in with policy changes if need be, but urged lawmakers not to overreact to a temporary dip due to the sales tax increase.
The Greek Finance Ministry released data on Tuesday which showed the country was moving in the right direction and keeping up with the terms of its bailout. The data showed a primary surplus of 2.9 billion euros so far in 2013, compared to last year's 1.4 billion euro deficit. The figures surpassed estimates in the country's bailout plan which forecast a 2.5 billion euro deficit.
Immediately following Apple Inc's announcement of its new, lower cost iPhone 5C, the company's share prices slipped 0.6 percent to $502.85. On Tuesday afternoon, shares had fallen below $500, a three percent drop. Suppliers' shares also slumped following the announcement as many worried that the new cheaper phone was still too expensive to reach key emerging markets. In pre-market trade, shares of Apple sit just above $483, an 11.54 percent drop below Tuesday's close.
Reuters reported that analysts are expecting that the US Federal reserve will announce the beginning of its tapering plan at next week's policy meeting. Most see the bank cutting its asset purchases by $10 billion, down from previous estimates of a $15 billion reduction.
Asian markets were mixed on Wednesday; the Shanghai composite was up 0.15 percent but the Shenzhen composite lost 0.50 percent. The KOSPI was up 0.49 percent and Australia's ASX 200 was up 0.64 percent. The Hang Seng index was down 0.42 percent and the Japanese NIKKEI was flat.
European Markets
European markets were also mixed, the UK's FTSE was down 0.14 percent and the STOXX 600 was mostly flat with just 0.04 percent gains. France's CAC 40 was down 0.20 percent and Italy's MIB was up 0.92 percent.
Brent futures for October delivery rose 0.52 percent while WTI futures slipped 0.13 percent. Gold gained 0.15 percent and silver was up 0.36 percent. Copper was up 0.28 percent but aluminum and tin lost 0.50 percent and 0.44 percent respectively.
The euro and the pound were steady against the dollar and the yen continued to trade above the 100 yen to one dollar mark. The rupee gained 0.82 percent against the dollar and the Australian dollar lost 0.20 percent against the greenback.
Earnings Reported Yesterday
Notable companies that reported earnings on Tuesday included:
Restoration Hardware (NYSE: RH) reported second quarter EPS of $0.49 on revenue of $382.10 million, compared to estimated EPS of $0.43 on revenue of $377.60 million.
Christopher & Banks Corporation (NYSE: CBK) reported a second quarter loss of $0.01 per share on revenue of $104.20 million, compared to last year's loss of $0.06 per share on revenue of $103.44 million.
Stocks moving in the pre-market included:
Notable companies expected to report earnings on Wednesday include:
Men's Wearhouse, Inc. (NYSE: MW) is expected to report EPS of $1.14 on revenue of $671.04 million, compared to last year's EPS of $1.15 on revenue of $662.30 million
Vera Bradley, Inc. (NASDAQ: VRA) is expected to report EPS of $0.32 on revenue of $124.81 million, compared to last year's EPS of $0.33 on revenue of $123.04 million.
Economics
On Wednesday's economic calendar, investors will be watching for US crude oil and gasoline inventories, the British unemployment rate, French non-farm payrolls and current account data and German CPI.
Good luck with your mid-week trades!
For a recap of Tuesday's market action, click here.
Tune into Benzinga's pre-market info show with Dennis Dick and Joel Elconin here.
Posted-In: Earnings News Futures Commodities Previews Forex Global Econ #s Best of Benzinga
View Comments and Join the Discussion!