Market Wrap For Monday, August 5: Stocks Close Mixed; Nasdaq Rises, Dow And S&P Fall Modestly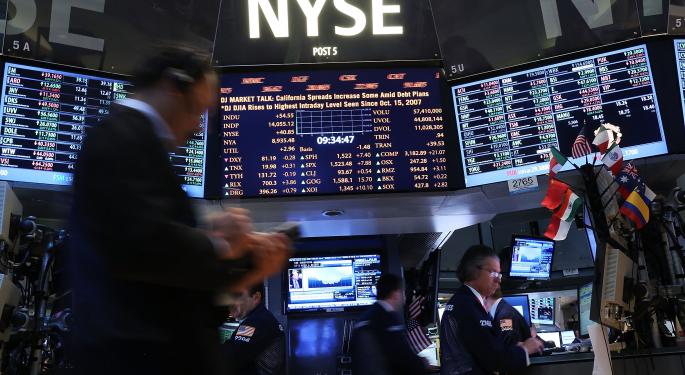 It was an extremely quiet trading session to start the week on Monday despite the Dow and S&P 500 sitting near new all-time highs.
Volume was anemic on a slow news day and the lone economic report released showed that ISM Non-manufacturing activity expanded strongly in July. The Nasdaq recorded a small gain on the session while both the Dow and S&P fell modestly.
Major Averages
The Dow Jones Industrial Average lost around 46 points, or 0.30 percent, to close at 15,612.
The S&P 500 declined a little less than 3 points, or 0.15 percent, to finish at 1,707.
The Nasdaq rose a little better than 3 points, or 0.09 percent, to 3,693.
ISM Services
The ISM Non-manufacturing index rose from 52.2 in June to 56.0 in July. This was the strongest reading for the index since February 2011 and easily topped consensus estimates which expected an expansion to 53.2.
Related: Herbalife rises even as Bill Ackman files SEC complaint against Soros' firm.
Commodities
Crude oil was down slightly to start the trading week on Monday. In afternoon trade, NYMEX crude futures had lost 0.38 percent to $106.53 while Brent contracts were down 0.21 percent to $108.72. Natural gas was last lower by 0.33 percent and was trading at $3.34.
Precious metals also traded down on Monday. Near the close of equities, COMEX gold futures were lower by 0.70 percent to $1,301.30. Silver futures lost 1.22 percent to $19.67 on the day. Copper recorded a modest 0.25 percent loss and was last trading at $3.1645.
In the grains complex, both corn and wheat were lower on Monday. Corn futures fell 0.70 percent while wheat lost 2.31 percent. Movers in soft commodities included cocoa and lumber. Cocoa futures rose a little better than 3 percent while lumber fell 2.57 percent.
Bonds
Treasury prices registered declines on Monday. Near the close of equities, the iShares Barclays 20+ Year Treasury Bond ETF (NYSE: TLT) had lost 0.72 percent to $105.77. Yields rose as prices fell on the trading session.
Treasury yields were as follows on Monday afternoon: The yield on the 2-Year Note was 0.30 percent. The 5-Year Note was yielding 1.38 percent. The 10-Year Note was last yielding 2.64 percent while the 30-Year Bond yield was 3.73 percent.
Berkshire Hathaway reports double-digit earnings growth.
Currencies
The U.S. Dollar was very modestly lower on Monday afternoon. At last check, the PowerShares DB US Dollar Index Bullish ETF (NYSE: UUP), which tracks the performance of the greenback versus a basket of foreign currencies, was down 0.07 percent to $22.15.
The closely watched EUR/USD pair had shed 0.20 percent to $1.3258. Other movers included the USD/JPY, which fell 0.59 percent, and the GBP/USD, which had lost 0.41 percent.
Volatility and Volume
The CBOE Volatility Index (VIX) moved slightly lower on Monday. At last check, the VIX was down 1.17 percent to 11.84. The 52-week low in the index is below at 11.05.
Monday was one of the lightest trading volume days in recent memory. Only around 42.6 million SPDR S&P 500 ETF (NYSE: SPY) shares traded hands compared to a 3-month daily average of 134 million.
Commodities trader buys the Boston Globe for $70 million.
Stock Movers
Shares of Puma Biotechnology (NYSE: PBYI) rose throughout the trading session and were last up a little less than 9 percent. The reason for the move was not immediately clear.
Shares of AVG Technologies NV (NYSE: AVG) climbed almost 10 percent on Monday after the company announced the extension of a mobile security deal with Alcatel over the weekend.
Solar City (NASDAQ: SCTY) jumped around 8 percent in the wake of a bullish blog posting on Seeking Alpha. Investors may also be purchasing the stock on the expectation that the company will report strong earnings results later this week.
BlackBerry (NASDAQ: BBRY) surged almost 8 percent on Monday after images of what could be the company's next-generation BlackBerry 10 handset appeared online. The stock is heavily shorted as well, and short covering may also have catalyzed the move.
Shares of Compugen (NASDAQ: CGEN) jumped around 44 percent on Monday after the company announced that it will jointly pursue a pre-clinical research program for treatments that aim to combat cancer by stimulating the body's own immune cells with Bayer AG
Revlon (NYSE: REV) added around 7 percent on Monday after agreeing to acquire beauty-care company Colomer Group from CVC Capital Partners for $660 million in cash.
InterDigital (NASDAQ: IDCC) lost 10 percent on Monday on concerns that a White House veto of a pending ITC ban may effect the companies own ITC infringement suits.
Prosensa Holding (NASDAQ: RNA) lost a little more than 8 percent on the session, although the catalyst for the move lower was not readily apparent.
E.W. Scripps (NYSE: SSP) lost around 11 percent after the company's fiscal second-quarter earnings fell 41 percent.
Fossil (NASDAQ: FOSL) fell around 6 percent on Monday after Barclays downgraded the stock to underweight ahead of the company's quarterly earnings report which is due out on Tuesday.
HSBC Holdings (NYSE: HBC) lost more than 4 percent on the session after the bank's financial results for the first half of 2013 disappointed investors.
View Comments and Join the Discussion!
Posted-In: Earnings News Bonds Broad U.S. Equity ETFs Guidance Futures Commodities Currency ETFs Best of Benzinga