Weekly Preview: Earnings Season Nears The End, China in Focus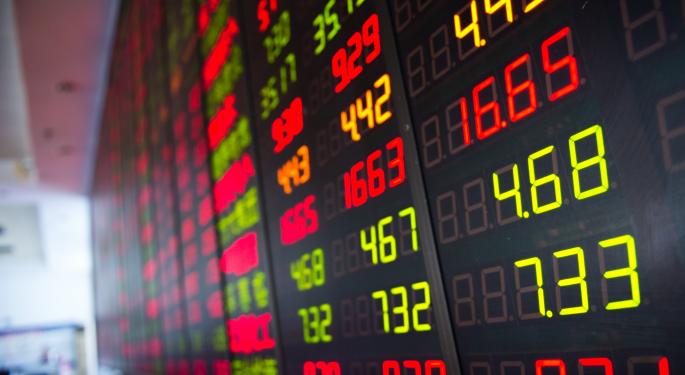 Economic data and central bank meetings will dominate financial news again next week as the Bank of Japan and Reserve Bank of Australia hold their monthly policy meetings.  Key earnings reports from both HSBC and Intercontinental will also be in focus as quarterly earnings season nears its end.
Key Earnings
As earnings season wraps up, traders will have their eyes on HSBC (NYSE: HBC) and Intercontinental (NYSE: IHG) as they are among the most anticipated earnings reports due out next week.
HSBC
HSBC is set to release its half-year earnings on Monday, August 5, which are expected to be well received. The bank's second quarter EPS are expected to be $1.03, up from $0.89 a year ago. Revenue is forecast to fall from 82.545 billion in 2012 to 81.2642 billion.
Goldman Sachs has optimistically given HSBC a Buy rating with a 26 percent potential upside.
"Our unchanged 12-month, P/B-based price target of 950p implies 26% potential upside. On our estimates, HSBC trades on 11.1x/10.0x/8.7x 2013/2014/2015E GS EPS and 1.16x 2013E P/B."
On the other hand, Merrill Lynch has taken a more conservative stance with a Neutral rating.
"Our Neutral rating on HSBC is premised on our view that the bank has rebuilt its capital position dramatically in 2012 and now sits with a fully phased in Basel 3 Core Tier 1 of 9.8%. That said, we remain concerned about the outlook for revenues and achievement of the bank's RoE targets. Furthermore, valuation is uncompelling on most metrics and key catalysts such as potential buybacks are largely reflected in the share price."
Intercontinental Hotels
Intercontinental Hotels is set to report its second quarter results on Tuesday, August 6th with several factors playing into the current forecasts. The sale and lease back of the Intercontinental London Park Lane property will likely contribute to losses and the economic strain in China is expected to have impacted profitability.
Deutsche Bank weighed in with a Buy rating for the stock and advised that the recent strength in the US dollar could have taken the shine of some of the company's financials.
"With the USD strengthening vs. most currencies (barring EUR and CNY), IHG could see fx headwinds in H1. We estimate H1'13 fx impact to be c. -7.2% for AMEA and +2.1% for China. The USD has had a sharp appreciation in the past month against most emerging economy currencies, so that could impact H2 reported numbers as well."
Barclays is predicting EPS to increase from $1.39 to $1.53 and has assigned an Equal-Weight rating citing downside risks to forecasts and valuation.
"We downgraded our rating to Equal Weight in April with our concern at the time being around downside risks to forecasts and valuation. Since this time, we believe the majority of those earnings revisions have materialised although we still find the shares more 'fairly valued' than obviously 'cheap'. We hence retain our Equal Weight rating with the multiple at a 17.7x calendar 14E P/E vs Marriott on 17.3x."
Read More: Intercontinental Hotels Posts Rise in Q2 Profit
Key Economic Releases
The coming week will be packed with economic data, but slow as far as US data is concerned. China will dominate market sentiment as it will release a host of economic data including trade data, inflation data, industrial production figures and new loans data which will provide insight into how low a level of growth the Chinese government is willing to accept before intervening to ease the economy further.  
The Bank of England will be releasing a highly anticipated inflation report which will be accompanied by a review into forward guidance.
Central bank policy meetings in both Japan and Australia will also be in focus next week. The Bank of Japan is expected to keep its interest rates unchanged for the time being as the nation's government waits to see how its new structural reforms play out. In Australia, the opposite is the case as there is a lot of speculation that the bank will cut its interest rate yet again to a record low of 2.25 percent.
Daily Schedule
Monday
Earnings Expected From: HSBC Holdings (NYSE: HBC), Tyson Foods (NYSE: TSN), Hill International, Inc. (NYSE: HIL), Rockwood Holdings, Inc. (NYSE: ROC), Integrys Energy Group (NYSE: TEG), Jamba Inc. (NASDAQ: JMBA), Nautilus Group, Inc. (NYSE: NLS), Black Hills Corporation (NYSE: BKH)
Economic Releases Expected: Australian Trade Balance, Australian House Price Index, British Retail Sales Monitor, US Non-Manufacturing Index, European Retail Sales, European  Investor Confidence, British Services PMI, European Services PMI, German Services PMI, French Services PMI, Italian Services PMI, Spanish Services PMI
Tuesday
Earnings Expected From: Fossil Inc. (NASDAQ: FOSL), Molson Coors Brewing Company (NYSE: TAP), Parker-Hannifin Corporation (NYSE: PH), ACADIA Pharmaceuticals, Inc. (NASDAQ: RIGL), Emerald Oil, Inc. (NYSE: EOX), Starwood Properties (NYSE: STWD), Goodrich Petroleum Corporation (NYSE: GDP),  Hackett Group, Inc. (NASDAQ: HCKT), CVS Corporation (NYSE: CVS), OfficeMax Incorporated (NYSE: OMX), Intercontinental Hotels Group (NYSE: IHG)
Economic Releases Expected: Australian Home Loans, Canadian Imports & Exports, Canadian Trade Balance, German Factory Orders, Italian GDP, British Industrial Production, British Manufacturing Production, Italian Industrial Production, Reserve Bank of Australia Interest Rate Decision
Wednesday
Earnings Expected From: Time Warner Inc (NYSE: TWX), The Carlyle Group L.P. (NASDAQ: CG), Duke Energy Corporation (NYSE: DVN), WageWorks, Inc. (NYSE: WAGE), Babcock & Wilcox Company (NYSE: BWC), Craft Brew Alliance, Inc. (NASDAQ: BREW), iPass, Inc (NASDAQ: IPAS)
Economic Releases Expected: Australian Unemployment Rate, Japan Bank Lending, US Consumer Credit Report, German Industrial Production, Swiss CPI, French Trade Balance
Thursday
Earnings Expected From: Annies, Inc (NYSE: BNNY), Sport Chalet, Inc. (NASDAQ: SPCHA), Inuvo, Inc (AMEX: INUV), Fiesta Restaurant Group (NASDAQ: FRGI), Amtech Systems, Inc (NASDAQ: ASYS), Priceline.com Incorporated (NASDAQ: PCLN), American Pacific Corporation (NASDAQ: APFC), Novo Nordisk A/S (NYSE: NVO), AMC Networks Inc. (NASDAQ: AMCX), Orbitz Worldwide, Inc. (NYSE: OWW), Hillshire Brands Companies (NYSE: HSH)
Economic Releases Expected: German Trade Balance, Japanese Economy Watchers Current Index, Chinese Trade Data
Friday
Earnings Expected From: Olympic Steel, Inc. (NASDAQ: ZEUS), Vaalco Energy Inc. (NYSE: EGY), Whitewave Foods (NYSE: WWAV)
Economic Releases Expected: Chinese Inflation Data, Chinese Industrial Production Data, US Wholesale Trade Data, Canadian Unemployment Rate, French Industrial Production, Japanese Household Confidence
View Comments and Join the Discussion!
Posted-In: Earnings News Bonds Dividends Emerging Markets Eurozone Emerging Market ETFs Futures Best of Benzinga