Detroit Officially Goes Bankrupt but Dan Gilbert Sees Light at the End of the Tunnel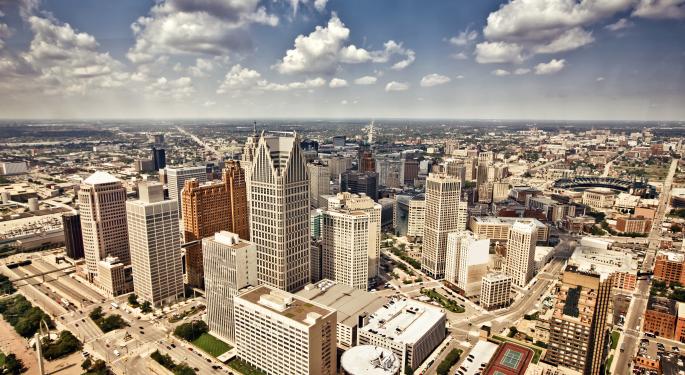 It's Official: Detroit Is, as Michigan Governor Rick Snyder Put it bluntly, "broke." In a filing in bankruptcy court Thursday, Detroit became the largest U.S. city ever to file for bankruptcy.
No Other Solution
Michigan's largest yet shrinking city joins the likes of Jefferson County, Alabama and the cities of San Bernardino and Stockton California in filing for bankruptcy in the wake of the global financial crisis. The filing shattered the presumption of many bondholders that local governments, eager to continue borrowing at reasonable rates, would do whatever it took, including raise taxes, to come up with the money to meet bond obligations. Kevyn Orr, the city's recently appointed emergency manager, said that the total debt for the city stood at $18 billion, or roughly $25,714.30 per resident.
"I have reached the conclusion that this step is necessary after a thorough review of all the available alternatives, and I authorize this step as a last resort to return this great city to financial and civic health for its residents and taxpayers," wrote Governor Rick Snyder in the letter authorizing the bankruptcy. "This decision comes in the wake of 60 years of decline for the city, a period in which reality was often ignored."
Related: Senate Finally Reaches Deal on Student Loans.
Snyder notes that four key reasons led to the bankruptcy filing, which the city tried to avoid for years before the impending bankruptcy. He noted that the city of Detroit can no longer meet its basic obligations to both its citizens and its creditors and that a successful restructuring is the only way for Detroit to return to the city it once was.
While under the umbrella of bankruptcy, Detroit can stop paying some debts, is temporarily immune from most lawsuits, and may be able to ask a judge to cancel contracts, including union agreements. Under Chapter 9 of the U.S. Bankruptcy Code, the first step is likely to be a legal dispute over whether the city was legally allowed to file for bankruptcy protection, a challenge that would ask if the city was truly insolvent and it had no alternative to filing.
Population Flight
"The D" has been on the decline for the past six decades or so. Citizens have fled for the suburbs leaving only the poorest residents to support the tax base, which as crumbled over the years.
In 1950, Detroit's population peaked at 1.85 million but has since fallen to about 700 thousand, a decline of more than 62 percent. The number of manufacturing jobs fell over 90 percent and 15 percent of all land parcels were barren.
The median household income in Detroit was less than $28,000 in 2011, nearly half of the Michigan state average of $49,000. The average home price in Detroit was a low $71,000 compared to the state average of $137,000.
Emergency manager Kevyn Orr filed for bankruptcy Thursday asking creditors on over $11 billion in claims to accept just $2 billion in new notes to help the city restructure. Some of these creditors will face massive losses and potentially lose all of their money, especially those invested in the most subordinated bonds. Recently, Detroit issued secured bonds because it allowed the city to borrow at slightly lower yields, however this means that the assets and cash flows that these bonds are tied to cannot go towards paying other debts.
"Detroit has been working its way to a level of insolvency for decades," Orr said. The city was "continuing to borrow, continuing to defer pension payments, continuing not to pay its bills on time, continuing a deepening insolvency -- $18 billion."
Pensions Up In Arms
Pension plans representing many of the cities workers were up in arms over the news and filed lawsuits quickly to block the filing. City pension plans sued Snyder and Orr yesterday, contending bankruptcy violates a provision of the Michigan Constitution that prevents any government in the state from reducing pension benefits. Two similar suits were filed in the same state court earlier this month.
Among the biggest costs to the city's general fund, which pays for police, fire and other basic services, are health care services and benefits paid to retired city workers, according to Orr's May report. Without changes, the city will pay $163 million for retiree health-care costs in the next fiscal year, which starts July 1, the report found. Orr also said that unfunded pension liabilities may swell as high as $3.5 billion, a huge gap that needs to be filled at the risk of not paying benefits to thousands of retirees.
Detroit currently has about 20,100 retirees receiving benefits and only has about half that in current workers. According to Orr's report, these retirees receive between $100 and $250 per month each to cover health-care costs.
Light At the End of the Tunnel
Quicken Loans Chairman and Founder Dan Gilbert spoke on CNBC's Squawk Box this morning and he is one of a key group of investors who see light at the end of the tunnel for Detroit. He has notoriously been buying land and office space in downtown Detroit and has invested lots of his own personal wealth in an effort to help spark a turn around for the city.
He noted that "120 thousand buildings, both commercial and residential, need to be removed," many of these which are both vacant and in a state of massive decay. "Do that and people will make investments."
"Young people have taken Detroit as their generational calling," he continued. He said that right now there are nearly "1,100 interns in Detroit from 57 colleges around the nation. People want to be a part of the come back." He even said that there is a ton of "entrepreneurial activity and VC activity in the city."
In an email to employees Friday morning, Gilbert said, "We are going to continue on with our mission of building the best possible downtown in the world. A hustling, bustling and energy filled core full of young passionate entrepreneurial technology and entertainment related businesses and venture capital that serve as job creating machines accessible to all of Detroit's citizens. This is the foundation of Detroit 2.0 and 'Opportunity Detroit'."
"The bankruptcy is the bottom," he continued. "There is only one way to go from here and that's up. The bankruptcy is the bottom."
"So 'ignore the noise' and believe the vision we are going to turn into reality: That's the building of Motown into something so exciting that even the most optimistic of us, couldn't have imagined it! Then you will surely see it."
View Michigan Governor Rick Snyder giving a Youtube address on the bankruptcy here.
Want to hear more about Detroit? Tune in to Marketfy's roundtable on Sunday, August 4th.
Posted-In: News Bonds Movers & Shakers Politics Events Econ #s Economics Startups Best of Benzinga
View Comments and Join the Discussion!