Bond ETN Pricing in More Abenomics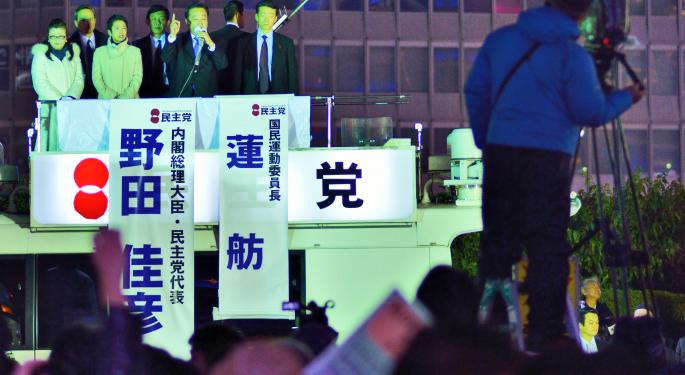 Abenomics, the colloquial term for Japanese Prime Minister Shinzo Abe's agenda to rejuvenate the world's third-largest economic, could get a boost this weekend.
That is when Japanese voters head to the polls to decide which political party will gain control of Japan's upper house of parliament.
It is widely expected that Abe's Liberal Democratic Party will take a commanding majority of the upper house this Sunday, ending Japan's hung parliament scenario in the process.
Ending the hung parliament could give Abe the political leverage to pursue even bolder economic reforms, which would likely include further weakening of the yen. That would be a boon for ETFs such as the WisdomTree Japan Hedged Equity Fund (NYSE: DXJ) and the db X-trackers MSCI Japan Hedged Equity Fund (NYSE: DBJP), but a couple of unheralded exchange traded notes, or ETNs, are already telling Japan bulls that they may get the result they want from this weekend's election.
Related: Google Just Made Chrome for iOS Faster and More Efficient
The PowerShares DB 3x Japanese Govt Bond Futures ETN (NYSE: JGBT) is up about two percent in the past month while its unleveraged cousin, the PowerShares DB Japanese Govt Bond Futures (NYSE: JGBL) has traded modestly higher. Those gains are not jaw-dropping, but the performances could be a sign that Japanese bond markets are pricing in a landslide victory for Abe's LDP this weekend.
There is more evidence to support that assertion. Credit-default swaps that insure Japanese government bonds for five years slid 13 basis points in the past month to 69 basis points Wednesday, according to Bloomberg. CDS rise in accordance with traders' views on issuer default. Japanese 10-year sovereign bonds yield just 0.8 percent today, meaning the spread between those bonds and comparable U.S. Treasurys is around 270 basis points.
JGBT and JGBL "are based on the DB USD JGB Futures Index (the "Long JGB Futures Index"), which is intended to measure the performance of a notional long position in 10-year JGB Futures," according to PowerShares. ETNs, unlike most traditional ETFs, are actually debt instruments and whether investors realize it or not, ETNs make holders creditors of the issuing bank, in this case Germany's Deutsche Bank.
For investors looking for further clues about what markets are expecting out of Japan this weekend and going forward should Abe's party control both houses of parliament, USD/JPY is up nearly one percent. Hedge funds have been net buyers of the pair as traders see anything that can embolden Abe's popularity as good for further yen devaluation. The CurrencyShares Japanese Yen Trust (NYSE: FXY) is down 0.9 percent Thursday.
At this writing, USD/JPY is trading at 100.57, but Morgan Stanley said in a note that a break above 101.55 yen for dollar/yen could signal a return to the upward trend, Reuters reported.
USD/JPY is trading near levels seen around April 21 before the pair made its ascent to its May high in the 103.6 area. In this case, investors will also want to monitor to JGBT because, in May, the ETN started falling before the yen started rising, serving as a warning sign to what was a stunning, though short-lived increase in the Japanese currency.
Equity investors will like to know that from April 22 to May 21 as the yen was tumbling against the greenback, DXJ gained over 11 percent.
For more on ETFs, click here.
Posted-In: Long Ideas News Bonds Short Ideas Specialty ETFs Currency ETFs Previews Politics Best of Benzinga
View Comments and Join the Discussion!