Market Wrap for Wednesday, July 17: Stocks Rise as Bernanke Emphasizes Flexibility of Stimulus Program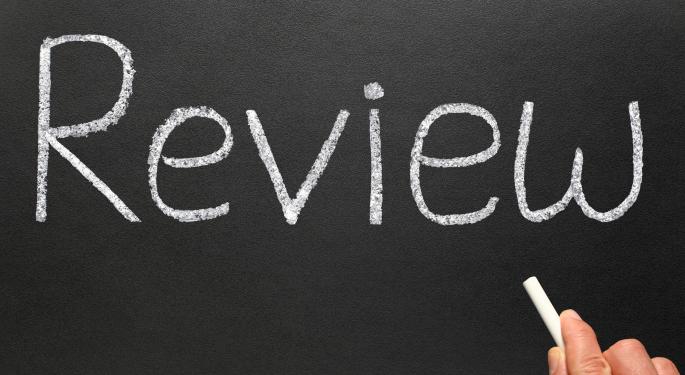 Comments made by Fed Chairman Ben Bernanke on Wednesday in congressional testimony helped keep the stock market afloat during the day's trading session.
The Fed Chief emphasized that the central bank will adjust its bond-buying program based on the performance of the economy and emphasized the importance of flexibility.
This comforted investors who are concerned about the prospects of the American economy in the absence of stimulus from the Federal Reserve. Stocks rose on the day, but the gains were modest.
In economic news, both housing starts and building permits data for June came in well below consensus estimates. Crude oil prices rose on Wednesday while precious metals came under selling pressure during the session.
Related: Bernanke Reiterates Late 2013 Tapering, Notes Can Increase Purchases If Economy Misses Forecasts
Major Averages
The Dow Jones Industrial Average climbed around 19 points, or 0.12 percent, to 15,471.
The S&P 500 added 5 points, or 0.28 percent, to 1,681.
The Nasdaq rose 12 points, or 0.32 percent, to close at 3,610.
Housing Starts
The housing starts report for June showed that starts declined 9.9 percent to a seasonally adjusted annual rate of 836,000. This was well below consensus estimates which called for housing starts of 958,000.
Building Permits
Building permits were 911,000 compared to 985,000 in the prior month. This was also below consensus estimates calling for building permits of 1.0 million.
Commodities
Crude oil was slightly higher on Wednesday. At last check, NYMEX crude futures were up 0.44 percent to $106.47. Brent crude contracts rose 0.28 percent to $109.40. Natural gas futures lost 1.33 percent on the session and were last trading at $3.63.
Precious metals were lower on the day. Near the close of equities, COMEX gold futures were down 1.22 percent to $1,274.60 while silver futures had shed 3.31 percent to $19.28. Copper lost nearly 2 percent on the session to $3.1310.
In the grains complex, both corn and wheat fell on Wednesday. Corn futures lost 1.71 percent while wheat was last trading down 0.67 percent. Movers in soft commodities included coffee and lumber. Coffee contracts rose around 1.60 percent while lumber climbed more than 3 percent on the session.
Bonds
Treasury prices were up slightly approaching the closing bell. The iShares Barclays 20+ Year Treasury Bond ETF (NYSE: TLT) had added 0.20 percent to $108.86.
Yields were as follows on Wednesday afternoon: The 2-Year Note yield was sitting at 0.30 percent. The 5-Year Note was yielding 1.31 percent. Yields on the 10-Year Note and 30-Year Bond were 2.49 percent and 3.56 percent, respectively.
Currencies
The U.S. Dollar rose on Wednesday after declining on Tuesday. At last check, the PowerShares DB US Dollar Index Bullish ETF (NYSE: UUP), which tracks the performance of the greenback versus a basket of foreign currencies, was up 0.29 percent to $22.39.
The closely watched EUR/USD pair fell 0.37 percent on the session to $1.3112. Other movers included the USD/JPY, which rose 0.40 percent, and the USD/CAD, which added 0.46 percent.
Volatility and Volume
The VIX reversed gains from Tuesday on Wednesday. The widely watched barometer of market volatility fell a little more than 4 percent to 13.81.
Volume was lighter than normal on the day with around 84 million SPDR S&P 500 ETF (NYSE: SPY) shares trading hands compared to a 3-month daily average of 141 million.
Related: Tesla's Elon Musk to Reveal Hyperloop Plans by August 12, 2013
Stock Movers
Shares of iGate (NASDAQ: IGTE) had climbed almost 11 percent near the close after the company reported a 136 percent increase in second-quarter profits.
Buyers snapped up shares of Tesla Motors (NASDAQ: TSLA) a day after the stock fell sharply in the wake of a research report from Goldman Sachs. Late in the day, Tesla was trading up better than 10 percent on heavy volume.
United Rentals (NYSE: URI) jumped almost 11 percent on the session after the company released its fiscal Q2 financial results after the closing bell on Tuesday.
Yahoo (NASDAQ: YHOO) surged more than 10 percent after the company's Q2 earnings came in better than expected. Strong profitability at Alibaba Group Holding, in which Yahoo holds a 23.5 percent stake, helped drive upside in the shares despite the fact that the company missed revenue estimates for the fiscal second-quarter.
AeroVironment (NASDAQ: AVAV) jumped around 14 percent on the session after activist investor Engaged Capital LLC took a 5.1 percent stake in the company.
St. Jude Medical (NYSE: STJ) rose around 5 percent on Wednesday after the company reported better-than-expected results for its fiscal second-quarter.
Mattel (NYSE: MAT) lost around 7 percent on Wednesday after the company reported disappointing second-quarter financial results.
Zagg (NASDAQ: ZAGG), an accessory maker for mobile devices, shed 17 percent on the session after the company slashed its full-year sales target for the second time this year.
Piper Jaffray (NYSE: PJC) fell almost 6 percent on the session after an earnings report showed a 64 percent decline in second-quarter profit at the financial firm.
Regulus Therapeutics (NASDAQ: RGLS) fell almost 10 percent after the company announced that its 4.5 million share offering priced at an 11 percent discount to Tuesday's close.
Verastem (NASDAQ: VSTM) fell more than 11 percent after its share offering priced at a 12 percent discount to yesterday's close.
Resources Connection (NASDAQ: RECN) fell around 5 percent after reporting a 40 percent decline in its fourth-quarter earnings. Revenue also missed analysts' expectations for the period.
View Comments and Join the Discussion!
Posted-In: Earnings News Bonds Broad U.S. Equity ETFs Guidance Futures Commodities Currency ETFs Best of Benzinga