Bernanke Reiterates Late 2013 Tapering, Notes Can Increase Purchases If Economy Misses Forecasts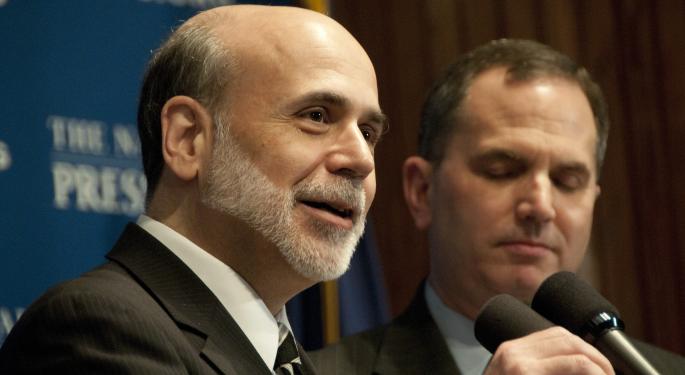 Federal Reserve Chairman Ben Bernanke's speech to the House Financial Services Committee was published an hour and a half before the speech.
In the text of the upcoming speech, Bernanke once again reiterated that tapering would likely start this year if the economy moves in line with the Fed's forecasts.
Economic Outlook
Bernanke remains cautiously optimistic on the economy despite economists remaining pessimistic as economies around the world continue to slow down. "Housing activity and prices seem likely to continue to recover, notwithstanding the recent increases in mortgage rates, but it will be important to monitor developments in this sector carefully," wrote Bernanke, in an attempt to quell fears that the rise in rates will negate the recent recovery in housing.
Related: Ben Bernanke Gives Report on Semiannual Monetary Policy
"Conditions in the labor market are improving gradually," continued Bernanke. "The unemployment rate stood at 7.6 percent in June, about a half percentage point lower than in the months before the Federal Open Market Committee (FOMC) initiated its current asset purchase program in September. Nonfarm payroll employment has increased by an average of about 200,000 jobs per month so far this year. Despite these gains, the jobs situation is far from satisfactory, as the unemployment rate remains well above its longer-run normal level, and rates of underemployment and long-term unemployment are still much too high."
Bernanke also noted that inflation has been running below trend. "This softness reflects in part some factors that are likely to be transitory. Moreover, measures of longer-term inflation expectations have generally remained stable, which should help move inflation back up toward 2 percent." Nevertheless, Bernanke remains skeptical of letting inflation fall any further as "the Committee is certainly aware that very low inflation poses risks to economic performance."
Tapering In 2013
Bernanke reiterated that the FOMC stands ready to begin tapering asset purchases later this year should the economy continue on trend. However, he continued to emphasize that this is dependent on the economy continuing to improve, the labor market to continue to add jobs, and inflation and to return to normal levels.
"If the incoming data were to be broadly consistent with these projections, we anticipated that it would be appropriate to begin to moderate the monthly pace of purchases later this year. And if the subsequent data continued to confirm this pattern of ongoing economic improvement and normalizing inflation, we expected to continue to reduce the pace of purchases in measured steps through the first half of next year, ending them around midyear."
"At that point, if the economy had evolved along the lines we anticipated, the recovery would have gained further momentum, unemployment would be in the vicinity of 7 percent, and inflation would be moving toward our 2 percent objective. Such outcomes would be fully consistent with the goals of the asset purchase program that we established in September."
</p>
Related: Gold, Stocks Reatcing Sharply to Bernanke Comments
"In addition, even after purchases end, the Federal Reserve will be holding its stock of Treasury and agency securities off the market and reinvesting the proceeds from maturing securities, which will continue to put downward pressure on longer-term interest rates, support mortgage markets, and help to make broader financial conditions more accommodative."
Futures Pop
U.S. equity futures rose sharply on the news, gaining seven points since the release to 1,677.00. Gold spiked sharply on the news from $1,282.00 to $1,298.60 before retreating to $1,288.10. Meanwhile, the dollar was volatile as the EUR/USD popped to a high of 1.3176 from 1.3130 before retreating to 1.3140 and the USD/JPY fell from a high of 99.847 to 99.42.
View Comments and Join the Discussion!
Posted-In: News Bonds Commodities Forex Treasuries Events Global Econ #s Best of Benzinga