Markets Get Bearded As Bernanke Reiterates Easy-Money Policy Is Here to Stay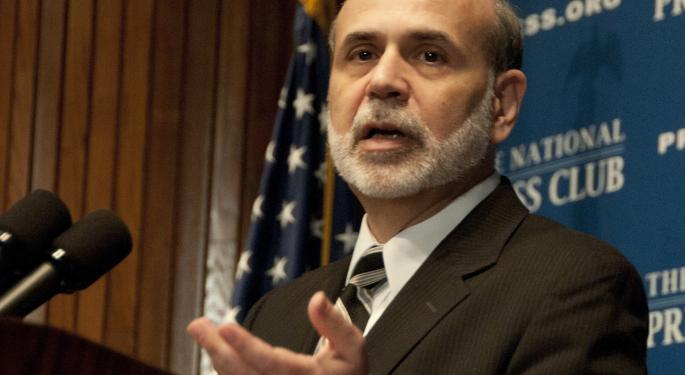 Rising bond yields? Two-year highs in mortgage rates? Stocks seemingly schizophrenic to any and all Fed speak? Forget it all, as Ben Bernanke said Wednesday that "the overall message is accommodation."
What Was So Different?
Honestly, nothing. The only real difference was that this time, it was the Chairman of the Federal Reserve, Ben Bernanke, who reiterated the FOMC's stance towards easy-money policy. It was the first time he openly stated this stance after giving a rather hawkish speech following the release of the policy decision in late June on the heels of a very hawkish speech on May 22.
Many Fed members, including Minneapolis Fed President Naryana Kocherlakota and influential New York Fed President William Dudley, have come out in defense of Fed policy since the June statement stating that policy will remain accommodative and that the Fed is going nowhere anytime soon, even if asset purchases begin to be tapered. However, the defense of the policies from the Chairman helped to quell fears and sent risk assets higher globally.
Notably, Bernanke said that both sides of the Fed's mandate, full employment and moderate inflation near two percent, both indicate that more easing is needed. He also emphasized that the unemployment rate is not the best indicator of the job market right now as so many workers have left the labor force, shrinking the denominator of the rate, and keeping it at inaccurate levels. Many economists prefer to look at the U6 unemployment rate, which corrects for this fact.
Bernanke also noted that the 6.5 percent threshold for interest rate hikes is just a threshold and not a target and could be moved lower or higher depending on other economic indicators. He also said that inflation too low and too high is dangerous and is fearful of both deflationary pressures and inflationary pressures.
What Does It Mean?
The FOMC minutes and Bernanke's speech gave light to one key theme: the key policy drivers within the Fed, Chairman Bernanke, Vice Chairwoman Janet Yellen (who is the favorite to become Chairman once Bernanke's term ends), and New York Fed President William Dudley, all support further easing. So long as this key group of Fed members support further easing and easy-money policy, even if purchases are tapered, the Fed is going nowhere.
Even if the Fed were to start to reign in policy with rate hikes, which it isn't, central banks around the world are set to pick up the slack. The Bank of Japan is launching the most ambitious round of asset purchases ever attempted as it tries to double the money supply in two years while the Bank of England and the European Central Bank have both hinted at easier policy for longer periods of time in recent weeks.
Risk-On Markets
Risk was back in favor after Bernanke's speech as risk assets globally bounced. S&P 500 futures gained 17 points to 1,665.60 and NASDAQ 100 futures rose 27.5 points to 3,023.75. The dollar weakened sharply as the Dollar Index dropped 1.13 percent on weakness against the Swiss franc, the pound, the Canadian dollar, and the euro.
The yield on the U.S. ten-year Treasury yield declined 4 basis points to 2.59 percent, the lowest since July 5. Meanwhile, gold rose 2.62 percent to $1,280.10 per ounce and silver spiked 3.55 percent to $19.85 per ounce after rising over $20 per ounce earlier.
Posted-In: News Bonds Futures Commodities Forex Treasuries Events Global Best of Benzinga
View Comments and Join the Discussion!