Benzinga Market Primer: Monday, July 8: Earnings Season Begins!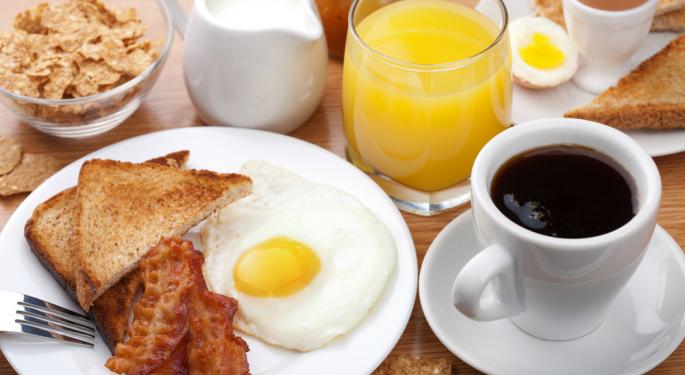 Futures Gain Into Earnings Season
U.S. equity futures rose in early pre-market trade heading into the unofficial start of earnings season after the bell as Alcoa (NYSE: AA) is expected to report second quarter results.
In other news around the markets:


The Troika finished its review of Greece's progress under the bailout program and said that they reached an agreement with the government, paving the way for the next bailout tranche to be paid to the Greek government.

Reports out of China began to circulate that the government is considering cutting off credit facilities to industries threatened by over-capacity. If this were the case, it would speed up any economic adjustment but would also make the same adjustments much more painful.

The U.S. and the E.U. kicked off trade talks in what could be the largest trade deal ever. If leaders reach an agreement, the deal could add millions of jobs globally and nearly $400 billion to global GDP.

S&P 500 futures rose 6.7 points to 1,628.20.

The EUR/USD was higher at 1.2845.

Spanish 10-year government bond yields fell 2 basis points to 4.64 percent.

Italian 10-year government bond yields fell 3 basis points to 4.4 percent.

Gold rose 1.11 percent to $1,226.20 per ounce.
Asian Markets
Asian shares were mostly lower overnight on weaker than expected Japanese service sector data and also on some reports that China is set to shrink the availability of credit to certain sectors. The Japanese Nikkei 225 Index declined 1.4 percent and the Topix Index fell 1.35 percent. In Hong Kong, the Hang Seng Index dropped 1.31 percent and the Shanghai Composite Index fell 2.44 percent in China. Also, the Korean Kospi fell 0.9 percent and Australian shares dropped 0.67 percent.
European Markets
European shares gained strongly in early trade following hints at more easing from the European Central Bank and Bank of England last week. The Spanish Ibex Index gained 1.32 percent and the Italian FTSE MIB Index rose 1.02 percent. Meanwhile, the German DAX rose 1.62 percent and the French CAC 40 Index rose 1.52 percent while U.K. shares added 0.93 percent.
Commodities were mixed as energy futures dropped on relaxed Middle Eastern tensions while metals rose as the dollar weakened. WTI Crude futures fell 0.3 percent to $102.91 per barrel and Brent Crude futures fell 0.61 percent to $107.06 per barrel. Copper futures rose 0.38 percent to $307.65 per pound. Gold was higher and silver futures gained 1.01 percent to $18.93 per ounce.
Currency markets were rather quiet overnight although the dollar was slightly weaker across the board. The EUR/USD was higher at 1.2845 and the dollar gained against the yen to 101.31. Overall, the Dollar Index fell 0.03 percent on weakness against the euro, the pound, and the Canadian dollar.
There were no earning reported last Friday.
Pre-Market Movers
Stocks moving in the pre-market included:


Xerox (NASDAQ: XRX) shares gained 5.08 percent pre-market as the company announced a new round of cost-cutting measures.

Alcoa (NYSE: AA) shares gained 0.51 percent pre-market ahead of its earnings report.

Halliburton (NYSE: HAL) shares fell 1.37 percent pre-market on lower oil prices.
Notable companies expected to report earnings Monday include:


Alcoa (NYSE: AA) is expected to report second quarter EPS of $0.08 vs. $0.06 a year ago on revenue of $5.92 billion vs. $5.96 billion a year ago.

WD40 Company (NASDAQ: WDFC) is expected to report third quarter EPS of $0.56 vs. $0.57 a year ago on revenue of $89.45 million vs. $87.02 million a year ago.
On the economics calendar Monday, ECB President Mario Draghi is set to speak and the Treasury will hold the weekly 3- and 6-month auctions. Also, the TD Ameritrade Investor Movement Index and Consumer Credit data are due out. Overnight, the Chinese inflation report and British industrial production data are expected.
Good luck and good trading.
Tune into Benzinga's PreMarket Info show with Dennis Dick and Joel Elconin here.
For a recap of Monday's market action, read Benzinga's daily market wrap here.
Posted-In: Earnings News Bonds Guidance Dividends Emerging Markets Eurozone Futures Best of Benzinga
View Comments and Join the Discussion!