Benzinga Market Primer: Friday, July 5: Non-Farm Payrolls Edition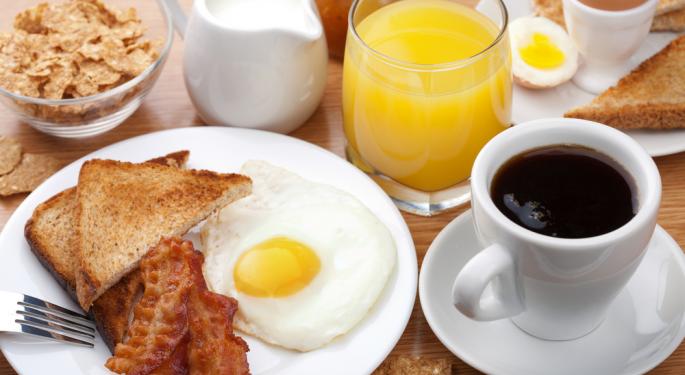 Futures Rise Into Payrolls, Central Bank Guidance As Metals Plummet
U.S. equity futures rose into the much anticipated Employment Situation Report. Non-Farm Payrolls are expected to have gained 161 thousand in June, below the pace set in May, but the unemployment rate is expected to tick down to 7.5 percent.
In other news around the markets:


The Bank of England and the European Central Bank both left rates on hold Thursday. However, both banks took the unprecedented step of issuing forward guidance, a play out of the Federal Reserve's playbook, that is a sign that the Bank's will push for more transparency and look to use more verbal easing.

The Chinese financial regulator issued a statement overnight, saying that the Chinese authorities will maintain prudent monetary policy, that policy will seek to balance growth with financial reforms, and that the government is set to give banks the ability to write off more bad loans.

Steven A Cohen, of SAC Capital, is now expected to avoid criminal charges in the insider trading scandal. However, his reputation has already taken a blow and his fund has seen massive client withdrawals already.

S&P 500 futures jumped 14.6 points to 1,623.70.

The EUR/USD was lower at 1.2874.

Spanish 10-year government bond yields fell 4 basis points to 4.61 percent.

Italian 10-year government bond yields fell 5 basis points to 4.35 percent.

Gold fell 1.27 percent to $1,236.00 per ounce.
Asian Markets
Asian shares closed higher overnight in the wake of the extremely dovish statement from both the BoE and the ECB. The Japanese Nikkei 225 Index gained 2.08 percent and the Topix Index rose 1.53 percent. In Hong Kong, the Hang Seng Index rose 1.89 percent while in China, the Shanghai Composite Index gained 0.05 percent. Also, the Korean Kospi fell 0.32 percent while Australian shares rose 0.98 percent.
European Markets
European shares were mixed after strong gains Thursday on the back of the shift in policy from new Bank of England Governor Mark Carney and ECB President Mario Draghi. The Spanish Ibex Index fell 0.61 percent and the Italian FTSE MIB Index lost 0.35 percent. Meanwhile, the German DAX was flat and the French CAC 40 Index fell 0.2 percent while U.K. shares gained 0.24 percent.
Commodities were mostly lower overnight with precious metals dropping sharply as the dollar strengthened. WTI Crude futures fell 0.15 percent to $101.90 per barrel and Brent Crude futures gained 0.15 percent to $105.70 per barrel. Copper futures fell 2.41 percent to $309.80 per pound. Gold was lower and silver futures dropped 3.02 percent to $19.11 per ounce.
Currency markets saw broad dollar strength overnight as the signs of the end of Fed easing coupled with increased stimulus from abroad boosted demand for the dollar. The EUR/USD was lower at 1.2874 and the dollar was flat against the yen at 100.40 after dropping as low as 99.89. Overall, the Dollar Index rose 0.93 percent on strength against the pound, the euro, the Swiss franc, and the Canadian dollar.
Key companies that reported earnings Wednesday include:


International Speedway (NASDAQ: ISCA) reported second quarter EPS of $0.51 vs. $0.50 expected on revenue of $178.4 million vs. $182.3 million expected.
Notable companies expected to report earnings Friday include:


Tech Data Corp. (NASDAQ: TECD) is expected to report first quarter EPS of $1.03 vs. $1.24 a year ago on revenue of $6.43 billion vs. $5.9 billion a year ago.
On the economics calendar Friday, the Employment Situation Report is due out. Economists surveyed by Bloomberg expect Non-Farm Payrolls to have gained 161 thousand in June vs. 175 thousand in May. The unemployment rate is expected to have fallen to 7.5 percent from 7.6 percent. Also, the Canadian employment report and Ivey PMI are due out and the global semiconductor sales report is expected.
Good luck and good trading.
Tune into Benzinga's PreMarket Info show with Dennis Dick and Joel Elconin here.
For a recap of Monday's market action, read Benzinga's daily market wrap here.
View Comments and Join the Discussion!
Posted-In: Earnings News Bonds Guidance Dividends Emerging Markets Eurozone Futures Best of Benzinga