Welcome Back to the European Debt Crisis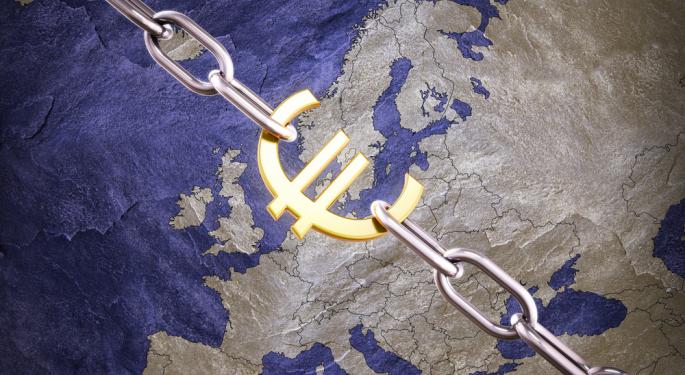 Greece's government is failing to make the cuts to get its next bailout payment.
A key Italian politician faces jail time for having sex with and refusing to pay an underage prostitute.
Portugal's government is on the verge of collapsing, risking the sustainability of its bailout reforms.
And Spanish and Italian government bond yields are rising.
Sound familiar? Well it should, because we have been here before. Crises matching this exact playbook, or nearly, have played out each of the last two summers and three years ago, Greece kicked off the debt crisis.
Shares around the world sold off on fears that this time will be different and EU leaders will not be able to do enough to save themselves from themselves. However, this time, there may not be enough bazookas to pull out of their respective pockets.
Portugal
Portugal's government is on the verge of collapsing and Prime Minister Pedro Passos Coelho may need to hold a no confidence vote to see if the coalition government can hold a majority. If not, the country will go back to the polls, risking the election of an anti-austerity, anti-Europe party that will backtrack on reforms and risk Portugal being kicked out of the eurozone.
Monday, Portugal's finance minister Vitor Gaspar, the architect of spending cuts and tax hikes required by lenders as a condition of their support, stepped down citing an erosion in support for the bailout. On Tuesday, the foreign minister Paulo Portas stepped down in opposition to the appointment of Treasury Secretary Maria Luis Albuquerque to replace Gaspar as finance minister. Portas is also the leader of a key junior member of Coelho's parliamentary majority and if he chooses to leave the majority, it could jeopardize Coelho's power and force the dissolution of the government.
European Commission President Jose Manuel Barrosso, formerly the prime minister of the country, said that Portugal risked damaging its hard-earned financial credibility after two years of closely following its bailout program. "This delicate situation requires a great sense of responsibility from all political forces and leaders," he said.
President Anibal Cavaco Silva does the legal power to dissolve the government in extraordinary circumstances and act to mediate differences amongst parties. However, such a move is seen as a last resort and would indicate a further deterioration of the already inflamed political crisis in the Iberian nation.
Greece
Greek officials are set to meet with Troika representatives Thursday to discuss key fiscal reforms that would allow Greece to receive the next payment, or tranche, from its previously agreed-upon bailout. Administrative Reform Minister Kyriakos Mitsotakis is set to meet with representatives of the European Union, the European Central Bank, and the International Monetary Fund to discuss a key labor issue that has forced negotiations to stall.
The Troika wants Greece to place 12,500 civil servants into a mobility scheme in which they would receive reduced wages for a year, rather than being let go permanently, ahead of a review next year in which it would be determined if the jobs were to be permanently eliminated or kept at lower wages. Other issues remain among the two sides but newly elected Eurogroup President Jeroen Dijsselbloem said overnight that he expects both sides to reach an agreement in the next few weeks. He also pointed out that Greece does not need the money until the latest August, as it can issue t-bills to fill any short-term funding gaps.
Italy
Italy's political uncertainties are not recent, but continue to reverberate in the background as the rest of the continent's political woes flare. Italian politics are notoriously unstable, but with a key ally of Prime Minister Letta, Silvio Berlusconi, being sentenced to jail a few weeks ago and recent economic showing deterioration in the last few months, the viability of the current government has been thrust into question.
Markets Sell Off
Equity and bond markets around the world reacted to the news negatively as peripheral bond yields spiked and equity markets fell. The Spanish Ibex Index fell 2.2 percent while 10-year bond yields, a good measure of the market's perception of a nation's solvency, jumped 11 basis points to 4.73 percent and 2-year bond yields, a measure of the market's perception of a nation's liquidity, rose 10.8 basis points to 2.19 percent.
In Italy, the benchmark FTSE MIB Index declined 1.46 percent led lower by financials most exposed to government bonds. Italian 10-year government bond yields rose nine basis points to 4.53 percent while 2-year bond yields rose 9.2 basis points to 2.109 percent.
Elsewhere, Portugal's stock market index dropped a whopping 5.62 percent while Greek shares declined 1.18 percent. The yield on benchmark Portuguese 10-year bonds rose to 6.94 percent, up 22 basis points, while 2-year yields climbed 160.8 basis points to 5.771 percent. Meanwhile, the benchmark bond closest to the ten-year yielded 11.16 percent, up six basis points, while 3-month bills rose one basis point to 4.1 percent.
Posted-In: News Bonds Eurozone Events Global Econ #s Economics Hot Best of Benzinga
View Comments and Join the Discussion!