Market Wrap for Tuesday, July 2: Stocks Close Near Unchanged Mark in Quiet Session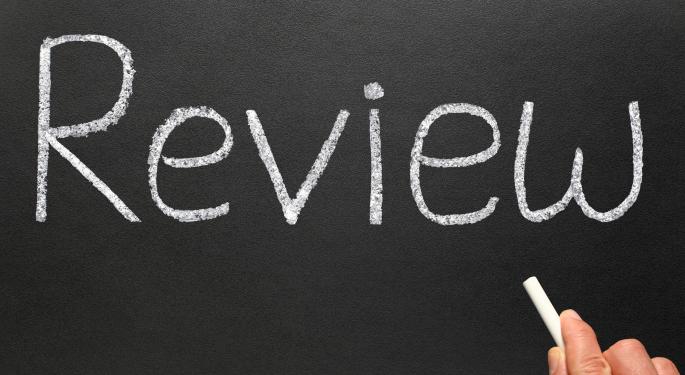 The U.S. stock market recorded small losses on Tuesday after Goldman Sachs cut its growth forecast for second-quarter GDP by one-tenth to 1.7 percent.
The market also encountered some profit taking after a series of rallies in recent days. Although the Dow Jones Industrial Average fell 42 points, the broader S&P 500 finished the day down only 0.05 percent.
Major Averages
The Dow Jones Industrial Average fell a little more than 42 points, or 0.28 percent, to close at 14,932.
The S&P 500 lost around 1 point, or 0.05 percent, to 1,614.
The Nasdaq fell roughly 1 point, or 0.03 percent, to close at 3,433.
Factory Orders
Manufacturing orders rose 2.1 percent for the month of May compared to a gain of 1.3 percent in April. This compared to consensus estimates that expected factory orders to increase 2.0 percent.
Commodities
Energy prices rose on Tuesday despite a decline in stock prices. At last check, NYMEX crude futures were up 1.53 percent to $99.49. Brent crude futures added 0.93 percent to $103.96. Natural gas climbed 2.26 percent and was last trading at $3.66.
Precious metals reversed course on Tuesday after rising on Monday. Near the close, COMEX gold futures were down 1.15 percent to $1,241.20. Silver contracts were last trading down 1.45 percent to $19.30. Copper fell 0.81 percent on the day to $3.1315.
Although the grains complex was largely lower on Tuesday, both corn and wheat recorded small gains. Corn futures were last up 0.30 percent while wheat contracts had climbed 0.50 percent. Movers in soft commodities included coffee and orange juice. Coffee was last trading up 2.26 percent while orange juice concentrate futures climbed 1.69 percent.
Bonds
Bonds were slightly higher late on Tuesday. Near the close of equities, the iShares Barclays 20+ Year Treasury Bond ETF (NYSE: TLT) was up 0.16 percent to $110.59.
Yields were as follows on the session: The 2-Year Note was yielding 0.35 percent while the 5-Year Note was yielding 1.37 percent. The 10-Year Note and the 30-Year Bond were yielding 2.47 percent and 3.47 percent, respectively.
Currencies
The U.S. Dollar was sharply higher on Tuesday. Late in the day, the PowerShares DB US Dollar Index Bullish ETF (NYSE: UUP), which tracks the performance of the greenback versus a basket of foreign currencies, was up 0.64 percent to $22.66.
The closely watched EUR/USD pair was last trading down 0.63 percent to $1.2977. Other movers included the USD/JPY, which was up 0.87 percent, and the AUD/USD, which was down 0.93 percent.
Volatility and Volume
The VIX was very slightly higher on Tuesday afternoon. At last check, the widely watched barometer of volatility expectations was up 0.49 percent to 16.45.
Volume was lighter than normal on the day. Around 115 million SPDR S&P 500 ETF (NYSE: SPY) shares traded hands on the session compared to a 3-month daily average of 144.6 million.
Stock Movers
Shares of Noodles & Co. (NASDAQ: NDLS), which went public last Friday, were trading up around 19 percent late in the day as investors showed enthusiasm for the IPO.
Shares of Celldex Therapeutics (NASDAQ: CLDX) were trading up more than 11 percent on Tuesday. The company received a positive mention on Mad Money with Jim Cramer and has also been the subject of takeover rumors in recent days.
Puma Biotechnology (NYSE: PBYI) climbed around 11 percent on the session. The stock has been breaking out to new highs in recent days.
Shares of Zynga (NASDAQ: ZNGA) jumped more than 6 percent on Tuesday after founder and CEO Mark Pincus announced that he was stepping down and will be replaced by Microsoft's Don Mattrick.
Acuity Brands (NYSE: AYI) had climbed almost 7 percent near the close after the company reported its fiscal third-quarter earnings.
DaVita HealthCare Partners (NYSE: DVA) and Fresenius Medical Care AG (NYSE: FMS) both fell on Tuesday on news the company's could receive 9.4 percent less in Medicare payments, starting in 2014, based on new rates proposed by the government.
Achillion Pharmaceuticals (NASDAQ: ACHN) lost more than 25 percent on the session after the company announced that the FDA has put a hold on a trial of sovaprevir, an experimental oral hepatitis C treatment.
The SEC launched an informal inquiry into Linn Energy's (NASDAQ: LINN) and LinnCo LLC's (NASDAQ: LNCO) accounting, hedging strategies and merger with Berry Petroleum. LINN shares were last down 19 percent and LNCO was down almost 17 percent.
A. Schulman (NASDAQ: SHLM) lost more than 4 percent on Tuesday after the company reported its fiscal third-quarter earnings.
Zep (NYSE: ZEP) lost 19 percent after the company reported a 27 percent decline in its third-quarter earnings results.
View Comments and Join the Discussion!
Posted-In: Earnings News Bonds Broad U.S. Equity ETFs Guidance Futures Commodities Currency ETFs Best of Benzinga