Market Wrap for Tuesday, June 25: Stocks Rebound, But Continue to Search for Direction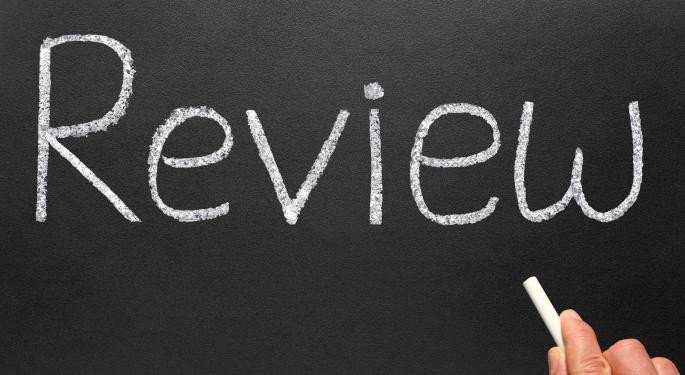 The U.S. stock market rose on Tuesday as market volatility remains high. Money moved out of bonds and into equities as the major averages made back some of Monday's losses.
The Dow climbed around 100 points on the session while the S&P and Nasdaq recorded gains of slightly less than 1 percent.
The market is currently looking for direction after last week's sell-off which was sparked by expectations that the Federal Reserve will begin tapering its bond-buying program at the September FOMC meeting.
Major Averages
The Dow Jones Industrial Average rose 101 points, or 0.69 percent, to close at 14,760.
The S&P 500 added 15 points, or 0.95 percent, to finish at 1,588.
The Nasdaq rose 27 points, or 0.82 percent, to 3,348.
Durable Goods Orders
Durable goods orders were up 3.6 percent for the second consecutive month in May. This compared to consensus estimates expecting durable goods to be up 3 percent for the month.
Excluding the transportation sector, durable goods rose 0.7 percent in May compared to an increase of 1.7 percent in April. The consensus expected durable goods ex transportation to fall 0.5 percent.
Consumer Confidence
The Conference Board's Consumer Confidence Index jumped to 81.4 in June compared to 74.3 in May. This was the highest reading for the index since January 2008. The consensus had expected a slight rise to 75.0.
New Home Sales
New home sales rose to 476,000 in May from 466,000 in April. This came in ahead of consensus estimates which pegged new home sales at 460,000 for last month.
Commodities
Crude oil futures were slightly higher on Tuesday. At last check, NYMEX crude futures had risen 0.16 percent to $95.33 while Brent crude contracts were up 0.13 percent to $101.29. Natural gas fell 2.25 percent on the day to $3.66.
Precious metals were mixed on either side of the unchanged mark on Tuesday. Late in the day, COMEX gold futures were down 0.15 percent to $1,275.20. Silver contracts were last up 0.11 percent to $19.52. Copper futures rose 1.21 percent on the session to $3.0650.
In the grains complex, both corn and wheat traded slightly lower. Near the close of equities, corn futures had lost 0.37 percent while wheat was down 0.40 percent. Movers in soft commodities included cotton and orange juice. Cotton futures climbed better than 2 percent while orange juice contracts were down 4.38 percent.
Bonds
Bond prices continued to fall on Tuesday. Near the close, the iShares Barclays 20+ Year Treasury Bond ETF (NYSE: TLT) was down 0.85 percent to $107.92. Yields rose on the day as prices fell.
Treasury yields were as follows at last check on Tuesday. The 2-Year Note was yielding 0.39 percent. The 5-Year Note yield was 1.45 percent. The 10-Year Note and 30-Year Bond were yielding 2.54 percent and 3.56 percent, respectively.
Currencies
The U.S. Dollar was up slightly on Tuesday. Near the close, the PowerShares DB US Dollar Index Bullish ETF (NYSE: UUP), which tracks the performance of the greenback versus a basket of foreign currencies, was up 0.16 percent to $22.40.
The closely watched EUR/USD pair was last down 0.25 percent to $1.3090. Overall, volatility was very limited in currencies, with the only other mover over 0.20 percent being the USD/CAD, which rose 0.21 percent.
Volatility and Volume
The CBOE Volatility Index (VIX) fell sharply on Tuesday as market fear subsided somewhat amid a rally in U.S. stocks. Late in the day, the VIX was down around 8 percent to 18.47.
Volume was slightly higher than usual on Tuesday, adding to a string of high volume trading sessions. Around 151 million SPDR S&P 500 ETF (NYSE: SPY) shares traded hands compared to a 3-month daily average of 142 million.
Stock Movers
Mellanox (NASDAQ: MLNX) was trading up around 11 percent near the closing bell on reports that the company is involved with a Microsoft server farm project.
SolarCity (NASDAQ: SCTY) had climbed around 9 percent late on Tuesday after the company, in conjunction with Wal-Mart announced the completion of 10 new solar installations in Maryland.
First Solar (NASDAQ: FSLR) climbed around 8 percent amid positive sentiment in the solar sector and an analyst upgrade.
Fusion-IO (NYSE: FIO) jumped more than 8 percent after the stock received positive commentary at UBS. The firm reiterated its Buy rating on the name and $19 price target.
Carnival (NYSE: CCL) added around 5 percent after the company released its fiscal Q2 financial results.
Walgreen (NYSE: WAG) lost almost 6 percent on the day after the company reported its fiscal Q3 earnings results prior to the opening bell.
Barnes & Noble (NYSE: BKS) shed 17 percent after reporting a wider loss for its fiscal fourth-quarter.
American Vanguard (NYSE: AVD) fell more than 16 percent after the company said it expects that its second-quarter earnings and revenue will miss analysts' consensus estimates.
Demand Media (NYSE: DMD) shares lost more than 20 percent after analysts at Stifel Nicolaus cut the stock to Hold from Buy. The firm warned that traffic to Demand Media sites is being hurt by an algorithm change made to Google search.
View Comments and Join the Discussion!
Posted-In: Earnings News Bonds Broad U.S. Equity ETFs Guidance Futures Commodities Currency ETFs Best of Benzinga