Benzinga Market Primer: Tuesday, June 25: Housing In Focus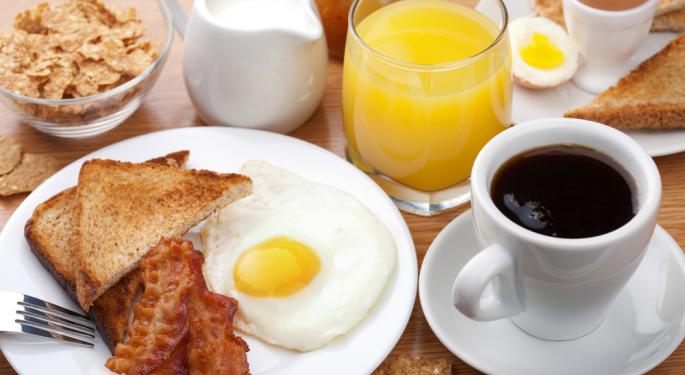 Futures Bounce On Renewed Stimulus Hopes
U.S. equity futures rose in early pre-market trade on renewed hopes of monetary stimulus in the U.S. as two Fed Presidents reiterated that tapering does not equal a switch to tight monetary policy. Minnesota Fed President Naryana Kocherlakota issued an unexpected statement on Fed communications followed by a speech from Dallas Fed President Richard Fisher, both which said that stimulus does not end just because tapering is occurring.
Watch housing stocks Tuesday as earnings from Lennar (NYSE: LEN) are expected as well as key housing-related economic data.
Top News
In other news around the markets:


Chinese fears continued to grip markets overnight as the Shanghai Composite did not post any sort of a bounce after dropping 5 percent Monday. Fears that the Chinese banking system is in a state of panic have grown while economists continue to slash growth forecasts for China as export growth continues to lag in the face of a weak global economy.

International Business Editor for the Telegraph in the U.K. Ambrose Evans-Pritchard, noted economics and markets writer, wrote overnight that Italy may need a new bailout within six months.

S&P 500 futures rose 8.9 points to 1,575.10.

The EUR/USD was higher at 1.3122.

Spanish 10-year government bond yields fell 2 basis points to 5.1 percent.

Italian 10-year government bond yields fell 3 basis points to 4.81 percent.

Gold rose 0.67 percent to $1,285.70 per ounce.
Asian Markets
Asian shares were mostly lower overnight on continued China fears. The Japanese Nikkei 225 Index declined 0.72 percent and the Topix Index fell 1.01 percent. In Hong Kong, the Hang Seng Index eked out a gain of 0.21 percent while the Shanghai Composite Index fell 0.18 percent. Also, the Korean Kospi fell 1.02 percent and Australian shares declined 0.28 percent.
European Markets
European shares were higher in early trade as officials from both the Bank of England and the European Central Bank reiterated that easy-money policy will be around for some time. The Spanish Ibex Index rose 1.23 percent and the Italian FTSE MIB Index gained 0.88 percent. Meanwhile, the German DAX rose 1.46 percent and the French CAC 40 gained 1.38 percent while U.K. shares added 0.85 percent.
Commodities
Commodities were bouncing overnight after metals declined Monday despite oil's outperformance. WTI Crude futures rose 0.76 percent to $95.90 per barrel and Brent Crude futures gained 0.75 percent to $101.92 per barrel. Copper futures bounced off of three-year lows, gaining 1.16 percent to $306.35 per pound. Gold was higher and silver futures gained 1.32 percent to $19.75 per ounce.
Currencies
Currency markets were rather quiet overnight as the yen continued to strengthen on safe-haven flows as China fears continued to surface. The EUR/USD was slightly higher at 1.3122 and the dollar fell against the yen to 97.22. Overall, the Dollar Index fell 0.15 percent on weakness against the yen, the Canadian dollar, the pound, and the euro.
Earnings Reported Yesterday
Key companies that reported earnings Monday include:


Mittel Networks (NASDAQ: MITL) reported fourth quarter EPS of $0.25 vs. $0.24 expected on revenue of $150.9 million vs. $145.7 million expected.

Sonic (NASDAQ: SONC) reported third quarter EPS of $0.26 vs. $0.26 expected on revenue of $146.63 million vs. $147.5 million expected.
Pre-Market Movers
Stocks moving in the pre-market included:


Sonic (NASDAQ: SONC) shares declined 3.88 percent as revenue missed estimates despite EPS being reported in-line.

J.P. Morgan Chase (NYSE: JPM) shares rallied 2.34 percent pre-market as the stock's dividend yield briefly crossed 3 percent. Investors piled into the stock on this in a hunt for yield.

PulteGroup (NYSE: PHM) shares rose 1.86 percent pre-market ahead of Lennar's earnings and much housing-related economic data.

Carnival Corp. (NYSE: CCL) shares fell 0.96 percent pre-market ahead of the company's earnings release.
Earnings
Notable companies expected to report earnings Tuesday include:


Apollo Group (NASDAQ: APOL) is expected to report third quarter EPS of $0.85 vs. $1.20 a year ago.

Barnes and Noble (NYSE: BKS) is expected to report a fourth quarter loss of $0.99 per share vs. a loss of $0.98 per share a year ago.

Carnival Corporation (NYSE: CCL) is expected to report second quarter EPS of $0.06 vs. $0.20 a year ago.

Lennar (NYSE: LEN) is expected to report second quarter EPS of $0.33 vs. $2.06 a year ago.

Smith and Wesson (NASDAQ: SWHC) is expected to report fourth quarter EPS of $0.44 vs. $0.17 a year ago.

Walgreens (NYSE: WAG) is expected to report third quarter EPS of $0.91 vs. $0.72 a year ago.
Economics
On the economics calendar Tuesday, durable goods orders are due out followed by the weekly Redbook and the FHFA Home Price Index. Also expected are the S&P Case-Shiller Home Price Index, New Home Sales, and the Richmond Fed Manufacturing Index. In addition, the Treasury is expected to auction 4- and 52-week bills as well as 2-year notes.
Good luck and good trading.
Tune into Benzinga's PreMarket Info show with Dennis Dick and Joel Elconin here.
For a recap of Monday's market action, read Benzinga's daily market wrap here.
View Comments and Join the Discussion!
Posted-In: Earnings News Bonds Guidance Dividends Futures Commodities Previews Best of Benzinga