Market Wrap for Thursday, May 30: Stocks Shrug Off Wednesday's Losses to Resume Uptrend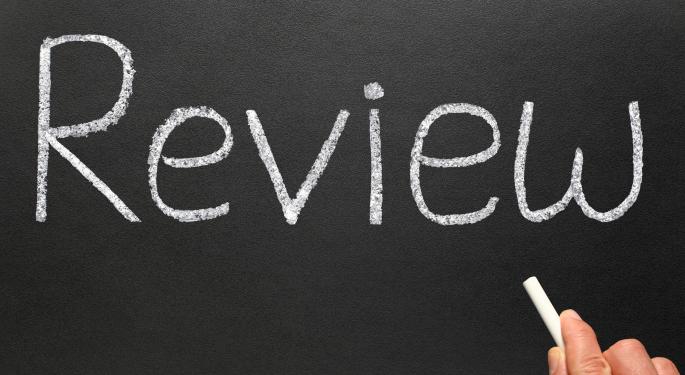 Investors reacted to a series of decent, but not great, economic reports released on Thursday by bidding up stocks a day after a sell-off on Wall Street.
Overall, the gains were modest, but there was no follow through to the downside after the market came under selling pressure on Wednesday.
The major averages did, however, finish off of their best levels and sellers appeared late in the day. Nevertheless, the Dow, S&P 500 and Nasdaq all closed the session with gains.
Major Averages
The Dow Jones Industrial Average rose 23 points, or 0.15 percent, to 15,326.
The S&P 500 added 6 points, or 0.37 percent, to 1,654.
The Nasdaq led the way with a gain of 24 points, or 0.69 percent, to 3,491.
Jobless Claims
Initial jobless claims rose for the week ending May 25 to 354,000 from 344,000 in the prior week. This compared to the consensus which expected a fall to 340,000.
Continuing claims for the week ending May 18 rose by 63,000 to 2.986 million. This came in below the consensus which expected continuing jobless claims to rise to 3.00 million.
GDP - Second Estimate
According to the second estimate for the first-quarter of 2013, GDP rose 2.4 percent. This was a strong advance compared to the 0.4 percent in GDP growth for the fourth-quarter, but less than the advance estimate of 2.5 percent.
Pending Home Sales
Pending home sales for April rose by 0.3 percent. This was below the consensus which expected a rise of 1.5 percent. In the prior month, home sales rose by 1.5 percent.
Commodities
Crude oil futures were mixed on Thursday's trading session. At last check, NYMEX crude futures were up 0.67 percent to $93.75 while Brent contracts had lost 0.27 percent to $102.15. Near the close, natural gas futures were down almost 4 percent to $4.03.
Precious metals also climbed on the day. COMEX gold futures were last up 1.58 percent to $1,413.80 while silver was up a little less than 1 percent to $22.66. Copper gained 0.44 percent on Thursday.
In the grains complex, both corn and wheat traded lower. Near the close of equities, corn was down 0.53 percent while wheat was off by 0.57 percent. In soft commodities, movers included coffee, which lost 1.37 percent, and lumber, which jumped well over 5 percent on the day.
Bonds
Bonds traded down on Thursday. Near the closing bell, the iShares Barclays 20+ Year Treasury Bond ETF (NYSE: TLT) was down by 0.33 percent to $114.74. Yields moved slightly higher at the long-end of the curve.
Both the 2-Year Note yield and the 5-Year yield were unchanged on the session at 0.29 percent and 1.01 percent, respectively. The 10-Year Note yield rose one basis point to 2.12 percent and the 30-Year Bond yield also added one basis point to 3.28 percent.
Currencies
The U.S. dollar was lower on the day. At last check, the PowerShares DB US Dollar Index Bullish ETF (NYSE: UUP), which tracks the performance of the greenback versus a basket of foreign currencies, had lost 0.75 percent to $22.53.
The closely watched EUR/USD pair climbed 0.86 percent to $1.3045. Other movers included the GBP/USD, which rose 0.62 percent, and the USD/CAD, which fell 0.54 percent.
Volatility and Volume
The VIX fell on Thursday after a series of small gains. Late in the day, the widely watched barometer of market fear was down around 3 percent to 14.39.
Volume was lighter than normal on the day. Around 94.5 million SPDR S&P 500 ETF (NYSE: SPY) shares traded hands compared to a 3-month daily average of 125 million.
Stock Movers
Shares of Clearwire (NASDAQ: CLWR) jumped almost 29 percent on the day after Dish Network (NASDAQ: DISH) raised its bid for the company after a competing bid by Sprint (NYSE: S).
NV Energy (NYSE: NVE) climbed around 23 percent near the close after the company agreed to be acquired by Berkshire Hathaway unit MidAmerican Energy Holdings Co for around $5.6 billion in cash.
Retailer Express (NYSE: EXPR) climbed more than 12 percent in the wake of the company's Q1 results.
Avago Technologies (NASDAQ: AVGO) was trading up around 10 percent near the close after the company's fiscal second-quarter earnings report.
Big Lots (NYSE: BIG) fell around 9 percent after the company lowered its full-year guidance and reported first-quarter earnings results.
Martin Midstream Partners (NASDAQ: MMLP) lost around 6 percent. The cause of the move was not readily apparent.
Posted-In: Earnings News Bonds Broad U.S. Equity ETFs Guidance Commodities Currency ETFs Forex Best of Benzinga
View Comments and Join the Discussion!