Benzinga Market Primer: Thursday, May 16: J.C. Penney Earnings In Focus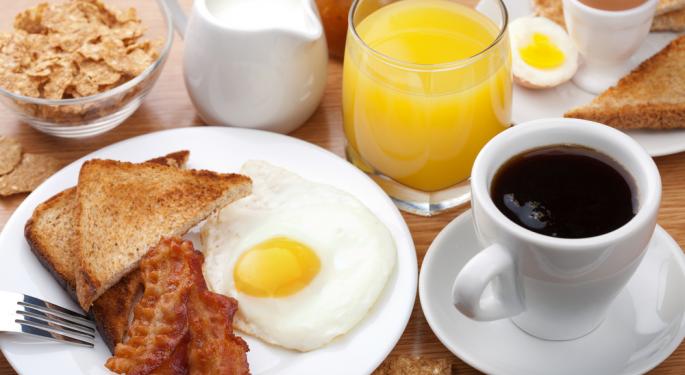 Futures Flat After Strong Japanese GDP
U.S. equity futures traded just near unchanged in early pre-market trade following a stronger than expected GDP report from Japan. Japan reported first quarter GDP rose 3.5 percent on an annualized basis, better than the 2.7 percent expected growth rate. Notably, the GDP deflator, a measure of inflation, fell to -1.2 percent from -0.9 percent expected, showing continued deflation in Japan.
Top News
In other news around the markets:


The World Gold Council announced that global gold demand fell 13 percent in the first quarter with gold investment declining by nearly one half. However, they also said that supply constraints of gold bars were increasing as production slows.

Foreign Direct Investment into China fell once again in April to 1.21 percent annualized growth from 1.42 percent growth in the previous month, showing continued caution on investment in emerging markets.

Inflation in the eurozone continued to run below trend in April as core CPI inflation rose 1.0 percent vs. a year ago, in line with expectations and below March's 1.0 percent.

S&P 500 futures fell 1.1 points to 1,653.20.

The EUR/USD was lower at 1.2875.

Spanish 10-year government bond yields fell 2 basis points to 4.32 percent.

Italian 10-year government bond yields fell 2 basis points to 4.00 percent.

Gold fell 1.7 percent to $1,372.50 per ounce.
Asian Markets
Asian shares were mixed overnight as Japanese shares sold off following the news that deflation persisted into the first quarter The Japanese Nikkei Index fell 0.39 percent while the Shanghai Composite Index gained 1.22 percent and the Hang Seng Index rose 0.17 percent. Also, the Korean Kospi gained 0.79 percent and Australian shares fell 0.5 percent.
European Markets
European shares were also mixed overnight on economic data. The Spanish Ibex Index fell 0.15 percent and the Italian FTSE MIB Index rose 0.39 percent. Meanwhile, the German DAX fell 0.2 percent and the French CAC 40 declined 0.31 percent while U.K. shares rose 0.06 percent.
Commodities
Commodities were lower overnight on continued dollar strength. WTI Crude futures slipped 0.77 percent to $93.57 per barrel and Brent Crude futures declined 0.46 percent to $103.20 per barrel. Copper futures fell 0.55 percent to $324.70 per pound. Gold was lower and silver futures declined 2.04 percent to $22.20 per ounce.
Currencies
Currency markets continued to show dollar strength overnight as the Swiss franc notably approached parity against the dollar. The EUR/USD was lower at 1.2875 and the dollar rose against the yen to 102.61. Overall, the Dollar Index gained 0.03 percent on gains against the Canadian dollar, the Swiss franc, the yen, the euro, and the pound. Notably, the Swiss franc continued to weaken against the dollar as the USD/CHF rose to 0.9671 and the Australian dollar continued to fall against the greenback to 0.9814.
Earnings Reported Yesterday
Key companies that reported earnings Wednesday include:


Cisco (NASDAQ: CSCO) reported third quarter EPS of $0.51 vs. $0.49 expected on revenue of $12.2 billion vs. $12.8 billion expected.

Deere and Co. (NYSE: DE) reported second quarter EPS of $2.76 vs. $2.72 on revenue of $10.9 billion vs. $9.81 billion expected.
Macy's (NYSE: M) reported first quarter EPS of $0.55 vs. $0.53 expected on in-line revenue of $6.39 billion.

Sketchers (NYSE: SKX) reported first quarter EPS of $0.13 vs. $0.19 expected on revenue of $451.6 million vs. $443.21 million.
Pre-Market Movers
Stocks moving in the pre-market included:


Southwest Airlines (NYSE: LUV) shares rose 4.6 percent pre-market after the company quadrupled its quarterly dividend to $0.04 from $0.01 per share and boosted its share buyback program to $1.5 billion from $1.0 billion.

Advanced Micro Devices (NYSE: AMD) shares declined 6.62 percent to $4.09 pre-market on some interesting options activity Wednesday. Traders were betting very bearishly on the stock by trading over 5,000 July $4.50 puts all at the ask, which means they would need the stock to decline to $3.96 to profit.

Medtronic (NYSE: MDT) shares rose 1.96 percent pre-market on M&A speculation in the biotech space.

Newmont Mining (NYSE: NEM) shares declined 1.81 percent pre-market as metals prices continued to slip.
Earnings
Notable companies expected to report earnings Thursday include:


Autodesk (NASDAQ: ADSK) is expected to report first quarter EPS of $0.45 vs. $0.47 a year ago.

J.C. Penney(NYSE: JCP) is expected to report a first quarter loss of $0.86 per share vs. a loss of $0.25 per share a year ago.

Nordstrom (NYSE: JWN) is expected to report first quarter EPS of $0.76 vs. $0.70.

Kohl's (NYSE: KSS) is expected to report first quarter EPS of $0.58 vs. $0.63 a year ago.

Wal-Mart (NYSE: WMT) is expected to report first quarter EPS of $1.15 vs. $1.09 a year ago.
Economics
On the economics calendar Thursday, the CPI, housing starts, and initial jobless claims are due out followed by the Philly Fed Survey. In addition, Fed Presidents Eric Rosengren, Richard Fisher, and John Williams are set to speak as well as Governor Sarah Bloom Raskin.
Good luck and good trading.
Click here to view Benzinga's Market Wrap for Wednesday, May 15.
Posted-In: Earnings News Bonds Guidance Dividends Rumors Futures Commodities Best of Benzinga
View Comments and Join the Discussion!